Typhoid Fever is an intestinal disorder. A Typhoid fever diet chart plays a very important role in recovery, and it strengthens your immune system to fight against bacteria. Typhoid is mainly caused by a strain of bacteria known as Salmonella Typhi. Gastrointestinal discomforts are very common for typhoid patients. You may suffer from low appetite and nausea due to this fever. So it is important to increase protein intake.
Taking a meal after a small interval helps your body to keep energetic and makes it able to fight bacteria. If you are suffering from typhoid, try to avoid food that is high in fat & fiber and eat foods that are easy to digest.
Typhoid mainly possesses symptoms like high temperature and rashes on the neck and abdomen. Other symptoms include a headache, abdominal pain, constipation, muscle pain, weakness, loss of appetite, etc.
Typhoid Fever Diet Chart for Fast Recovery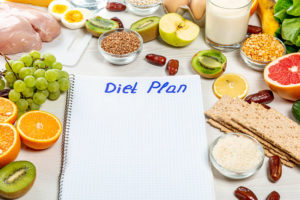 A perfect diet for typhoid fever is one that has small and frequent meals in it. The meal should contain foods that are high in protein, soft, bland, easily digestible, and low in fiber and fat as well.
First few days of the Typhoid Diet
A person suffering from typhoid should take only fruit juice and drink lemon water for a few days. Take a liquid diet for a few days and then gradually take fruits like bananas, cantaloupes, watermelons, grapes, and peaches.
You can also take coconut water, barley water, electrolyte-fortified water, fresh fruit juice, vegetable soup, buttermilk, and water. Try to avoid solid food unless you feel starving.
After a few days as your appetite gets better, take semi-solid foods. You can eat boiled rice, baked potato, soft-boiled or poached eggs, baked apple, yogurt, and vegetable soup.
Typhoid Fever Diet Chart After 3 to 5 days – (for the next One Week)
Breakfast: You should have one glass of juice of fresh fruit such as apple, pear, mango, papaya, or some grapes, or berries. One cup of broken wheat or one slice of whole white bread.
Lunch: Eat a raw vegetable salad, poached eggs, baked apples, bananas, and fruit juice. You can also take two small wheat tortillas with whole wheat flour.
Dinner: High-calorie diet is necessary for those with typhoid fever. Eat white bread, baked potato, and one other leafy vegetable like fenugreek seeds, spinach, vegetable soup, etc.
In between breakfast and lunch, lunch and dinner, you should drink one glass of juice fresh fruit, or coconut water.
Note: Don't eat fatty food that contains high fiber.
Most Suggested Food to be eaten for Typhoid fever Patient
Lemon: It is advised to take a glass of lukewarm water by mixing one teaspoon of lemon juice because it is good for the digestive system. Lemon contains vitamin C which also helps the liver to regain its strength. This remedy should be taken empty stomach.
Tomato Soup: you can eat tomato soup for typhoid recovery because it is high in calories and easy to digest. Alternatively, you can eat other vegetable soups as well.
Buttermilk: Another essential food for typhoid treatment. Buttermilk helps to strengthen your liver and improve digestion.
Almonds: Eating almonds is suitable for immunity systems because it increases the flow of blood. It also helps to regain weight loss due to typhoid fever.
Yogurt: It is a good source of protein that improves your immune system and gives you the strength to fight bacteria.
Vegetable soup: You can take vegetable soup for lunch and dinner if you are suffering from typhoid fever.
Potato: For dinner or lunch you can take a baked potato. Potato is very high in calories which gives you strength and helps you to maintain your body weight.
Gooseberry: Indian gooseberry contains a high amount of vitamin C, which helps to improve the digestive system.
Orange Juice: Two or three glasses of orange juice is very useful in jaundice treatment. It helps to improve your immune system and also helps to flush out harmful toxins.
Water: You should drink at least six to eight glasses of water every day. Typhoid fever causes watery diarrhea and fever, which can lead to dehydration.
Food To Be Avoided During Typhoid: Restrictions and Precautions
Foods that cause any digestive disturbance should be avoided. Foods like foods, semi-cooked pulses, and raw vegetables are not recommended. Typhoid affects the digestive system due to diarrhea, so it is better to avoid insoluble fiber found in certain foods like skins and seeds of fruits and vegetables.
Eggs: Do not eat the egg for the first few days of the fever because it contains fat and could affect your weak digestive system.
Meat: Avoid every type of meat during typhoid at least for two weeks. They contain more carbohydrates and the liver needs to produce more bile to digest these foods, which may aggravate the condition.
Spicy Food: Spicy food is not suitable for the digestive system and could make typhoid worst.
Fried food: Avoid eating fried food if you are suffering from this fever. It has a very bad effect on the liver and digestive system.
Coffee: It contains caffeine which is not suitable for the digestive system. Stop drinking coffee if you are a coffee lover because it can make typhoid symptoms like diarrhea worst.
Clarified Butter: It is very tough to digest so avoid eating it.
Food Diet after Typhoid Fever Recovery
Typhoid fever affects your digestive system and immune systems badly. It is very important to balance the levels of fluids and electrolytes in the body. The patient must receive proper nutrition to get rid of weakness due to typhoid.
A high-protein diet is necessary to recover from typhoid weakness. After recovery, you can eat food that is less spicy and oily. You can take fruits, milk, curd rice, pulse, and yogurt. Dry fruit like almonds is also very beneficial after recovery from typhoid.
Closing Thoughts
Typhoid is a disease that can't be overlooked as it can be acute with time. So we have summarised the essential aspects to be followed to avoid typhoid or to even cure it.
Wash raw fruits and vegetables with clean water before you eat them.
Avoid eating food from street vendors.
Drink bottled or boiled water for Typhoid Precaution.
Do not eat food that's stored or served at room temperature.
Avoid cooking food for others until your doctor says you're no longer contagious.
Get vaccinated before you travel to a country that is at more risk.
You can also check,