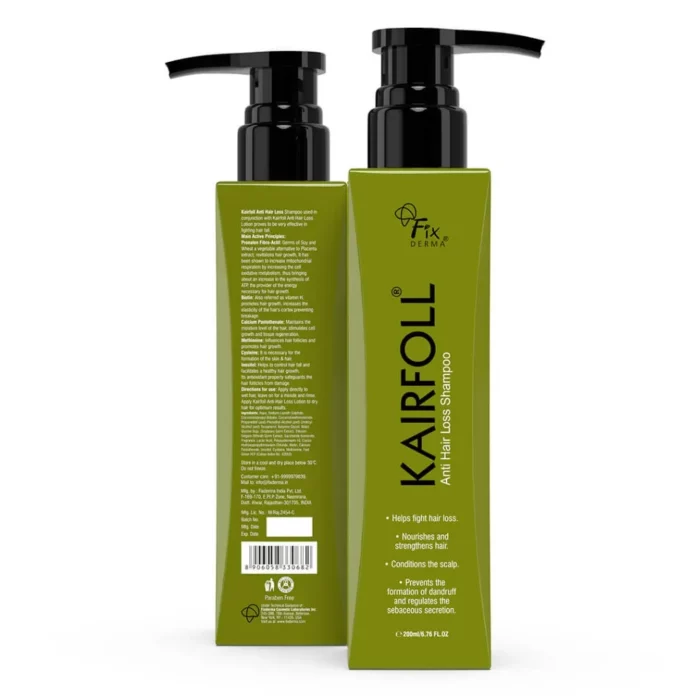 Regular shampoo with synthetic ingredients may irritate your scalp, thus the ideal shampoo for hair loss must be chemical-free. You need to know what sort of hair you have in order to choose the appropriate shampoo. Choose the one that is designed primarily for your hair.
The ideal pH level for a sensitive scalp is 6.5, which a good shampoo will undoubtedly be close to. The amount of suds a shampoo produces is not a reliable indicator of its efficacy. Instead, it depends on the types of oil molecules that the shampoo can absorb. Get the shampoo tested to see if it is appropriate for your hair type before using it on your hair.
10 Effective Hair Loss Shampoos To Get Rid Of Hairfall
The Honeydew Natural Biotin Shampoo is used for hair growth. It blends coconut, jojoba, tea tree, and zinc that nourishes your dry scalp, and promotes circulation in hair roots for thicker and fuller hair over time. It helps to improve the appearance of thin hair and balances oily scalp to increase hair volume and body to restore nutrients in promoting hair growth. The advanced therapeutic formulae unclog pores and remove DHT while moisturizing the scalp.
The Honeydew Natural Biotin shampoo consists of olive oil and argan oil, which helps manage hair without itching and flaking. It has an anti-itch formula to clarify the scalp for an incredible body of hair. It also helps stop thinning of the hair follicles. It focuses on strength and provides shine to promote thick hair. It uses a sulfate-free formula, that is excellent for all hair types, including the sensitive scalp and colored treated hair. For more health guides see our top picks for acne face washes.
Key features:
Natural ingredients and cruelty-free
Suitable for sensitive scalp
Promotes natural beauty and radiance
---
The Maple Holistics Raw Apple Cider Shampoo is an organic ACV shampoo that is perfect for getting rid of thinning hair and hair loss. It is a hair follicle stimulator that helps in promoting volume and density for fuller hair. The anti-hair loss apple vinegar shampoo boosts hair circulation prevents hair loss and repairs hair damage.
The Maple Holistics Raw Apple Cider Vinegar Shampoo is also suitable for healthy hair and for maintaining color-treated hair. It can also be used for reviving dull hair and hair cleansing process as it includes rosemary oil and pure argan for all-over hair growth. It is the perfect shampoo to rebalance the pH levels in your hair to reduce dandruff from oily and itchy scalp.
Key features:
Perfect for getting rid of hair loss
Works for fine hair
Rebalances the pH levels in the scalp
---
The Paisle Botanics Biotin Shampoo for Hair Growth helps thicken hair and treat hair loss. It aids in restoring natural and shinier hair. It has a B-Complex formula treatment with botanical Rosemary, Aloe Vera, Saw Palmetto, and coconut that works well on male and female hair follicles. The Paisle Botanics Biotin shampoo is sulfate-free for thin hair treatment and rejuvenates cells for stronger hair in volume and thickness. It is a hypoallergenic natural Biotin Shampoo perfect used for safe hair color.
This variant is also an anti-hair loss shampoo to block DHT, which is the leading cause of hair thinning. Through its fantastic properties, the Paisle Botanics Biotin Shampoo for Hair Growth restores hair density for sensitive scalp. There are no harsh chemicals present in this shampoo like Lye, Formaldehydes, Phosphates, SLS, or Sodium Chloride. Instead, all-natural ingredients are present in it to promote circulation and stimulate hair growth. For hair styling, see our guides on curling irons, hot rollers, and hair straightening brushes.
Key features:
For sensitive skin and scalp
Natural DHT and hair loss treatment
Cruelty and harsh chemicals free
---
The Vantaggio Hair Loss Treatment Shampoo for men is a clinically proven treatment to stop hair loss and promote healthy hair growth. It is a perfect alternative to your regular shampoo but with the most suitable output in restoring hair to its original natural and thick condition. It helps to reclaim hair and helps gain confidence in moving around. It has a DHT-blocking mechanism that helps fight scalp baldness.
The Vantaggio Hair Loss Treatment Shampoo for men boosts new hair growth by up to 121% and also reduces hair loss by 47%.  It consists of high-potency biotin molecules and potent organic vasodilators and antioxidants and consists of some organic compounds, including Ginger, Rosemary, Peppermint oil, Aloe Vera, and Dead Sea Salt.
Key features:
Increase hair growth by 121%
Consists of Biotin as a natural product
Stimulates hair growth and leaves hair healthier
---
The Pure Biology Premium Hair Growth Shampoo Treatment is a pack of Biotin, Castor oil, Vitamin B and E, Keratin, and Green Tea extracts, etc. The addition of Biotin to the shampoo adds to the anti-hair fall complexes. Thus it stimulates the growth of hair and thus prevents unnecessary breakage. It is a gentle shampoo that you can use every day that helps to volumize, strengthen, encourage, and thicken natural hair.
The Pure Biology Premium Hair Growth Shampoo Treatment ensures that it retains moisture for ideal treatment of hair breakage, thinning, and damaged hair. The Pure Biology Premium Hair Growth Shampoo also consists of Amino Kera NPNF Keratin complex, that helps to strengthen and repair damaged hair by adding moisture and shine to hair. It consists of natural vitamins and essential acids that help nourish the scalp and remove sebum build-up. It provides your hair with healthier growth due to the presence of green tea extracts.
Key features:
Stimulates new hair growth and regrowth
Moisturize and strengthen your hair
Nourishes scalp with coconut oil extracts
---
The Veta Hair Stimulating Shampoo is for functional hair loss treatment that is effective for anti-aging of hair. It is the perfect product for both men and women that helps combat both environmental and genetic triggers of hair fall and hair loss. It has both preventative and restorative properties for hair loss treatment to restore vitality to the scalp.
The Veta Hair Treatment shampoo is made up of advanced and effective non-drug products, and 1% of proven hair growth compounds Trichogen and Follicusan. It provides fabulous results without any drugs and side effects and thus thickens your thinning hair and reduces shedding. It helps in reducing the appearance of bald spots on your head. It is safe to use for all types, including keratin-treated, bleached, and colored hair. For other health, guides see our picks for bikini razors.
Key features:
Restores Scalp vitality
Thicker, manageable, and shinier hair
Safe for colored, bleached, and keratin-treated hair
---
The Ultrax Labs Caffeine Hair Growth Stimulating Shampoo is effective topically and is available for the use of both men and women. It is also cruelty-free. It provides all essential nutrients to your hair follicles to nourish them and thus thicken your thinning hair. It works a complete delivery system by providing the right ingredients to hair and therefore makes sure your hair stays nourished. If you want the maximum result from this shampoo, then use it at least five times a week or in place of your regular shampoo.
Key features:
Encourages healthy hair growth
Uses biotechnology to promote healthy hair
Consists of a caffeine compound with essential oils
---
How to Buy the Perfect Hair Loss Shampoo?
The perfect hair loss shampoo must be chemical-free because regular shampoo with chemical properties may irritate your scalp. Before choosing the right shampoo, you must be aware of your hair type. Go with the one that is mainly for your hair.
A good shampoo will surely have a pH level near 6.5, which is the optimum scale point for a sensitive scalp. The effectiveness of the shampoo is not measured by the lather it generates. Instead, it depends upon the molecules of oil that can be grasped by the shampoo. Before you use shampoo on your hair, first get it tested to check if it suits your hair type.
Closing Thoughts
Hair loss shampoos won't be able to stop hair loss. However, they might aid in enhancing thickness and volume and encouraging hair growth. Using hair loss shampoos with antifungal and anti-inflammatory chemicals may help stop hair loss if it is linked to a scalp condition like seborrheic dermatitis or psoriasis. I hope you find this article fascinating and great for learning how to select a top-notch hair loss shampoo.