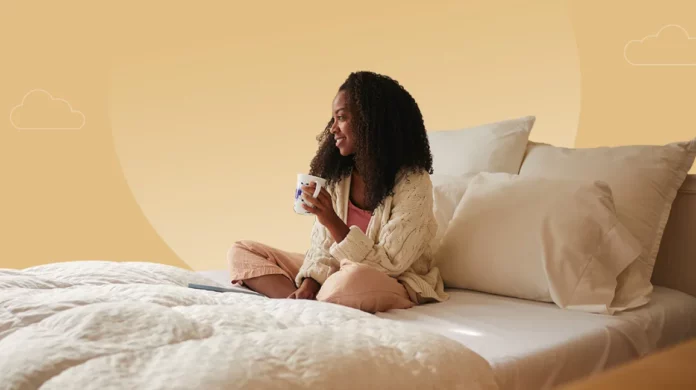 The importance of getting the right mattress can never be overemphasized. A considerable proportion of the human population suffers from different kinds of back problems such as sciatica, etc. Oftentimes, people complicate these problems and worsen their situation through the continuous use of wrong or substandard mattresses.
Splashing a few extra bucks on a high-quality mattress is worth it as it will help to ameliorate the pressure points in the spine and neck. It is not befitting for you to work long hours during the day, only to suffer and toil again at night because of an unsuitable mattress. It, therefore, becomes necessary, in your interest, to get a luxury mattress that will guarantee you a peaceful sleep while also easing your pain. This will go a long way in keeping you refreshed and ready for the hustling and bustling of the new day. Of course, it is a well-known fact that good sleep will keep you focused at work, which will enhance your productivity.
This post reviews the most reliable luxury mattresses that you can get on the market right now. Check it out to get the one that suits your needs.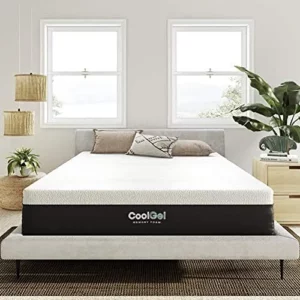 Classic Brands 410079-1150 Mattress is a masterfully crafted mattress that is designed in detail to make it effective in providing an undisturbed sleep for you. This unique mattress has many layers that perform different functions with the overall aim of ensuring maximum comfort and support for you while you sleep.
The memory foam layer serves to regulate temperature. This layer makes it possible for you to sleep in a cool environment devoid of heat. You can, therefore, sleep peacefully without sweating too much. Also, there is another layer of ventilated 'egg-crate' foam that helps to improve breathability. The last layer is the high-density layer. It is the base layer and offers support for the overlying layers.
The classic Brands 410079-1150 Mattress has a medium-plush feel. Besides, it is compatible with an adjustable base and comes compressed and shipped in a box. It is, however, quite easy to set up. The hypoallergenic properties of the memory foam guarantee your safety. Also, this product fulfills the CertiPUR-US safety requirements.
The Classic Brands 410079-1150 Mattress comes with a ten-year warranty but will definitely serve you for a much longer period. Buying this product would be a clever bit of business that you won't regret in the long run.
Key features:
High degree of breathability
Three-layered mattress
Hypoallergenic memory foam
The elegant Sleep Innovations Marley 12-inch Memory Foam Mattress is deserving of its place in this review. Its overall thickness of 12 inches is contributed by three different layers – a top layer made of memory foam that is infused with cooling gel, another layer of air channel foam, and a third layer consisting of premium, high-density foam. Each of these layers, measuring 2, 3 and 7 inches in thickness respectively, perform different functions.
The uppermost layer serves as the sleeping surface. The memory foam can conform to the shape of your body while you sleep on it to provide soothing relief and ease pressure points in your spine. The cooling gel that is infused to this layer helps to regulate the temperature of the mattress. It ensures a uniform temperature throughout the sleeping surface, thereby affording a cozy and comfortable night rest.
The middle layer is designed to enhance airflow into the mattress. This helps to make it breathable. The base layer is a support layer. It is a high-density layer that is included to provide support and stability for the mattress. This bottom layer also enhanced the longevity of the mattress.
The Sleep Innovations Marley 12-inch Memory Foam Mattress is quite comfortable to sleep on. It is also safe to use, having gotten its seal of authenticity from CertiPUR-US. Moreover, it comes with a ten-year warranty.
Key features:
Highly breathable
Cool, uniform-temperature sleeping surface
Conforms to your body shape to relieve pressure points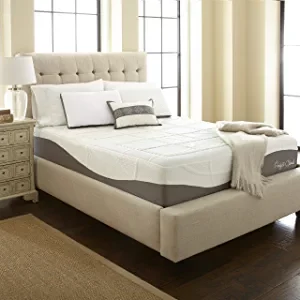 The elegant design of the luxurious Perfect Cloud Elegance 12-inch Memory Foam Mattress sees it feature four different layers that provide quality comfort and relief for users. There is a one-inch layer consisting of quilted air-infused foam, followed by another layer of ventilated gel-infused foam. This second layer is 1.5 inches thick. Furthermore, there is a 2-inch layer that is made up of gel-infused memory foam. A 7.5-inch high-density base layer underlies all these layers. The cumulative thickness of all these layers put the Perfect Cloud Elegance 12-inch Memory Foam Mattress at a staggering thickness of 12 inches.
Every part of your body is adequately supported by the Perfect Cloud Elegance 12-inch Memory Foam Mattress, and you need not worry about any possibility of developing pain in any part of your body when you wake up. Also, you will fall asleep quickly when you lie on this bed, thanks to the wonderful memory foam layer.
A cover that you can easily remove to wash when necessary comes with this product. Besides, this mattress is quite safe to use, with the CertiPUR-US certification alleviating any fear of the presence of dangerous or harmful substances and chemicals. Moreover, the Perfect Cloud Elegance 12-inch Memory Foam Mattress is quite strong and durable.
A ten-year warranty accompanies the product.
Key features:
Very comfortable to sleep on
Reduces motion transfer
Durable construction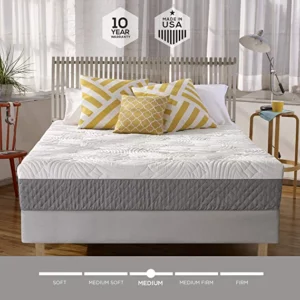 If you are looking for a luxury mattress that is genuinely worth the money, then the Sleep Innovations Taylor 12-inch Memory Foam Mattress provides a wonderful option for you. This exquisitely designed and highly impressive mattress has a thickness of 12 inches. It is full-sized, making it large enough to accommodate two adults at once conveniently.
An attractive feature of the Sleep Innovations Taylor 12-inch Memory Foam Mattress is the cooling gel memory foam uppermost layer. This layer provides optimum comfort while you sleep. Also, the breezy middle layer and the ultra-supportive foam bottom both complement the topmost layer, providing a medium that enables you to sleep soundly. This mattress is very reliable, with its medium-firm feel perfectly balancing pressure point relief with spine support.
Furthermore, the Sleep Innovations Taylor 12-inch Memory Foam Mattress comes with a 100-night risk-free trial. This makes it possible for you to return the mattress within 100 days of purchase if you are not satisfied with its performance. The chances of this happening are extremely low, however, because it is unlikely that you will be dissatisfied with what this high-quality mattress has to offer. Nevertheless, the product also has a ten-year warranty.
Key features:
Medium-firm feel
Cooling gel memory foam to regulate heat
Provides maximum comfort and convenience
HomeLife Oliver Smith Organic Cotton 16-Inch Pocket Spring Mattress is a majestic, high-quality product that guarantees your comfort. You will feel reluctant to get out of bed when you sleep on this mattress. It is just so plushy and convenient that you will forget all your worries and sleep with abandon.
This mattress incorporates the use of pocket coils. With its 15-gauge pocket coils that are carefully and independently arranged in the foam, you will not only get the necessary support for your weight but also get a good bouncy feel while on the mattress. This foam can support heavy people, and you don't need to panic if you are on the higher side of the weight scale.
Also, the foam of this mattress is quite health-friendly. You can safely sleep on it without harboring any fear of developing allergic reactions. Besides, the coil structure is quite effective when it comes to the reduction of motion transfer between two users. Factor in the large size, and it is quite easy to deduce that this would be a great mattress couple sharing the same mattress. Moreover, these coils also help to enhance the longevity of the mattress.
The plush pillow that comes with the package will come in handy if you have back and/or neck problems.
Key features:
Memory foam layer present
Independently-encased coils
Health-friendly materials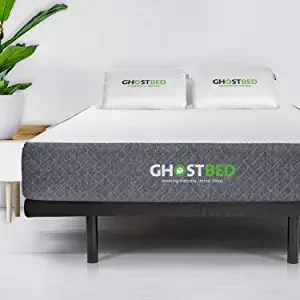 The GhostBed Cooling Gel Memory Foam Mattress is a king-size mattress with a thickness of 11 inches. It features a combination of three different types of foam that work unanimously to provide a perfect and convenient sleeping experience. These foam types include a continuous aerated latex that is 1.5-inch-thick, 2 inches of top-notch gel-infused memory foam, as well as an additional high-density foam with a thickness of 7.5 inches.
The memory foam is infused with cooling gel, an effective component that helps to effectively distribute heat uniformly throughout the mattress. This helps to reduce heat and ensures your convenience. The memory foam also contours to the shape of your body as you sleep on time.
More so, this mattress comes with a detachable cover with a plush design that is specifically targeted towards perfecting your comfort and convenience.
A mattress is a long-term investment, and you can be sure that you are getting a durable product when you buy the GhostBed Cooling Gel Memory Foam Mattress. The manufacturer has generously provided a 100-night free trial on the product. In addition to this, there is a 20-year warranty on the mattress.
Key features:
Medium-firm for pressure relief and spine support
Compatible for all kinds of sleepers
Comes with a 20-year warranty
This cal king-sized mattress features a hybrid construction. It promises the utmost comfort and convenience, and you will wake up fully refreshed and relaxed. The hybrid construction of individually wrapped copper gel innerspring coils and high-quality gel foam ensure maximum refreshment and relaxation. There are few mattresses around that can match the level of comfort and convenience that Sanya Sleep Bliss Copper Gel Hybrid Mattress provides.
Copper has some great health benefits that include enhanced circulation, joint pain relief, as well as amelioration of rheumatoid arthritis and osteoarthritis.
You can sleep in peace in a cool atmosphere. The Sanya Sleep Bliss Copper Gel Hybrid Mattress transmits temperature away from your body and circulates it uniformly throughout the mattress. Moreover, the movement of your partner won't be transferred to your side of the bed while sleeping. It is, therefore, easy to see why this mattress is such a great asset that will go a long way in ensuring that you have an undisturbed sleep. It is quite durable, and it comes with a ten-year warranty.
Key features:
Enhanced temperature regulation
Motion transfer reduction ability
Comes with a ten-year warranty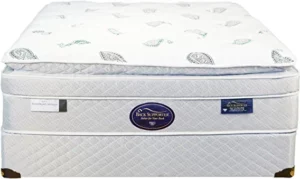 Another excellent luxury mattress that is worth checking is the Spring Air King Platinum Euro Top Mattress this luxury mattress is ideal for people with spine problems. The mattress helps to provide soothing relief to the pressure points.
The Spring Air King Platinum Euro Top Mattress is produced from high-quality materials. These materials promise to provide adequate comfort and relaxation that you crave while sleeping. Featuring a free-end offset coil design, this mattress is able to adjust to weight. It is the perfect sleeper for you as a side sleeper and is definitely worth considering if you are not a fan of hard mattresses.
It should be included that this mattress reduces the transfer to a great extent, making it suitable for sensitive people who share the same mattress with their partner.
The Spring Air King Platinum Euro Top Mattress is compatible with an adjustable base.
Key features:
Reduced motion transfer
Ideal for side sleepers
Compatible with an adjustable base
Closing Thoughts
As you got to know how important is sound sleep to keep our body and mind in good balance, it is very important for you to also know that only a good quality and comfortable mattress can help you achieve your dream of peaceful and sound sleep.
The sleeping mattress must be made of very easygoing fabric and one should feel very comfortable lying on it while changing the sleeping positions. Also, the mattress must try to release the pressure points of the spine and neck to relax the back and neck muscles.
Now you would give up your old thinking and would invest in the most worthy sleep mattress that may be expensive but does not allow you to compromise your peaceful sleep.