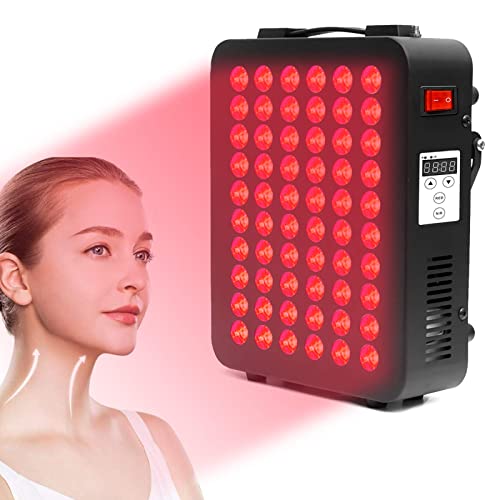 It is unlikely that you know what a red light therapy device looks like if you aren't familiar with medical devices. The devices are designed to solve skin issues and body pains by using low-wavelength infrared and red light therapy. The red lights from the device are natural, and they can penetrate the skin to heal deep wounds.
You are wondering how it works! The mitochondria, which is the energy-producing unit of your skin cell, can absorb the red light particles. This process can help the cell to produce adenosine trisphosphate, which fuels the cell and energize the body. The body absorbed energy from the light is converted through a series of metabolic events into cellular energy.
Red light therapy can reduce inflammation, increase gym performance, upgrade thyroid functioning, promote optimal testosterone levels, and boost body recovery. We didn't select products randomly; our medical team did extensive research to put together this list of the most effective red light therapy in the market today. Read and follow here.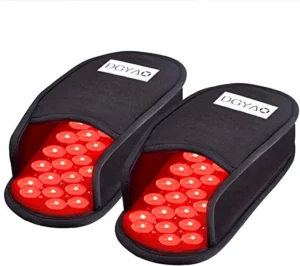 DGXINJUN Red Light Foot Therapy Device is a two pad slipper designed therapy device that combines 132 medical-grade infrared and red light as foot wrap. It is made of soft but thick lightweight microplush fibers to offer maximum support to your feet. This double-sided device has 66 pieces of 660nm red lights and 66 pieces of 880nm of infrared light. It is suitable for almost all foot size with an inner length of 29.5cm.
In addition, DGXINJUN Red Light Foot Therapy Device has 20 minutes' auto shut-off timer for safety. It comes with a 15ft power cord and can operate on the AC voltage of 100V – 240V. Also, it has a time controller for customize use. It utilizes high standard technology for pain relief, muscle relaxation, and wound recovery. Check out our guide on massagers for more health products.
Key features:
Soft and thick microplush fibers device
20 minutes' auto shut-off timer
Combination of infrared and red light with 15ft power cord
If you want a therapy device that penetrates the skin to heal deep wounds, the DGYAO Near Infrared Red Light Therapy Device is the perfect solution. Unlike a lot of near-infrared devices, it has an effective wavelength of 750nm to 1400nm. The manufacturers combine red light therapy with near-infrared therapy to relieve chronic pain. It is equipped with 117 medical-grade LED lights, of which 52 is visible red light, and 65 is invisible infrared light.
The DGYAO Near Infrared Red Light Therapy Device is a hand free soft SBR pad that can be connected with adjustable lumbar support with its wrap Velcro. It comes with 2 Velcro straps that can be used for a different part of the body. It also features 20 minutes auto shut-off timer, and the therapy session can last for just 40 minutes. It operates in three modes of near-infrared, mid-infrared, and far-infrared rays. It comes with two charging wires and back support wrap.
Key features:
Two red light therapy pads with 20 minutes' auto shut-off timer
117 pieces of medical red infrared lights
Deep penetration and large area treatment
Soft SBR pads with two Velcro straps
The YJTSKY Cold Laser Red Light Therapy Device is another painless device that delivers non-thermal photon light on the body to help heal injured and cells in the body. It is non-invasive, lightweight, and portable. It is powered by a rechargeable battery for continuous use of up to 4 hours. You can safely use this laser therapy device while you are charging without any risk of electrical shock.
Also, it produces a maximum power of 510mw to enhance fast recovery. The YJTSKY Cold Laser Red Light Therapy Device is tested and proven to decrease inflammation, relieve pain, and heal skin injury. The healing process facilitated by this device is natural, with no adverse side effects and no cross-infection. For more options check out our guide on red light therapy devices.
Key features:
Produces non-thermal photons of light
Laser therapy technology
Suitable for use while charging
Lightweight, portable and rechargeable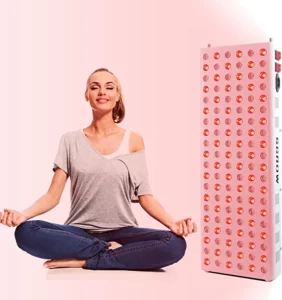 Do you want a multi-purpose therapy device? The SGROW Red Light Therapy Device is the right choice because it operates in three functional modes for effective pain relief and healing. It features 50% deep red light 660nm and 50% near-infrared 850nm.
It is a handheld device that operates through a magnifying lens to ensure penetration even from a far distance of about 60cm.
SGROW Red Light Therapy Device is a 600W high irradiance device capable of treating a circular area of up to 20cm in diameter. You can easily adjust the light and body distance based on your skin problem and desired coverage. Even though it is a handheld device, you can hang it or mount on the wall or door, depending on the body part you wish to treat and the position comfortable for you.
Key features:
Three model combination of red light and near-infrared therapy
High irradiance more than 10mw/cm2
Half body coverage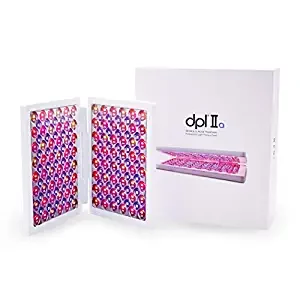 Another effective red light device is the portable and compact Dpl Ila-Professional Red Light Therapy Device. It is a trusted device featuring 262 LED lights for a skin tone color enhancement, anti-aging wrinkle reduction, and acne prevention. It operates through 3 powerful treatment settings that allow fast recovery and regeneration process.
The powerful, far infrared light array of Dpl Ila-Professional Red Light Therapy Device promotes skin healing. It also has blue lights that eliminate acne-causing bacteria. For easy use, it features an on/off button to switch between the red and blue light, and its package includes optional relaxation google.
Key features:
262 LED lights for treatment
Three treatment settings for advanced light therapy
Strong and powerful far-infrared light array
Clinically tested and FDA-cleared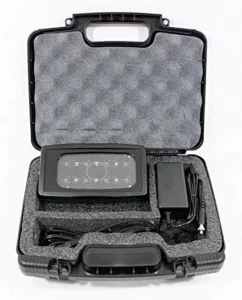 Are you looking for a sleek and stylish gift to give your friend? The Sonluma LightDoctor Red Light Therapy Device will be a perfect gift because it offers a fast result with the production of 10,000 milliwatts power. It is a lightweight and portable red light therapy device that you can travel with at any time. It features a rugged and sturdy custom case for storage after use and for easy transportation.
For safety, the Sonluma LightDoctor Red Light Therapy Device is equipped with an automatic 60 seconds timer to ensure effective and safe light and infrared therapy treatment. This surface mount LEDs device offers a painless treatment that maximizes cellular activity to ease and heal inflammation, swelling, and injuries. For more health products, check out our guide on tan accelerators.
Key features:
Produces 10,000 milliwatts of optical power
Comes with a sturdy custom carry case for protection
Lightweight device with automatic 60 seconds timer

The Hooga Red Light Therapy Device is beneficial to the human body and helps quick recovery from pain. Its panel emits an equal proportion of 660nm red light and 850nm near-infrared wavelengths to deliver an excellent combination of light therapy to treat skin and deep tissue injuries. This device delivers high irradiance of about 100mw/cm2 at a distance of 6 inches, and it emits low EMF.
For effective customized treatment, the Hooga Red Light Therapy Device features two integrated switches; the first power switch allows you to use 100 red lights of 660nm, and the second power switch allows you to use 100 near-infrared of 850nm. As a result, you can operate in three modes of combined near-infrared and red light, red light only and near-infrared only. Its equipped with a quiet internal fan that dissipates heat to prevent overheating.
Key features:
Emit equal proportion of 660nm and 850nm wavelength
Suitable for customized treatment
Quiet internal fan that dissipates heat
Two-years' warranty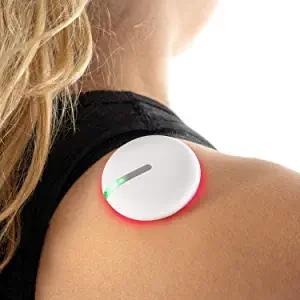 Do you like easy to use hand-free therapy device? The IASO Red Light Therapy Device and Massager will be a good choice because it is wearable, compact, and rechargeable. It utilizes advanced technology of low-level laser therapy to stimulate healing, regeneration, and pain relief. It is a non-invasive hand-free device that you can use with its adhesive patches without any side effects. This hand-free feature makes it possible for you to do other things while you attach the IASO red light device.
Furthermore, IASO Red Light Therapy Device and Massager offer three modes of operation, and you can easily cycle through by clicking the single button on the device. The three modes of operation are light therapy only, light therapy plus vibration and light therapy plus rhythmic vibration. The package includes 40 adhesive patches, charging cradle, activity band, and the IASO device.
Key features:
Advanced low-level laser therapy technology
Three different massage modes
Wearable, compact and rechargeable
1-year warranty
The LaseTRX Cold Laser Red Light Therapy Device is a non-invasive mobile device that combines the laser therapy technology with static magnetic energy to provide rapid treatment for inflammations and body pains. This laserTRX is compact and convenient to travel with and use everywhere. It has a rechargeable ion battery that lasts for long hours with charger.
Furthermore, the LaseTRX Cold Laser Red Light Therapy Device provides 4 energies for fast treatment. The energies synergized for effective performance include super pulsed infrared laser wavelength, visible red LED light, infrared LEDs energy, and static magnetic energy and induction. It is safe to use because you won't experience any adverse side effects. It also features a pre-programmed treatment setting for customized and special treatment. Using this LaseTRX device greatly cuts down the need for you to take pain medications that are necessary for pain relief.
Key features:
Four energies super pulsed infrared laser wavelengths treatment
Wide variation treatment
Compact, lightweight and portable
One-year warranty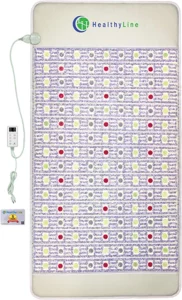 The HealthyLine Red Light Therapy Mat is one of the most effective red light therapy in the market today because of its versatility. It is designed as a 5 in 1 mat that can be used for PEMF (pulse electromagnetic fields), far infrared therapy, photon light therapy, and negative ion therapy. The PEMF therapy uses a 7.8 Hz pulse burst to heal damaged bone and tissues. The mat has potential therapeutic benefits like improving fluid circulation, reduction of pain, and an increase in tissue oxygenation.
In addition, the HealthyLine Red Light Therapy Mat has 24 red photon lights operating at 660nm wavelengths to promote wound healing, tissue repair, relieving pain, and helping in short term treatment of carpal tunnel. This mat is built up with about 21 functional layers with the topmost layer infused with 24 lbs of crushed amethyst, 48 tourmaline ceramic stones, 72 jade stones, and medical-grade leather. It also features advanced filtration extra EMF blocking layers. The operating temperature ranges from 86 – 158°F, and it has 3-6-12 hour adjustable time and temperature auto-shutoff for safety.
Key features:
Adjustable light and temperature
24 photons red light LED therapy at 660 nm wavelength
21 functional layers of TAJ PEMF photon mat
The PEMF therapy uses 7.8 Hz pulse
Closing Thoughts
The red light devices are experts in treating all your body aches and inflammations, building your workout capacity, improving your thyroid gland functioning, generating optimum testosterone levels in the body, and improving the speed of your body's recovery.
Now that you are well-versed in all the features and benefits of these red-light devices, the price entity of this product might be haunting you. Now with so much technology inbuilt into such a compact device would naturally cost you a bit expensive. But those who suffer from consistent body aches can better invest in this instead of relying on the heavy dosage painkillers that can give only temporary relief to your body pains.
Although this device is advanced it is wise to use it by following all the instructions for your safety and well-being.