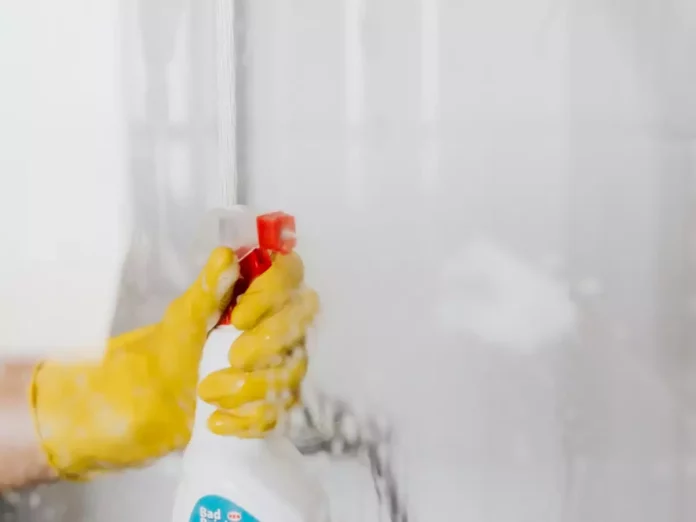 Do you effectively eliminate germs when you clean your house, office, or workplace? Or are you just taking away dust and grime? You could just leave bacteria, viruses, fungus, and other microbial pathogens behind if you use the same all-around cleaner for each layer and spray and wipe if everything starts to feel a little filthy.
You should invest in a good quality anti-bacterial spray to clean your environment correctly.
It is essential to understand the properties of a helpful anti-bacterial spray before buying one:
It should have broad spectrum effectiveness
The anti-bacterial spray must be active and stable
Your spray must be safe for humans as well as for animals especially if you have pets at home, as they also require the same level of protection as we do, to lead a fit and germ-free life
It should be environmentally safe and must not do any harm to the surroundings near you.
The spray must not be costly and should leave no odor or damage
The spray must be chemical free and suitable for all ages so that you do not have to buy different varieties for different age groups.
All the products in this review have been tried and tested by our team to help you get the best value for money. These products have been arranged according to increasing price points and reviewed keeping in mind freshness, effectiveness, durability, and user-friendliness for all-day long protection from infections.
This Anti-bacterial alcohol-free spray helps decrease contamination for a prolonged period. It is a safe and efficient Anti-microbial spray for use on cuts and scrapes, wounds, lacerations, and skin diseases.  A unique foaming method that softly kills annoying bacteria, and viruses without stinging, it is also safe for babies and kids.
Tea tree and peppermint water have medicinal and acne removal properties. Tea tree is antiseptic and typical for the therapy of acne, while peppermint cools the skin against bacterial growth. You must use this spray before eating your food or can also use it every time you answer nature's call or touch anything inappropriate. This spray will also help you in keeping your feet clean and dry and will help you stay away from any type of infections that the viruses in the air cause.
Key features:
Contamination-free
Safe for all
Unique foaming method
Dettol is a well-known name when it comes to fighting germs and providing a 100% clean environment for your home. It is a brand trusted by customers for a long time. This anti-bacterial spray can be used daily. The Dettol anti-bacterial spray kills 99.9% germs and gives you hygienic results where your kids can play without any worries.
This product can be used everywhere on your clothes, bed sheets, entertainment centers, flat and uneven surfaces, and can also be used to clean the flooring of your home.
Key features:
Safe for all
Fights against 99.9% germs
Neutralizes all odors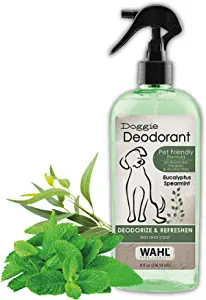 Our pets also need to stay safe from infections as much as we do. The WAHL anti-bacterial spray for pets helps keep pets away from all kind of bacterial and fungal infections. This eucalyptus-based formula is a highly recommended product from previous users and has won laurels for safe and secure usage. It is entirely chemical free and keeps your pet safe for 72 hours with a single application. Moreover, it is safe if swallowed, so you don't have to fear any adverse effects.
The WAHL anti-bacterial spray for pets can be used daily and will not harm the fur of your pet and will also add shine and strength to the coat. Now you do not have to worry about your pet running in the mud and playing in the park as this will keep him/her safe from ticks and fleas that are very harmful to your pets. It's perfect for things which constantly collect dirt & pathogens like shower heads and flat surfaces.
Key features:
Safe and chemical free
Fights bacterial as well as fungal infections
Easy to apply and carry

This is an effective anti-bacterial spray that is easy to carry and gives a floral fragrance for up to 12 hours. It can be used on clothes, sheets, cushions, and everything else for a hygienic and infection free environment.
The Star nail anti-bacterial spray is chemical free and thus is safe to use on skin, nails, and tips. Now stay free of all kinds of infections that your skin can get by using this spray. You can use it twice in a day for maximum benefits. This spray can be used daily without any worries of side effects. In a spray vial, the anti-bacterial pillow mist can be applied conveniently to your bedding and pillowcases. Spray it on cushions and blankets, consoles, clothes, and even tapestry to kill germs to remove odor. For more cleaning products check out our guide on cordless vacuum cleaners or if you have pets, vacuums for pet hair.
Key features:
Pocket-friendly price
Floral fragrance
Safe on nails and skin
Just as your fingers can move dust and bacteria to your skin, your pillowcase can also cause an acne breakdown because your cushions contain powder and oil.  The Diva stuff anti-bacterial mist is a distinctive combination of natural components that prevent bacteria which cause acne to stay free of fungi and acne. Use this spray on your bedding and clothes as well.
Enjoy lavender's soothing aroma when you spray this anti-bacterial spray. This pillow foam spray with tea tree is mixed with hydrosols of lavender, to assist you to relax while you are sleeping. Lavender hydrosol is herbal water derived from lavender essential oil distillation method.
Key features:
Soothing fragrance
Long lasting
Chemical free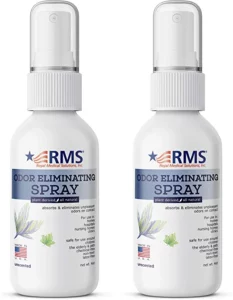 All the products made from this manufacturer are skin friendly and free from all kind of chemicals. The RMS anti-bacterial spray is specially made for those who want to get rid of odor from cigarettes, tobacco, alcohol, mildew, fungus, and mold without using any chemical on the skin or in the environment. Also, this product is very affordable and is readily available.
The RMS anti-bacterial spray is 100% biodegradable and is also safe for your pets. This anti-bacterial spray is odorless and 100% non-irritating for the skin. It contains no side effects and will not harm the coat of your pet. It will also help in moisturizing the fur of your pet and will not be harmful to human or animal skin.
Key features:
Pocket-friendly
2 in one formula
Chemical free
TreeActiv Natural Linen Spray helps prevent bacteria from objects with which our skin often catches fungal infections when in touch with clothing. The distinctive combination of ingredients removes odors and helps avoid acne with naturally anti-bacterial, antifungal, and anti-inflammatory components.
The vital aromatic liquids in the TreeActiv natural linen anti-bacterial spray also assist in balancing the day and calming your mind. You can simply spritz when you need the aromatherapy. It is calming and relaxing, and will also help you get deep sleep at night. You can use this once or twice daily as needed. It's perfect for cleaning upholstery such as sofas and even massage chairs.
Key features:
Natural and chemical free
Soothing fragrance
Safe on clothes and stain free
There's nothing higher than preserving our families and communities' health. The Rexona anti-bacterial spray contains a proprietary thyme oil formulation mainly produced for day-long sweat free feel.
It is not screened on livestock and has been accredited as free of cruelty. This anti-bacterial formula is made in a top US manufacturing unit and is strictly bottled in completely hygienic conditions.
Key features:
Safe for all ages
Unique oil formulation
Non-sweaty formulation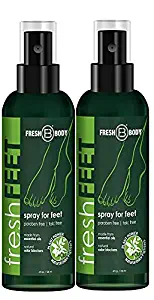 The Fresh Feet by Fresh Body anti-bacterial spray provides long-lasting freshness to your feet which bear sticky sweat and have to remain in socks for most of the time. Enjoy the smooth and skin friendly formula of this spray that will cause no harm to your skin and will keep your feet away from infections like athletes foot, corn, and fungal rings.
You can use the Fresh Feet by Fresh Body spray before hitting the gym, running, jogging, or even before going to work to help preserve your feet. Additionally, you can use it around the house to help prevent infections and odors. It is also safe for diabetics. If you're interested in cleaning the air in your home too, consider an air purifier or a humidifier which can also act as an essential oil diffuser.
Key features:
Fresh and long-lasting feel
Natural and chemical free
Affordable
Unlike typical foot spray enthusiasts, this is a maximum strength shoe deodorizer that operates quickly to freshen stinky feet and clothes by not only masking the scent, but is designed to ruin the cause naturally.
We use a mix of organic tea tree oils and organic skin-friendly products that are secure on clothes and clothes, making you feel and smell fresh and tidy with every move. If you use athlete foot spray or the major brand's antiperspirant foot spray, you generally exchange functional smell or vice versa. Our deodorant for shoes guarantees that you aid safeguard your skin and reduce odor.
Key features:
Works on feet and skin
Natural and safe
Moisturizes as well as deodorizes
Closing Thoughts
While germs can make your life devastating because of the invariable infections they cause in your body, one should be careful enough to choose the most environment-friendly and human-safe anti-bacterial spray to become germ-proof.
While the anti-bacterial spray you purchase should have flexible features so that it creates a safe and healthy environment for all beings be it kids, old ones, asthmatic ones, or pets as well.
Also, these sprays must be travel-friendly and leakage-proof. Most importantly one should get the most beneficial and portable anti-bacterial spray with a reasonable price tag.
The anti-bacterial spray must be easily available and all sections of society must be educated and encouraged to use them.