How to get rid of wrinkles on face? Are you looking older than your age just because of wrinkles? And you are tired of using so many wrinkle creams which promise to erase or prevent them. There are so many effective natural remedies that can help you to remove Wrinkles on the forehead and under the eyes.
Wrinkle mainly occurs on your forehead, under the eyes, neck, and back of the hand. Because these parts of the body get the most sun exposure. Aging is a very common reason behind getting a wrinkle.
While you cannot stop aging but you can prevent wrinkles due to smoking, excessive alcohol, and dehydration.
One of the biggest causes of wrinkles is a reduction of estrogen, which affects collagen and elastin in the skin. Collagen is the type of protein that gives our skin strength and elasticity.
It also helps in replacing dead skin cells. Collagen production slows down as you get older and due to this you get wrinkles. Elastin is also a type of protein that helps to maintain skin structure and shape.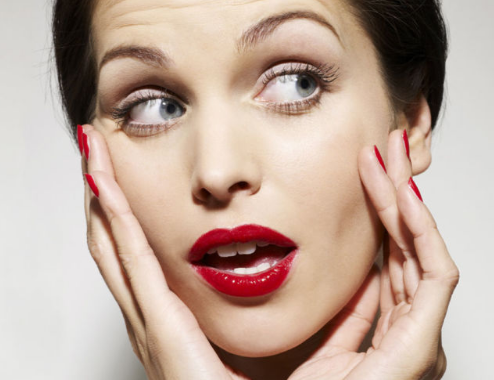 What causes wrinkles on the face?
As you get older, your skin gets thinner, drier, and less able to protect itself from damage. Aging is the main cause of wrinkles on the face or other body parts. Other causes of wrinkles may include
Smoking
Sun Damage
Excessive alcohol
Facial expression- Yes you read it right, this may be one of the causes.
Dehydration
Poor Dietoccur
Exposure to UV light.
Type of Wrinkles on the face
There are mainly four types of wrinkles which include.
Atrophic Crinkling Rhytids: It occurs due to loss of elasticity in your skin.
Permanent Elastic Creases: Due to sun exposure crease lines in the skin becomes permanent over time.
Dynamic Expression Lines: It happens due to facial muscle movement.
Gravitational Folds: This type of wrinkle on your skin happens because of gravity.
How To Get Rid Of Wrinkles On Face? – 12 Safe Home Remedies
1. Pineapple
The juice of pineapple is a very useful remedy for under eyes wrinkle treatment at home.
It contains a bromelain enzyme that has anti-inflammatory properties. Pineapple is also worked as alpha hydroxy acid and treat wrinkle.
Take fresh pineapple juice and apply it to your face. Wash it after 15-20 minutes.
Repeat this remedy for months to cure and prevent wrinkles.
2. Olive Oil
One of the simplest remedies for skin damage and preventing wrinkles. It contains vitamin A and E which works as an antioxidant and keeps body's skin hydrated.
Olive oil can repair damaged cells and help regenerate them.
Massage with olive oil on body parts that are exposed to the sun such as the hand, face, neck, etc.
You can also mix olive oil with honey and glycerin. This mixture twice a day to get rid of dead cells.
Alternatively, you can use coconut oil, almond oil, or vitamin E oil.
3. Castor Oil
Another good remedy is to get rid of eye wrinkles. The skin under the eyes is very thin, and needs a daily moisturizer to avoid damage. It also prevents face lines from appearing on your face.
Massage castor oil under the eyes before going to bed.
Make it a routine to look young.
4. Aloe Vera
Aloe Vera works as a good skin tone and keeps your skin tight. It has malic acid which helps to maintain the elasticity of your skin.
Extract juice from fresh aloe vera leaves and apply it to your skin gently.
Keep it for 20-30 minutes and repeat this remedy daily to get rid of face wrinkles.
You can also mix the vitamin E capsule with aloe vera juice. This mixture will work as the perfect cream for wrinkles.
5. Fenugreek
Fenugreek is a good homemade remedy for wrinkles cure on the face. This natural herb is widely known for skin problem and also cure and prevent wrinkles. It is a good source of vitamins and minerals which help to treat facial wrinkles and fine lines.
Make a face pack by grinding fenugreek seeds.
Apply this paste to your face before going to bed and wash it off in the morning with warm water.
Boiled fenugreek seeds in water and wash your face with that water daily.
You can also massage with fenugreek oil on your face daily.
6. Almonds
Almond contains nutrients like vitamin E, zinc, iron, calcium, folic acid, and fiber which help to slow down the aging process. Almonds are a good home remedy to prevent wrinkles and fine lines.
Take 10-12 cloves of almonds and soak them in fresh milk for a night. In the morning peel the skin of almonds and grind them to a thick paste. Apply that paste on your skin or wrinkle under your eyes for 10-15 minutes. Wash it off with lukewarm water and repeat this remedy daily for a better result.
To slow down the aging process you can massage with almonds oil on your body.
7. Cucumber
Dehydration can damage your skin and can form a wrinkle on the face. So moisturizing skin is very important and cucumber is one of the most suitable skin moisturizers.
Take a cucumber and cut it into slices, and put them in the refrigerator for 15 minutes to cool down.
Then keep those slices on your forehead wrinkling and under your eyes wrinkling. Repeat this remedy on a daily basis to get effective results.
8. Avocados
Avocados are a good source of fat which makes them a good remedy for wrinkles under the eyes. Natural oil presents in Avocados go deep into the skin and nourish the skin.
Take avocados and cut them into slices and put those slices on under the eyes and wrinkles around the eyes.
Leave it there for 15 minutes. Press slices gently on the skin for a better result.
You can make a paste by mashing the avocados. Apply that paste on your face. Leave it there for fifteen minutes.
This is a good remedy for wrinkles around the mouth and wrinkles on the forehead.
9. Egg Whites
The egg is a good source of protein and vitamins which helps in reducing and preventing a wrinkle from appearing. This remedy is very useful to remove deep wrinkles on the face.
Take one egg white and apply that on the face.
Make a layer of it on the face and leave it there until you feel like egg white is pulling your skin.
Avoid using egg white under your eyes because if you leave it for a long time it may pull your delicate skin.
10. Milk and Brown Sugar
A paste of brown sugar and milk is a good face pack to remove wrinkles on the face. It is good to face cleaners that remove dead cells and helps to regenerate them.
Take warm milk and add some brown sugar.
Make a paste of this mixture and let it cool down.
Apply this paste on your face and wrinkle under your eyes for 15-20 minutes.
Repeat this remedy daily for effective results.
11. Orange
You can use orange juice to get rid of Wrinkles and fine lines around the eyes. Orange peel is also very good for the skin.
Apply orange juice around your eyes and forehead with the help of a cotton ball. Repeat this remedy twice a day.
Make a paste of orange peel by grinding it with some water.
Apply this paste to your face for 15 minutes. It will nourish your skin and remove dead cells.
12. Rose Water
Rosewater is a good natural remedy to get rid of wrinkles on the forehead and wrinkles under the eye treatment. It removes dead cells from the skin and nourishes the skin.
Take a cotton ball and dip it into fresh rose water for 2 minutes.
Put these cotton balls on wrinkles around the eyes and forehead wrinkles.
Keep it for 15 minutes and wash it with warm water.
Repeat this remedy twice a day to get rid of wrinkles quickly.
Closing Thoughts
Quit smoking: Smoking deprives your skin of oxygen and nutrients, which damage your skin and make you look older.
Drink Plenty of Water: Drinking more water helps to get rid of harmful toxins and keep your skin hydrated.
Omega 3 Fatty acids: It helps to nourish your skin and help you to get rid of Wrinkles.
Diet: Eat more fruit and vegetable to keep your skin healthy to prevent wrinkles. Fruit and vegetables contained vitamins and nutrients which make skin softer and healthier.
Frequently Asked Questions
1. What is a natural way to reduce wrinkles?
Ans: We have mentioned the 12 safe home remedies to reduce wrinkles on face without any side effects. Applying rose water on face, using egg whites and cucumbers and many more ways which can be performed easily at home.
2. Is toothpaste good for wrinkles?
Ans: Maybe it can sound a little absurd, but surprisingly toothpaste really help curing wrinkles on face. You need to apply toothpaste all over face and leave it overnight. Wash off with cold water and pat dry in morning.
3. Will drinking water get rid of wrinkles?
Ans: This may sound real but this is completely a myth. Drinking water isn't going to help get rid of wrinkles unless you are extremely dehydrated.
You can also check:
You can also check out the official website of civilizedhealth.com to get the safest and most suggested home remedies for different medical conditions.