How to prevent hair loss after pregnancy? Are you losing hair after pregnancy and why does your hair fall out after pregnancy?  Don't panic it's very normal and temporary hair loss. During pregnancy, estrogen increases in big amounts, which helps to grow hair thicker and protect against hair loss. After childbirth estrogen levels in the body drop back down and lead to heavy hair loss in a short period of time.
Hair loss normally happens after two months of delivery. Around 80-90% of new mothers suffer from postpartum hair loss. As this is a very normal process but still you can prevent hair loss after pregnancy with the help of natural home remedies.
What is Postpartum Alopecia?
Hair fall after delivery is also known as postpartum alopecia. The term alopecia is used for hair fall. Postpartum alopecia occurs all over the head but sometimes you may get a bald spot on your head. Normally a woman loses about 100 to 125 hairs a day, but after pregnancy, the number of hair fall increase to 500 a day.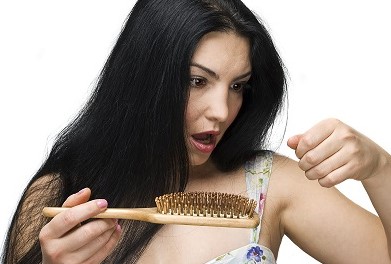 Home Remedies To Prevent Hair Loss After Pregnancy
Below are some of the most effective natural remedies to stop hair fall:
1. Lemon Juice
Lemon is a very effective home remedy to protect your hair. It helps to keep your scalp hydrated and dandruff-free.
Take one tablespoon of lemon juice, olive oil, rosemary, and one egg yolk.
Mix all of them well and make a fine paste.
Apply this paste on your scalp and leave it for 1 hour and then wash your head.
Read: How to Cure Heartburn in Pregnancy
2. Fenugreek Seeds
One of the perfect home remedies for hair loss control during and after pregnancy. It helps to make your hair thicker and stronger. This remedy also helps to remove dandruff.
Take a handful of fenugreek seeds and soak them in water overnight.
Extract the water and apply it to your hair. Leave it for 1 hour and then wash your hair.
You can also make a paste of roasted fenugreek seeds powder with hair oil and apply it to your head.
Leave this paste on your head for one hour and then wash it with shampoo.
3. Healthy Diet
A pregnant woman needs more nutrition and a healthy diet. Lack of nutrition can cause hair loss during and after pregnancy. A pregnant woman needs more iron, Vitamins E, C, and B complex to help improve the quality and strength of hair.
Foods that contain such nutrients are perfect to prevent hair loss. A pregnant woman should include fruits and vegetables that contain flavonoids and antioxidants in her daily diet.
However, when it comes to taking supplements available over the counter, one must seek a doctor's advice.
4. Check your comb
To prevent hair loss one must use a comb with widely spaced teeth. A comb with tightly spaced teeth may pull hair more than a brush with wider teeth. It can make your hair roots weak.
Whenever you brush your hair, brush them gently. Try not to brush hair when they are wet because wet hair is more fragile than dry.
5. Rosemary leaves
To make this remedy you need a handful of rosemary leaves. Boil rosemary leaves in a cup of water for 10 minutes. Let it cool down and strain this mixture. Apply this water to your head after straining. Do this remedy 3 times a week to get rid of hair loss.
6. Aloe Vera 
Aloe vera is one of the perfect ayurvedic home remedies to stop postpartum hair loss. Consuming aloe vera daily helps to improve your immune system and also flush out harmful toxins.
You can take one-third cup of aloe vera juice daily empty stomach.
Also, you can take a tablespoon of aloe vera gel along with cumin seeds three times a day for three months.
7. Yogurt
One of the simple and easiest ways to get rid of the hair fall issue. Take one cup of yogurt to avoid hair loss. It will also help to maintain weight after childbirth. Yogurt is a good food to maintain protein in your body if there is any protein deficiency.
8. Indian Gooseberry
The Indian gooseberry commonly known as Amla is a very effective home remedy for hair problems.
Take amla powder and mix it with water to make a fine paste.
Apply this paste on your scalp for 30 minutes and then wash with warm water.
Do this remedy 2 times a week.
Alternatively, you can add amla juice or amla fruit to your diet.
9. Ayurvedic Oil
Oil massage is the perfect way to strengthen your hair. So massage your hair with ayurvedic oil like coconut oil, almond oil, and Brahmi oil. Take any of these oil and massage before going to bed. Massage your hair 3-4 times in a week is good to get your hair back.
10. Coconut Milk
Coconut milk is a beneficial remedy to improve your hair condition. It moisture your scalp and strengthen your hair root. It also helps to remove dandruff.
Massage with half a cup of fresh coconut milk on your head. Leave it for 30 minutes, and wash it off using a good herbal shampoo. Consider using fresh milk, not the tinned variety, and do this remedy twice a week.
11. Neem
Another natural herb that is widely used for so many health problems. Neem is also a very good remedy for hair loss. It has antibacterial properties that prevent the growth of bacteria.
Take a handful of neem leaves and make a paste with water.
Apply this paste on your head for 20-30 minutes then wash it off with herbal shampoo.
See: How to Get Rid of Dandruff Permanently
How long does hair loss last after giving birth?
It may vary from one woman to another woman and depend on the health condition. Normally hair loss lasts for 6 months after pregnancy. After 6 months your hair starts growing again naturally.
What are the causes of hair loss after pregnancy?
One of the main reasons for hair loss is hormone change in the body. Rapid increases and decreases in the level of estrogen during and after delivery cause hair loss. Apart from this lack of nutrients, vitamins and depression can cause hair loss after pregnancy.
Prevention tips to Control Hair Fall in Pregnancy
Avoid over-brushing your hair as it can cause further damage.
Do not go for tight hairstyles such as a ponytail, cornrows, braids, hair weaves and hair rollers.
Stop using straightening treatments or chemical dyes as they make the hair brittle and dry.
A milder shampoo and conditioner are recommended.
Try Massage regularly to stimulate blood circulation.
Avoid using hair colors as harmful chemicals present in them can lead to excessive hair fall.
Maintain a healthy diet that is rich in nutrients.
Final Words
Hair loss after pregnancy is a very common problem so you don't need to be stressed too much. If you are facing this problem we recommend you go natural and don't use supplements and chemicals. If you have any suggestions or any remedy which we mention forgetting please let us know. Follow the above remedy to prevent hair loss after pregnancy.