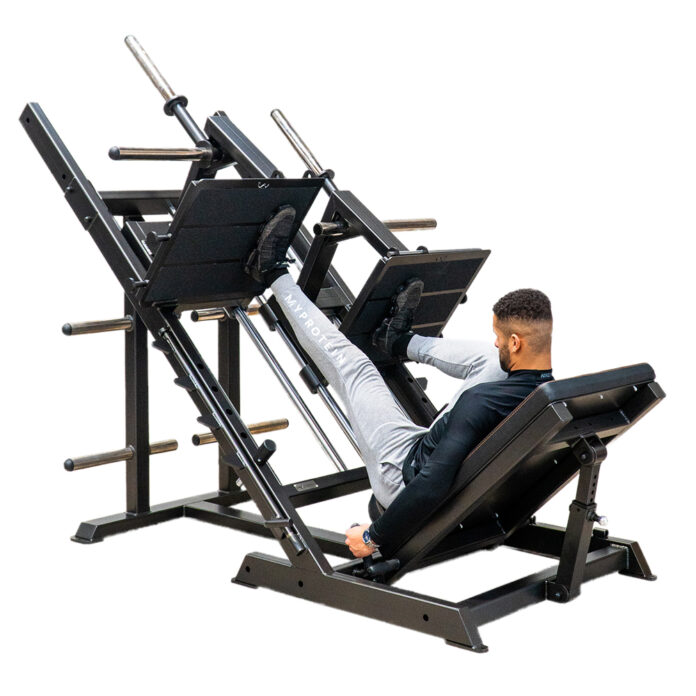 Leg press machines are indeed a common piece of fitness equipment at gyms and exercise studios, but now that manufacturers have made advancements, it's now possible to buy more compact models for your own home gym. There are many advantages to purchasing leg chest presses, one of which is the significantly lower initial outlay compared to monthly gym dues.
Owning a leg press allows you to work out more quickly and conveniently than if you had to travel to the gym every time you wanted to exercise. out, which is much more convenient and saves you time. You can more easily personalize your workout and get greater results by selecting a more compact version.
10 Leg Press Machines For A Good Leg Workout
Key features:
Comfortable back support and headrest help to minimize neck strain
It has a narrow design that is ideal for smaller spaces
Accepts standard or Olympic plates
---
Key features:
Great for those who are serious about improving their fitness
Includes a low-row bar and a lat bar
160lb selectorized cast iron weight stack
---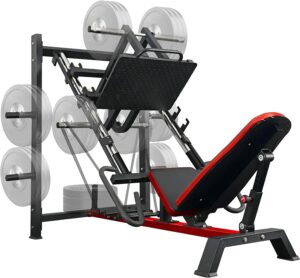 The compact MiM USA Leg Press Machine has a comfortable leather seat and a rust-resistant chrome-plated guide and rail – the premium materials used on this machine ensure great quality and a machine that you can continue to use for many years to come. It has a smooth and efficient motion with an eight-track pulley and an adjustable footplate with a non-slip surface that makes exercising on this machine comfortable and safe.
This is the ideal leg press for increasing your speed, agility, and range of motion, providing plenty of flexibility when it comes to activating your twitch muscle fibers and developing your leg strength. This leg press has a maximum user weight of 780lbs, so it's suitable for a range of different users.
Key features:
The compact design makes it space-efficient and ideal for a home studio or garage
Made from high-quality materials that are built to last
Has a maximum user weight capacity of 780lb
---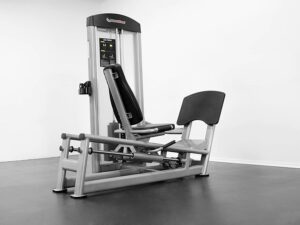 The Bodykore Commercial Leg Press delivers an incredibly smooth range of movement while you're exercising and has guided motion with safety locking points to eliminate the need for a spotter. It's been ergonomically designed for superior stability and a contemporary look that is comprised of heavy gauge steel. This leg press allows for a maximum load of 900lbs and has a 3-position back rest for users of all shapes and sizes to work out comfortably without putting any excess strain on their bodies.
There's also a wider footplate so you can adjust the positioning of your feet for complete comfort and stability, however, it suits you. There are also six Olympic weight plate storage posts beneath the machine so you can safely suspend the plates off the floor for easier access. For other leg exercises, see our power racks and Olympic barbells for a great squatting rack.
Key features:
Made from commercial grade materials such as heavy gauge steel
Features an adjustable backrest for complete comfort
Easy to assemble and delivers maximum structural integrity
---
If you're looking for a machine that allows for excellent muscle development and capacity, this is the machine for you. The Body-Solid Pro Club Line SLP500G2 has amazing durability and power, with a sophisticated pillow block for friction-free movement and fantastic levels of precision. This machine gives you the opportunity to really get results and the advanced design helps to reduce compression on the spine while also allowing for a wide range of motion.
The machine has been built to last even when pushed to the limit with the most strenuous of routines. The Durafirm back pad has been ergonomically designed with two position press plates so all users can exercise comfortably for a complete leg and calf workout that delivers visible results.
Key features:
Made from extra tough and tear-resistant Durafirm material
Has sealed ball bearings for precision alignment
Fully adjustable backrest for comfort and stability
---
The Weider Ultimate Body Works Incline Leg press is one of the more budget-friendly options when it comes to this piece of equipment, but it doesn't disappoint in terms of results despite the lower price point. The adjustable bench can be inclined to any angle for more or less resistance, depending on the workout, while the four resistance bands allow you to change the resistance weight by up to 50lbs.
You aren't restricted to leg workouts on this machine either. It is versatile enough that you can also use it to shape your arms, back, and hips too. The Weider Ultimate Body Works machine offers a variety of workout motions using the cable and pulley system, so you can target different muscle groups, so it's a brilliant investment that provides fantastic flexibility. And when you're done, it even folds up so you can store it easily.
Key features:
Includes four resistance bands for personalization
Versatile machine that enables arm, back, and hip workouts as well as legs
Adjustable incline bench enables an increase or reduced resistance
---
Titan's Leg Press Hack Squat machine is a 2-in-1 piece of equipment that allows for both leg press exercises and a hack squat set-up to save on space and maximize your machinery. This means you can switch up your leg workouts quickly and efficiently without the need for multiple pieces of equipment to take up space.
All that's required to change your workout is to flip the back pad and drop the leg press footplate and you're ready to perform hack squats. The machine fits Olympic weight plates and has two loadable weight posts and two additional posts for convenient storage and access, while the high-quality steel construction keeps the whole machine secure and stable. This is a comfortable machine that can be adjusted for use by any size athlete.
Key features:
A 2-in-1 machine that allows for leg and hacks squat positions
Features safety handrails for control and balance
Fits Olympic weight plates and has two loadable weight posts for storage
---
The TDS Premier Vertical Leg Press takes a slightly different approach to this piece of machinery and it really packs a punch. The design ensures that the stress is removed from the knees, but it still delivers a great workout on your hamstrings, quadriceps, and glutes. The leg press comes with a three-inch thick padded backrest that protects your back properly while you're exercising, and the extra wide steel footplate is large enough that athletes of any size can work with it comfortably.
There are heavy-duty stoppers, which are important for a vertical machine, as well as grade-eight rollers for easier gliding of the mechanism. The TDS Vertical Leg Press is easy to use and comes with both standard and Olympic weight bars, so you can customize it to your preferences. See our perfect picks for sit-up benches for other great gym items.
Key features:
Has an extra wide steel deck foot plate
Ideal for developing quadriceps, hamstrings, glutes, and calf raises
Mounted on heavy-duty rollers with strong safety stoppers
---
The Body-Solid GLPH1100 Leg Press Machine is enormously popular and with good reason. There are many features on this machine that make it a great addition to any home gym, from the quad track roller system that evenly distributes weight to the maximum load capacity of 1000lbs.
The machine is made using DuraFirm material so it's comfortable to use and is 10cm thick for added comfort, while the 11-gauge steel frame feels incredibly durable and secure. This leg press has been designed to reduce torsional flex and has adjustable back pads for a really stable and comfortable workout.
Key features:
Has a maximum weight capacity of 1000lbs.
The plate load system is really easy to access
Features three safety-lock positions and an adjustable backrest
---
The Powerline by Body-Solid Vertical Leg Press delivers a more challenging workout that has the perfect balance of support and resistance. It has a stable construction that is made from heavy-duty steel and nylon for a smooth range of movement and operation. This machine works well in terms of isolating the lower body muscles, providing more resistance as you push up.
The results you'll see from this machine are long-lasting and consistent. There are three stopping positions and a comfortable support rest, as well as a space-saving design that makes working out and storage much easier in tighter spaces. It would make a great addition to a dip station in any gym.
Key features:
The dual adjustable locking pins come in three positions
Made from a durable alloy steel frame with a tough powder coating
Has a 400-pound capacity
---
Buyers Guide For Leg Press Machines
Leg press machines are a popular piece of equipment in gyms and workout studios but thanks to improvements from manufacturers, it's now possible to purchase more compact versions for your own home gym too. There are many benefits to buying a leg press machine, including the comparatively low cost of making one initial investment versus paying for a gym membership every month.
Having your own leg press is far more convenient and saves you time, as you can work out more easily and quickly than if you had to make the journey to your local gym each time you wanted to exercise. These machines typically come in one standard size at a commercial gym, which isn't always ideal for beginners. By choosing a more compact version, you can customize your workout more easily and see better results.
Closing Thoughts
 Leg press machines also provide various fitness-related advantages. They enable you to put more attention on your quadriceps, giving you additional thigh strength up front. Additionally, unlike some other exercise machines, this one allows you to move your foot effortlessly into different positions to target various parts of your leg. Leg presses are ideal for minimizing the strain on your back because they concentrate on pressing the weight from your legs, so even persons with chronic back pain can utilize them. The five greatest leg press machines for your home gym are listed here. They range in features, price, and size to meet your demands.