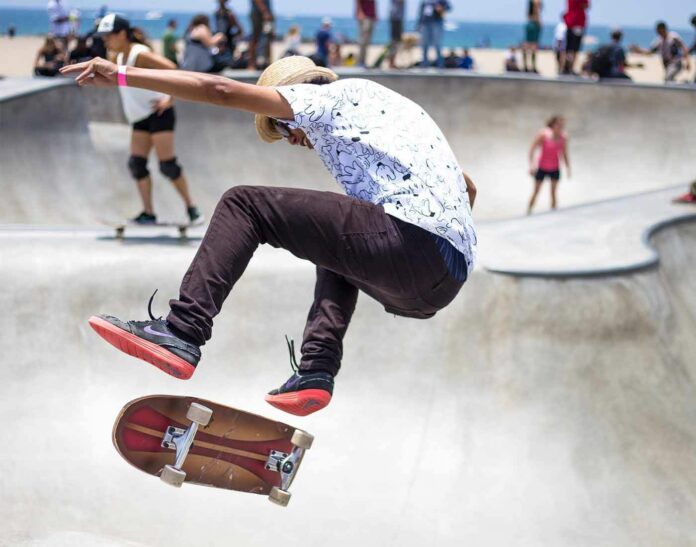 Skateboarding is a distinctive sport compared to other bodily games because it has no rules. There is no competition and you have no opposition. It is all about style and performance. With that in mind, protecting yourself is paramount as you are predisposed to injuries, whether you are a newbie or a pro!
Skateboarding is a great workout, whether you're practising the basics in your backyard or attempting more hardcore tricks at the skatepark. While it does great things for your fitness levels, improves your balance and works your hamstrings and quads, it's also a hazardous sport – particularly if you're new to it.
Staying protected is extremely important if you want to avoid broken bones and painful bruises, and knee damage is one of the most common skateboard-related injuries. So, a set of protective skateboard pads are key to your success and ensure that you'll be able to get right back up again to practice some more.
Skateboard pads are typically made from soft, flexible materials that attach at the back of your knee or elbow with Velcro closures, which makes them adjustable for the perfect fit that won't slip or be uncomfortable. The cap is usually made from a hard plastic material that will protect your joints from impact. Skateboard knee pads are often sold in sets of two or in larger sets which come with wrist guards and elbow pads as well.
What to look for when buying skateboard pads?
There are a few factors to consider when purchasing the right skateboard pads for your needs. They are as follows:
The terrain you'll be skating on – If you're skating in hilly areas, you'll be more likely to fall down than on flat surfaces, so bear this in mind when you're choosing pads to ensure that they offer plenty of protection and shock absorption.
Flexibility – Some skaters are more flexible than others, so take this into consideration when you're shopping. If you're more flexible, you'll be able to control your movements more carefully than if you're not. If you're not that flexible, you'll want to look for pads that offer maximum coverage.
Are you a beginner or an expert? – Beginners are likely to fall a lot more than someone who's been skating for years, so if you're an amateur then look for advanced protection.
How often will you be skating? – If skating is a regular practice for you, then you'll want pads that are built to last, whereas durability isn't as much of a priority if it's something you only do now and again. Knee and elbow pads need to be able to withstand frequent impact and knocks, with flexible straps that are comfortable to wear for long periods.
Our Handpicked Collection Of 10 Awesome Skateboard Pads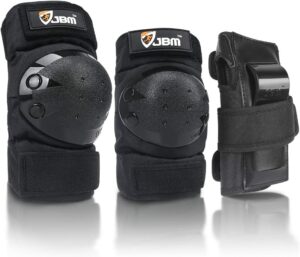 Durable yet comfortable, the JBM International 3-in-1 set features elastic straps that can be adjusted to each user for the perfect fit.
The pads are designed to fit most people, so they're versatile and adjustable with minimal effort.
Perfect for a range of sports and exercises, the pads can be used not just for skateboarding but also for cycling, roller skating and other extreme sports for full protection from injury and accidents.
Everyone from kids to extreme athletes will benefit from this set and the unisex design means they'll work well for anyone. This 3-in-1 set is perfect for testing your talents, especially as a beginner who wants plenty of protection while they get used to different tricks and movements.
Key Features:
Multiple adjustable straps and Velcro closures for a snug fit
Ideal for inline skating and riding bikes and scooters, as well as extreme sports
Made from a soft EVA padded material for comfort, with toughened plastic plates
---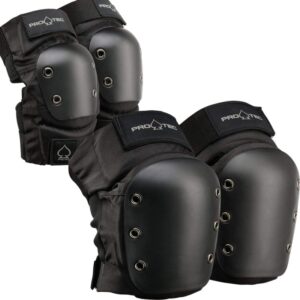 Pro-Tec ensures industry-standard safety levels, so you can rest assured that you'll be well protected when wearing this Knee and Elbow Pad set.
The soft cupped foam protects and absorbs impact while the breathable materials keep you dry while you're skating. The fully-adjustable pads provide a closer fit than typical Velcro closures provide, so you'll barely notice you're wearing anything with this set on.
This set regularly gets praise for being well-made, and comfortable and offers better protection than a lot of other brands. With minimizing injury at the top of your priority list when skating, these are well worth the investment and the multi-pack of the knee and elbow pads means you get more for your money too.
Key Features:
Soft EVA cup foam absorbs high impact while the ABS hard caps protect from injury
Durable Lycra and nylon fabric that's flexible and tear-resistant
Ergonomic design that keeps the user comfortable, dry and cool
---
A highly rated set, the Allnice 3-in-1, six-piece pad set is designed with a thickened sponge that's reliable, convenient and slip-resistant.
This is a durable set, so you can continue to use it for years without the worry of the quality deteriorating.
The pads can be used for a wide range of sports, including skateboarding, cycling and rollerblading, so they offer plenty of versatility, and the adjustable straps mean that others can use them without the risk of them falling off.
These pads won't slip so you don't need to spend all of your time readjusting the pads for a better fit – you can focus entirely on skating, knowing you're fully protected the whole time.
Key Features:
Six-piece set that provides all-round protection while carrying out extreme sports
Easy to put on and take off, with hook and loop straps and a simple, slip-resistant design
Hard PE plastic shell and thickened soft sponge interior for comfort but plenty of protection
---
Made from heavy-duty materials that are built to last, the Triple 8 KP22 set offers incredible protection. These knee pads are ideal for park and ramp skateboarding as they have the capacity to absorb a lot of impacts.
The butterfly-style closure is a time saver when it comes to putting them on or removing them, and also makes them suitable for users of all different sizes.
If you want serious protection from wipeouts and nasty falls, these knee pads are perfect. They'll hold up to in and outdoor terrains without the risk of injury to your body, so they're perfect for outdoor roller derby, BMXing or skateboarding at parks or on hilly surfaces.
Key Features:
Impact-resistant flat cap design for stability and longevity
Heavy-duty EVA foam and neoprene butterfly closure for a customized fit
Reinforced rivets provide security and reliability
---
While knee pads are often the first thing people think of when they begin skateboarding, elbow pads are just as important.
This set features excellent technology, with molecules that harden upon impact, so they only absorb shock as and when they need to.
The G-Form pads are machine washable and won't break down over time or become brittle, so you'll get years' worth of wear out of them, making them a great investment. This outstanding set can be used comfortably by pro skateboarders and beginners and allows for plenty of motion, without the feel of anything bulky weighing you down.
Key Features:
Reactive foam that absorbs 90% of force on impact
Made from breathable, moisture-wicking compression fabric with an ergonomic design
Lightweight and extremely comfortable to wear, reshaping based on your movements
---
Designed for action sports enthusiasts who want to highest level of protection, the 187 Killer Pads set provides an innovative design that offers maximum comfort and range of motion.
The cap offers fully protective coverage and the interior is the ultimate in comfort, so you can skate for hours without any discomfort. For skaters looking for a closer, more fitted feel these are ideas, as they lack the bulkiness that's synonymous with so many other brands.
187 Killer Pads are popular with professionals and extreme athletes and the design of this arm protection shows that maximum comfort and protection are at the heart of this product.
Key Features:
Extra thick padding for superior impact resistance
Articulated design ensures a complete range of motion
Made from ballistic nylon with industrial-weight stitching for durability
---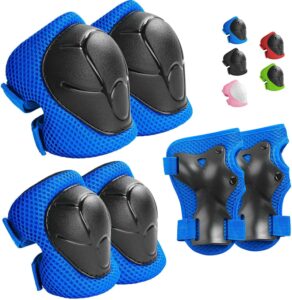 Great for kids and adults alike, this adjustable set is suitable for the whole family.
The tough plastic plates are coupled with soft padded interiors for the perfect of both worlds, and the set comes complete with knee and elbow pads, as well as wrist guards so beginners will benefit from the extra protection.
They will fit various knee and arm girths thanks to the adjustable elastic straps, and the Velcro closure is secure enough without feeling restrictive.
Key Features:
Available in two colour options – black or pink
Great for a range of skateboarding and other extreme sports
Made from durable EVA foam and polypropylene plastic
---
The JBM BMX set is designed with impact resistance at its core, so it's suitable for adults who will explore more aggressive boarding techniques than children.
The materials are built to last and offer a comfortable feel in addition to excellent protection.
Each of the pads and guards included in the set have non-slip and flexible straps, for a customized fit. What's more, the sleek look makes them a great accessory while you're skating.
Key Features:
Made from soft polyester and durable polypropylene materials
The universal sizing makes them suitable for all wearers
The set includes knee pads, elbow pads and wrist guards for complete protection
---
A supportive pad set that's sculpted with long-lasting materials, the Gioro Skateboard Protective Gear Set is comfortable to the touch and offers a snug fit when worn.
The form-fitting pads don't hinder movement so you're free to perform tricks and enjoy a complete range of motion without any difficulty.
The high-quality EVA padded materials inside cushion any fall to minimize impact to reduce the risk of injury. This set is suitable for kids and adults so the whole family can get involved in learning new skateboard tricks.
Key Features:
Full coverage polypropylene plastic hard caps and soft EVA cup foam to absorb impact
Suitable for multiple sports making them really versatile
Customizable fit means one size fits all, with breathability between the pads and body
---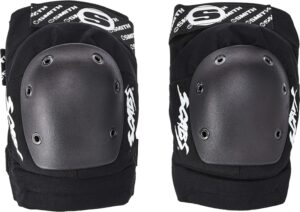 The ultimate form of knee protection, Smith Safety Gear Elite Knee Pads are popular for use with skateboarding, BMX bikers, roller derby and other extreme sports.
These pads are washable, so you don't have to worry about odours and sweat building up over time, and there's a pad for every personality thanks to the wide range of colours and patterns available.
The snug fit comes from the open-back butterfly straps which are adjustable for a personalized fit that's flexible but secure enough to be completely safe every time.
Key Features:
Available in a great range of colours and sizes to suit all personalities
Adjustable for a secure fit that prevents slipping
Washable pads that won't become brittle or deteriorate
---
Closing Thoughts
Being skilled and mastering the tricks that come with skateboarding is not the only essence of the sport. A skateboarder often times not in a safe situation because several factors can affect his ride. With that in mind, it is crucial to find the most effective skateboard pads for your safety. This does not make you less of a competent skateboarder, but more of a proficient one!