Aging is inevitable. Are you growing old and want to look bright, glowy, and wrinkle-free? Are you tired of expensive creams and serums promising youthful skin and doing absolutely nothing to remove your wrinkles?
Worry no more as we at Civilised Health have scoured the internet for the most effective home lasers for wrinkles removal and rejuvenating of the face. Read on to find out more!
Buyers Guide for Home Lasers for Wrinkles
Laser treatments have long been considered a great way for tackling the signs of aging, with people willing to undergo procedures to remove fine lines, wrinkles, and crow's feet from their faces. Today, at-home laser devices make the process easier, more convenient, and more affordable and are often comparable to professional treatments in terms of results. Laser treatments target the lines and wrinkles for a smoother and more supple complexion, enhancing the elasticity and tone of the skin. These devices are also great for anyone suffering from rosacea or minor scars.
At-home laser devices are a safe and effective way of achieving younger-looking skin and they're a great alternative to harsh chemical peels and ingredients like retinol which can irritate the skin for some people. Lasers and infrared tools can bolster the efficiency of serums and moisturizers too, using non-ablative laser technology that spas, dermatologists, and plastic surgeons have used for years. They work by penetrating into the skin with beams of light that burns a few collagen cells at a time to promote the renewal process, so as your skin heals it becomes tighter, plumper and younger-looking. These are ten mazing devices on the market, with different features and intensities to suit your needs.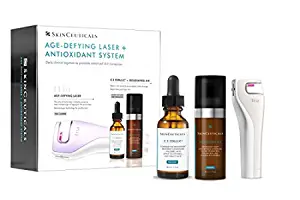 The Skinceuticals Trial Age-Defying Laser and Antioxidant System is a non-ablative device that can be used effectively and safely within the comfort of your own home. It tackles multiple signs of aging and the synergistic antioxidant treatments help to repair the skin afterward and to calm down any redness that the laser device may cause. The Resveratrol also has the added bonus of reducing the impact of environmental damage such as pollution too, helping to keep your skin looking as young as possible. Skinceuticals products are free from fragrances, parabens, and dyes, so they're great for those with dry, normal, and aging skin types. This at-home laser is proven to restore your skin's elasticity and plumpness for a more radiant glow. See our favorite outdoor tanning lotions for keeping your skin healthy and glowing in the sun.
Key features:
Includes the Trial Age-Defying laser, charging cradle, Skinceuticals CE Ferulic 1 oz, and Resveratrol BE
Safe and effective treatment of fine lines and wrinkles to improve smoothness
The topical treatments can be used to calm down redness and repair the skin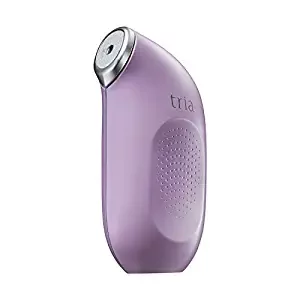 The Tria Beauty Age-Defying Eye Wrinkle Correcting Laser is specifically designed for use around the delicate eye area, where the skin is finer and more prone to wrinkles and lines. The device has a built-in safety timer light that changes from green to purple when it's in use, and you'll start to see results on the appearance of lines and crow's feet in as little as two weeks. You only need to use the Tria laser for two minutes per day, up to seven times a week, and it can be used for eight weeks in order to get smoother-looking skin. This device gives the sort of results usually only achieved from numerous dermatologist treatments. For other health, items see our guide on essential oil brands.
Key features:
Designed to reduce wrinkles around the eyes
Works with just two minutes a day, seven times a week
Ergonomic design for comfortable use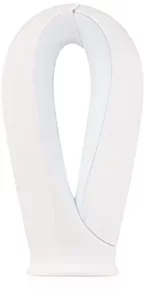 The iLuminage Anti-Aging Skin Smoothing Laser is clinically proven to treat your skin and is an innovative treatment that uses laser diode light technology at 144onm which etches away at the wrinkles and fine lines on your face. This laser device is used for your eye and mouth area and is really effective at stopping time in its tracks to smooth your facial skin and rejuvenate your complexion. The collagen, elastin, and fibroblast production of your skin will be increased to equal to that found in a teenager, to really turn back time on your aging process. This laser delivers pulses of light to just below the surface of the skin to trigger the body's natural response which generates more collagen fibers, and it's designed to be used five days a week straight with two days off over the course of one month.
Key features:
Great for use around the mouth and eye area
Ergonomic design that makes for easy use
Utilizes laser diode light technology at 144onm
Although technically speaking the Tripollar Stop Facial Skin Tightening Machine uses newer technology than laser treatments, it has the same effect in tightening the skin and removing the signs of wrinkles and fine lines. This device can be used for all skin tones and is a budget-friendly option that is incredibly effective and efficient. Better used two to three times a week, the Tripollar Stop utilizes radio frequency technology to stimulate and heat the collagen deep within your skin to generate new protein and fibers. The result is a plumped-up and refreshed appearance that doesn't cause any pain or uncomfortable experience. There's less redness than other devices and it's a more comfortable treatment to endure, making it more convenient and easier to use. If your new complexion suffers from acne try some of our favorite acne face washes.
Key features:
Non-invasive treatment for visible signs of aging
Helps to shrink pores and generate new collagen protein
Uses Tri-Polar radio frequency energy
If you're looking for a non-invasive treatment for wrinkles that you can use at home or on the go, the DermaWand is a great tool for the job. Clinically proven to reduce the signs of aging, this device is a condensed version of the same technology used by large commercial firms for over 40 years. It works by sending a stream of microcurrent impulses up to 168,000 cycles each second that improves circulation, brings nutrients to the surface of the face, and tones the skin. The effect creates thermal energy that reaches the dermal areas under the surface of the skin to increase the temperature and encourage natural collagen production for a healthier appearance. Next is to get a good smile, and see our favorite electric toothbrushes for strong teeth.
Key features:
Uses radio frequency technology to reduce lines
Reduces pores and evens the tone and texture of the skin
Affordable, safe, and painless to use with great effects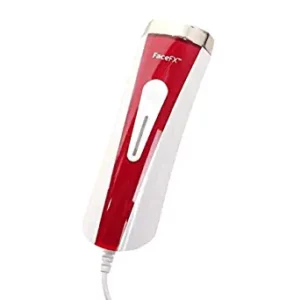 The Silken FaceFX has a contemporary design with innovative technology that uses Home Fractional red light therapy to reduce wrinkles and lines. The combination of light and soothing dermal heat encourages new cell production and collagen to form. The device encourages the skin to reach temperatures of 106o F where it begins to deliver consistent energy to deliver deep heat 2mm into the epidermis. This creates a smoother texture and anti-aging effects. The Silken FaceFX is a non-invasive device that can penetrate the skin more deeply without causing any pain or discomfort which makes for a great alternative to pricey treatments like Botox or surgeries. Much like lasers, the heating effect improves collagen albumen hyperplasia which improves the elasticity of the skin and smooths the texture.
Key features:
Utilizes therapeutic red light energy to increase circulation and stimulate new cells
Can be used three times a week for up to seven minutes at a time
Comfortable and easy to use with a sleek design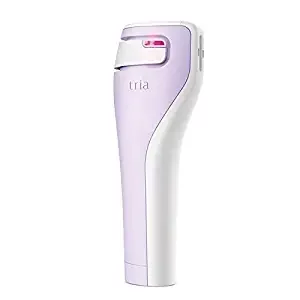 The Tria Smooth Beauty Laser helps you to defy the signs of again and create a more refined and rejuvenated appearance in under 12 weeks. The results are akin to those found in commercial, professional laser treatments. The Tria laser penetrates at a depth of 120 microns with a wavelength of 144onm. Users have found that their skin had a smoother texture and more youthful glow, with a better impact than just serums or peels. The beauty of this device is that it can be used on the entire face, rather than targeting just one area, so it's a more versatile tool to have on hand and means you will be able to create a smoother effect overall rather than focusing on just your laughter lines or crow's feet. If you are also considering a tattoo or have just got one see our favorite picks for numbing creams to protect the skin and ease the pain.
Key features:
Can be used on the entire face area
Uses intuitive and innovative laser technology
Can be used five times a week for up to 12 weeks
Utilizing red LED lights to rejuvenate the skin, the Project E Beauty Light Therapy Machine has two-photon light working modes, so you can use it continuously or in pulses depending on your preference. It's great for toning the skin, firming and lifting sagging areas of the face, and reducing wrinkles. It has a wavelength of 660nm which ensures the most effective boost of elastin in the skin and an improvement in the production of collagen. This innovative device has touch control to protect the eyes, although goggles are also included, so the red light will only come on when the tip of the device touches the skin. Red LED light has been proven to be one of the most effective light colors to improve circulation and stimulate the production of new skin cells – a must for anti-aging treatments. This gadget penetrates the skin up to 10mm and can be used by any skin type, reaching deep below the surface to stimulate the fibers and cells. For other great items for your skin see the effective safety razors.
Key features:
Rechargeable design that can be used cordlessly
Touch control to emit light to protect the eyes from damage
Emits light at a wavelength of 660nm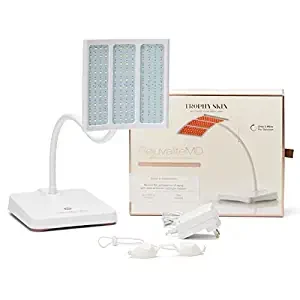 The Trophy Skin RejuvaliteMD device is a red light therapy lamp that is clinically approved for the treatment of facial wrinkles and lines. The panel is split between infrared, red, yellow, and amber lights that penetrate the skin at different levels to boost the production of collagen fibers and reduce inflammation in the skin. The lamp helps to fight aging in a safe and efficient way, as well as repairing sun damage such as age spots from the previous sunburn. Suitable for all skin tones and textures, the Trophy Skin device is a great way of looking more refreshed and glowing, without the process having to cause hassle in your everyday routine. It's painless and safe and doesn't utilize UV light to create an impact on your skin. For other products to make you feel great about yourself see our recommended picks for nail fungus treatment.
Key features:
LED panel that is split between UV-free red, yellow, amber and infrared bulbs
Penetrates the skin at different levels to boost collagen
Easy to use with just five minutes a day sufficient for treatment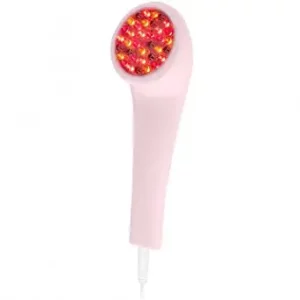 Designed for use on the entire face, LightStim is an effective device that can be used by all skin types to reduce the appearance of fine lines and wrinkles. The technology emits multiple wavelengths of light which work together to nourish the skin and tone it for a smoother effect. The energy is absorbed by the skin to make it more voluminous and over time, this creates a plumped-up dermis that pushes out lines and wrinkles. It can be used on the entire face to tighten the crow's feet, forehead, cheeks, jawline, and mouth. The result is a youthful glow and a radiant look that utilizes the same technology that spas, estheticians, and dermatologists use. Plus, the sleek, compact and ergonomic design makes it easy to use. If you use tanning beds see our favorite indoor tanning lotions to help your skin prevent wrinkling post-use.
Key features:
Works in just three minutes and can be used up to seven times per week
Results can be seen in as little as 8 weeks
Painless procedure that has a soothing effect on all skin types
Closing Thoughts
As someone who likes a more non-invasive approach to skincare treatments, home lasers are unmatched. It is easy to use, safe, and pain-free, and more importantly, it works. In less than three months, you will begin to see a noticeable improvement in your skin's overall tone and texture.
To cap it all, you will be able to achieve these results while comfortably watching a tv show or doing something else you enjoy at home and without any of the pain, or irritation that comes with a professional laser treatment.