The Keto diet has many health benefits but mainly it is used for weight loss. It has become a trend for many celebrities and sportspersons to use a keto diet to stay fit and lean. The Keto diet also helps to fight against diseases like diabetes, epilepsy, cancer and Alzheimer's, etc. In this article, you will get to know in detail the keto diet meal plan and ketogenic food list.
What is Ketogenic Diet?
If you are a beginner then this will be the first question that will come to your mind what is the keto diet? A keto diet is low carbs and a high-fat diet and ketones produced by the liver are used as the main source of energy. It is also known as low carbs diet, low carb high fat (LCHF) diet, or ketogenic diet, etc.
How Does Keto Meal Plan Work For Weight Loss?
The Keto diet is the new trend in town to reduce weight even the likes of Kim Kardashian are impressed with this diet plan. Many people wonder how it works for weight loss as it is high in fat and very low in carbs.
As carbs contain a high amount of glucose which is the primary source of energy in your body. When you are on the ketogenic diet your body doesn't get carbs or get in a very low amount which is not enough to function your body.
Then your body looks for other sources of energy and due to the keto diet, your body starts a process known as ketosis for energy. In this ketosis process fat from your body cells turned it ketos and works as the main source of energy for the body.
According to many studies, a keto diet is very effective for some people, and for some, it is not. So, it is not clear that the keto diet will work for everyone. A Keto meal plan also helps in increasing the good cholesterol (HDL) and reducing the amount of bad cholesterol (RDL).

Ketogenic Diet Food List Menu for Weight loss
The Keto diet is one of the most difficult diet plans to follow. As you have to be careful about carbs intake which is itself a big task. So before you make a keto meal plan first you should know which food to eat and which to avoid.
When you are on a keto diet you should not take food that allows more than 5% carbs. You can eat the following food while you are on the keto meal plan.
Must-Have Food for Protein during Keto Meal Plan
Basically, the keto diet is mainly based on fats but moderate protein is necessary for muscle development. You should be careful about protein intake. For protein requirements, you can consume the following food.
Beef: You can consume grass-fed beef, Ground beef, steak, roasts, and stew meat. If possible try to eat fattier parts of beef.
Chicken: While you are on a keto diet prefer chicken thigh and breast. Instead of chicken, you can also have duck, quail, pheasant, etc.
Eggs: You can eat a whole boiled egg or you can prepare many dishes like fried, omelet, poached, and scrambled.
Pork: Another good option for protein and fat during a ketogenic meal plan. You can include pork loin, tenderloin, chops, ham, and bacon in your keto meal menu.
Fish: Include mackerel, salmon, trout, tuna, cod, and catfish in your keto diet. `Shellfish like oysters, crab, and mussels are also a good source of protein.
Meat: Lamb and goat meat are rich in protein and low in carbs. Meat organs like the heart, liver, tongue, kidney, and offal are low carbs food that you can add to the keto diet menu.
Foods for Fat while you are on Keto Diet
Healthy fat is an essential part of your keto diet because it helps your body to remain in a ketosis state. Healthy fat works as fuel for the body in a ketosis state, so consume more fat.
During the state of ketosis, your body needs 70-80 % of healthy fat for calories. But you should be care full as only healthy fat is beneficial in a ketogenic diet weight loss plan.
There are four types of fats that are very important in the keto diet plan which include:-
Saturated Fats
Monounsaturated fats
Polyunsaturated Fats
Naturally-occurring trans fat
Apart from this omega fatty acids are also essential to your body. Omega-3 fatty and omega-6 fatty acids are very important for your brain to work properly. They also prevent your body from heart disease and diabetes 2.
For many people saturated and unsaturated fats work better due to their anti-inflammatory properties. You can add butter, avocado, egg yolks, macadamia nuts, coconut oil, etc to your keto meal plan for healthy fats.
A high amount of fat is necessary for a keto diet but it should be healthy because unhealthy fat can harm you. So for healthy fat, you can have the following fats and oil.
Fish- For omega fatty acids you can eat fish like salmon, tuna, trout, shellfish, etc.
Nuts- Macadamia or Brazil Nuts, almonds, walnuts, pine nuts, etc.
Avocados
Tallow
Lard
Egg Yolk
Butter/ Homemade Ghee
Mayonnaise
Oil- Olive, Avocado, coconut, Macadamia oil, sunflower oil, MCT oil, etc.
Coconut butter or cocoa butter
See: Home Remedies to Get Rid of Neck Fat
Vegetables and Fruits for Keto Diet Menu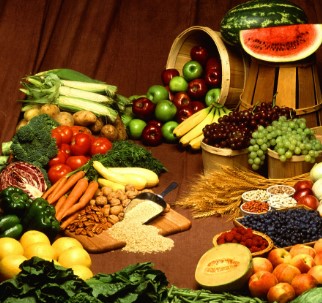 In a ketogenic diet always make sure that you should consume low carbs and a high amount of fat. Vegetables are an important part of the ketogenic diet but many vegetables contain a high amount of sugar so you should avoid them.
Vegetables like spinach and kale are perfect for a keto diet because they are high in nutrients and low in carbs.
If possible consume more organic vegetables as they don't contain any harmful pesticides. Eat more green and leafy vegetables. You can avoid bananas, potatoes, and ground vegetables as they contain a high amount of carbs.
You can add the following vegetable to the keto meal plan.
Cabbage
Broccoli
Cauliflower
Spinach
Green Bell Pepper
Baby Bella Mushroom
Blackberries
Raspberries
Cherries
Gooseberries
Melon
Strawberry
Alfalfa sprouts
Beans
Parsley
Dairy Products for Weight Loss Ketogenic Diet
Remember in the keto diet fat is the fuel for the body so dairy products are a good source of healthy fats. Dairy product also contains protein and carbs. So you should be careful about carbs. Consume more organic and raw. You can consume the following dairy products which are low in carbs and high in protein and fat.
Cream Cheese
Brie
Blue Cheese
Heavy cream
Greek Yogurt
Mayonnaise
Cottage cheese
Mozzarella
Aged Cheddar
Ricotta (Whole milk)
Parmesan
Swiss
Nuts and Seeds for Keto Diet Weight Loss Plan
During the ketogenic diet, nuts are beneficial when they are roasted. Eating raw nuts can slow down the weight loss process because they increase the insulin level in the body.
Always be careful about the amount you consume because nuts also contain carbs. Nuts are also a good source of protein and omega -6 fatty acids. Just make sure you are consuming the right nuts in the right amount for the keto diet plan.
Low carbs nuts are
Macadamia nuts,
Brazil nuts
Pecans nuts
Moderate Carbs nuts
Walnuts
Peanuts
Hazelnuts
Almonds
Pine nuts
High Carbs nuts (Should be avoided)
Seeds for Keto Meal Plan
Sunflower Seeds
Sesame Seeds
Pumpkin Seeds
Drinks & Beverage During Keto Diet for Fast Weight Loss
It is very important to keep your body hydrated during a ketogenic diet due to its diuretic effect. Drink plenty of water to maintain fluid levels. During the ketogenic diet, you should avoid drinking too much caffeine or consuming a low amount of caffeine. You can drink sports drinks and bone broth which contains sucralose or stevia.
If you have UTI (Urinary tract infection) problem then be careful and drink tons of fluids. Avoid carbonated drinks or diet soda during the ketogenic diet because they contain a high amount of glucose.
For a ketogenic diet, you can drink the following fluids.
Water
Sports Drink sweetened with stevia.
Broth- Drink broth for instant energy as it will replenish your electrolytes.
Coffee or Tea – You can avoid it if possible or do not consume more than two cups.
Club Soda
Lemon Juice
Almond milk unsweetened
Beer – If possible drink less amount of beer as it contains carbs which can slow down your weight loss.
Effective Keto Diet Meal Plan for Weight Loss
For weight loss, the keto diet is one of the most effective to burn fat. A ketogenic meal plan can shred your extra pounds in weeks. As in the keto diet, fat is fuel for your body instead of carbs. You should at least consume 70 – 80% of fats for calories.
| | | | |
| --- | --- | --- | --- |
| Timing | Option – 1 | Option- 2 | Keto Diet Option – 3 |
| Breakfast | Scrambled egg with butter, | Boiled eggs, decaffeinated coffee | Veggie omelette with cheese, |
| Snacks | Sunflower seeds | Macadamia nuts | Full-fat Greek yogurt with pecans |
| Lunch | Fish like tuna or salmon | Tuna salad stuffed in tomatoes, Almond milk unsweetened | Chicken, cheese, avocado salad |
| Snacks | Strips of celery and pepper dipped in guacamole | Roast beef with cheese slices | Roasted sesame seeds or salad |
| Dinner | Pork chop with cauliflower mash and red cabbage slaw | Meatballs on zucchini noodles, topped with cream sauce | Broiled trout with butter, Turkey or pork. |
This is a ketogenic meal plan for weight loss. A ketogenic diet plan can also cause health issues so it is better to consult with your dietician first.
Your diet depends on many factors like your weight, workout, health condition, etc. So, consult with your dietician or doctor before moving to a ketogenic diet.
Avoid Food During Ketogenic Diet for Weight Loss
Potato
Sugar Alcoholic Drinks
Processed food
Soda and juice
Sugar
High carbohydrates fruits like banana, pineapple, mango, papaya, etc.
Grains – Avoid all kinds of grain and their products.
Low-fat foods
Factory-farmed pork and fish
Vegetable oils or refined oils
Milk
Soy products
Closing Thoughts
Keto Diet for weight loss is becoming very popular nowadays. It has been very effective for many people and they lost weight very quickly. When you are on a keto diet your body starts withdrawing energy from fats present in your body instead of glucose.
The ketogenic diet is high in healthy fats and low in carbs.  If you have any underlying health condition consult with your dietitian or doctor before going for a keto diet.
FAQs
1. Is keto good for weight loss?

Ans: Ketogenic diets may suppress appetite, by at least a little, and they may even help you burn more calories. In practice, though, they don't do better than other diets in the long term. In the short term, several studies have found that keto dieters lose more weight.
2. Is keto a healthy diet?

Ans: While the ketogenic diet may be recommended for some people with uncontrolled epilepsy, the high-fat content and especially the high level of unhealthy saturated fat combined with limits on nutrient-rich fruits, veggies and grains is a concern for long-term heart health.