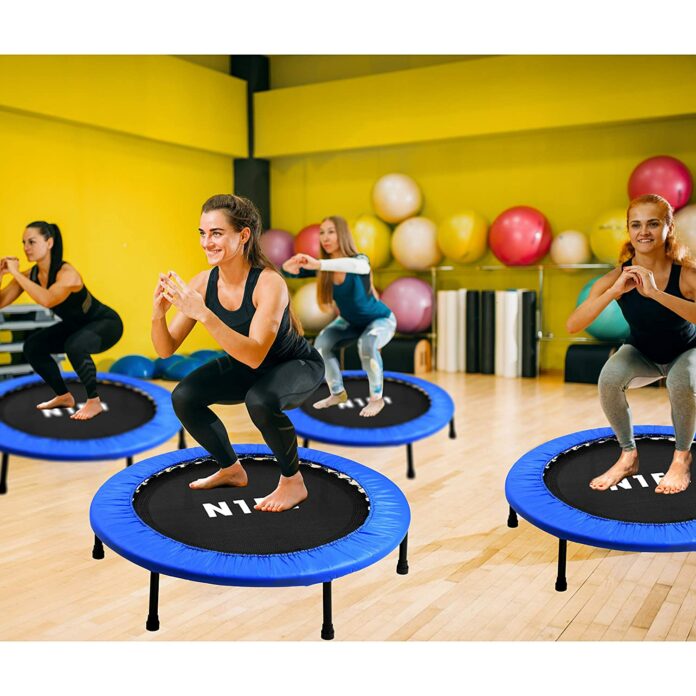 Several people are increasingly looking for ways to cut down on their fitness expenses. There are several cheap fitness tools that you can utilize to maintain your levels. These fitness tools do not require much money or space and once you buy them, you own them for life. Because they last for a very long time, they effectively help to eliminate the recurrent expenses that you incur as a result of an exorbitant periodic gym membership subscription.
One fitness device that falls under this low-cost, low maintenance and high-efficiency category of indoor fitness equipment is the mini trampoline. This seemingly simple tool is quite powerful and produces fast results. As a result, if you are looking to improve or maintain your fitness, you should consider getting a mini trampoline.
Our Handpicked Collection Of 10 Mini Trampolines
In this post, we have listed the amazing mini trampolines on the market right now.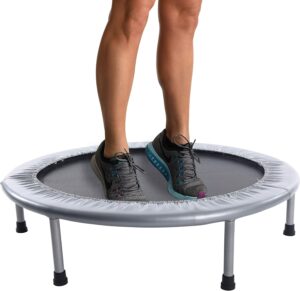 The durable, heavy-duty design of the Stamina 36-Inch Folding Trampoline ensures that it can hold a maximum weight of 250 pounds.
This means that grown-ups can as well use it for their rebounding exercises. It has a diameter of 36 inches, providing sufficient workout space to practice a wide range of rebounding routines.
Moreover, you will enjoy your bouncing sessions due to the highly functional and effective tension bands of this product. These tension bands, thirty in total, ensure a safe and noise-free bounce.
There is also a safety pad that covers these bands to protect you from any form of injury. Meanwhile, the rubber-tipped legs of the Stamina 36-Inch Folding Trampoline make it highly stable. Therefore, your safety is completely assured when you use this device.
The Stamina 36-Inch Folding Trampoline is quite easy to assemble. It is also easy to store. It is foldable and saves storage space.
Key features:
Generous bouncing surface area
Strong and durable mat
High-stability rubber-tipped legs
---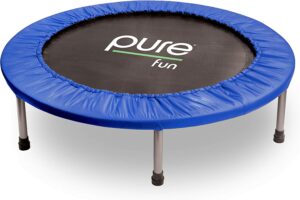 The 38-inch jumping surface of the Pure Fun Mini Rebounder Trampoline makes it ideal for virtually everybody.
With this large surface, you can practice a wide array of workout styles with the device. In addition to this, it has a weight limit of 250 pounds.
This effectively makes it readily suitable for the larger proportion of the population. It is equipped with thirty-two pieces of strong, galvanized steel springs that make it one of the most efficient mini trampolines.
The mat of the Pure Fun Mini Rebounder Trampoline is extraordinarily strong. Made of heavy-duty polypropylene, this mat not only guarantees a great bouncing experience but also promises to last long with good usage. Besides, the exterior of this mini trampoline is heavily padded to prevent you from getting any injury whatsoever while bouncing.
Key features:
Very large bouncing surface
Strong and durable mat
Cushioned exterior to enhance your safety
---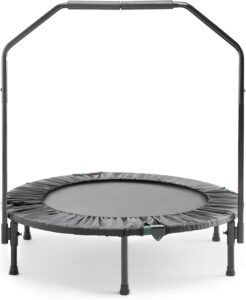 Another popular trampoline model is the Marcy ASG-40 Cardio Trainer Trampoline.
As expected, the popularity of this superb fitness equipment stems from its effectiveness. Many people have testified to how it has helped them achieve better fitness results.
This simple device can fit into small spaces, making it an ideal personal fitness tool. It helps to improve your cardiovascular health. It can be used by people with weights up to 250 pounds.
With this trampoline, you can perform a wide range of exercises. Its handlebar allows you to perform exercises that stabilize the core of the body while you can also use it to muscle mass and improve the shoulder and leg muscles.
It features a protective cover and six sturdy legs. This makes it quite stable and eliminates any concerns that you might have about your safety while working out using the device. It is lightweight, portable, and easy to assemble.
Key features:
Features protective cover and legs
Lightweight and portable
High stable and safe to use
---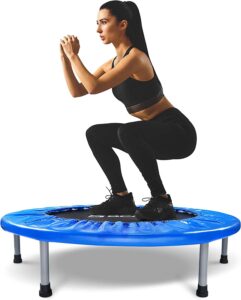 The BCAN 38″ Foldable Mini Trampoline is another quality mini trampoline that makes it into this list. This trampoline has a diameter of 38 inches.
This provides a surface area that is large enough to allow you to undertake diverse types of fitness activities.
This trampoline is foldable. When you fold it, you get a compact package that is less than a quarter of its size when expanded.
This allows you to easily store it in your wardrobe or other small spaces. It is also lightweight and you can easily move it from place to place.
While several models of trampoline make use of bands to attach the mat, the BCAN 38″ Foldable Mini Trampoline uses a high-strength closed steel spring. This not only ensures your safety while bouncing but also goes a long way in ensuring that you have a great rebounding experience.
Furthermore, the equipment is waterproof. The feet are also fitted with rubber that prevents sliding while also helping to maintain silence while rebounding. You can, therefore, use the device at any time without disturbing people around you. It has a maximum weight capacity of 300 lbs. Check out our outdoor tanning lotion guide to get a great tan whilst you bounce.
Key features:
Magnanimous maximum weight capacity
Compact and helps to save storage space when folded
A large surface area allows a wide range of fitness exercises to be performed
---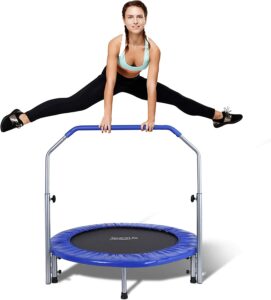 The very large surface area of the SereneLife SLSPT409 Portable Trampoline is eye-catching.
In addition, the durable mat – made from heavy-duty polypropylene material – and the coil spring give it a high elasticity that makes your bouncing session not only enjoyable but also profitable. This ultra-strong mat can hold weights up to 220 lbs.
Also, the SereneLife SLSPT409 Portable Trampoline is equipped with a padded handlebar. You can adjust the height of this handlebar to fit your height and convenience. This handlebar is designed with an ergonomic easy grip that enhances your comfort.