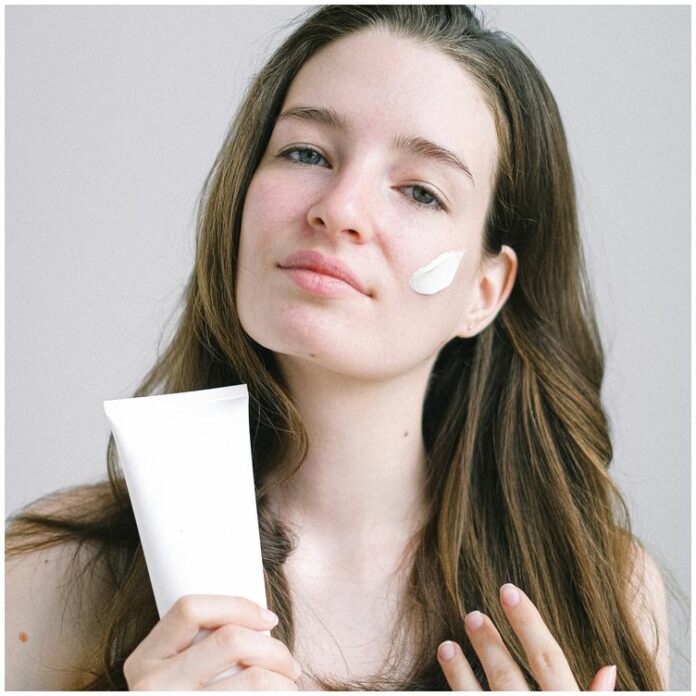 The tanning accelerator (or activator) is a major beauty ally, especially for those who wish to display a tanned complexion quickly without burning or bruising their skin. Let's get into it. What is a tan accelerator?
Tanning accelerators or outdoor tanning lotions are lotions, creams, and oils that contain active ingredients that help produce melanin. Your skin can, therefore, tan more quickly, and you also get a more intensive result. Tanning accelerators can also be used in the solarium. They also contain active ingredients to nourish the skin optimally during sunbathing.
A deep and uniform tan leaves the skin shiny and gives the face a refreshing and attractive appearance. But not everyone turns brown immediately, especially the blondes and reds who often remain pale all summer. The speed at which the skin gets tanned when exposed to the sun is linked to the pigment melanin. For darker skin, this pigment is produced quickly and in greater quantity than in fair skin. For more great tanning guides check out our picks for indoor tanning lotions and outdoor lotions.
Our Handpicked Collection Of 10 Amazing Outdoor Tanning Lotions
This buying guide will present you – in a clear, objective, and independent way – our selection of the perfect outdoor tanning lotions of the moment.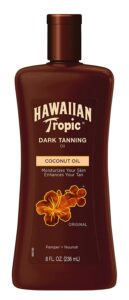 The Hawaiian Tropic Dark Tanning Oil is one of the perfect outdoor tanning lotions on the market. It is a dry oil that works for all types of skin. This activator has a mixture of essential oils, coconut-papaya fragrance, and fresh botanical extracts. This blend forms the basis of its natural formula that soothes and moisturizes your skin.
It is a tanning accelerator that helps us to get brighter while protecting us from the most damaging sun rays. It also keeps your skin from drying out while moisturizing. In addition, the Hawaiian Tropic Dark Tanning Oil is waterproof and suitable for sensitive skin. Its rich smell of papaya and coconut deserves a special mention, a tropical fragrance that will leave you wanting more.
Key features:
Effective and fast
Health-friendly, organic ingredients
Compatible with sensitive skin
---
This Pro Tan Unbelievably Black Bronzing Lotion offers fast and perfect tanning. This tan accelerator is hypoallergenic and does not cause blisters on the skin. To accentuate a tan already marked by UV sessions, this product is really great. Note, however, that if you are not yet tanned, your skin may peel or burn. This activator can easily be applied to the skin. It is odorless and brings about incredible results. For more health products, see our guide on eczema body wash.
Key features:
Waterproof container
Quite cheap
Easy application
---
The active tanning compound is Monoï oil, which is also known for its nourishing properties for the skin. The Babaria Rosa Mosqueta Pure Facial Oil reinstitutes and keeps hold of moisture on the skin to prevent dryness. By the way, if you like the smell of coconut, this activator is for you. A detail that we especially like is that Babaria does not test its products on animals.
Key features:
Produced from hypoallergenic substances
Easy to apply
SPF50 rating effectively helps to prevent sunburn
---
This tan accelerator is budget-friendly, so no need to worry about the cost. The fact that it is not greasy at all will prevent you from having a sticky and unpleasant feeling around the applied area. This product is particularly recommended if you go to the beach or the swimming pool because it is water-resistant. Therefore, it cannot be removed during your swim.
The Existing Beauty Tan Activator moistens your skin giving you a radiant shine. All you have to do is spray on your face and watch the magic unfold. It should be applied once a night before bed for the perfect results on healthy and exfoliated skin consisting of a mixture of cucumber and aloe vera. This accelerator moisturizes your skin. This combination also prevents the skin from getting flooded with too much tan.
Key features:
Soft on the skin
Water-resistant
Works for all types of skin
---
Australian Gold is the leading brand in products to accelerate tanning. Among its extensive range of products, the "Bronzing Intensifier" model is the most powerful and most suitable. This Australian Gold Dark Tanning Accelerator fulfills its role perfectly. For UV sessions, there is nothing better. You can also use it outdoors as it is ultra-effective, it prevents you from sunburn. Also, it does not trigger allergies. In addition, it has black walnut extracts, which help give a direct result. After application, your skin will have a wonderful lasting tan that will make people envious.
Free of bronzing powders, the Australian Gold Dark Tanning Accelerator is actually an intensifying tan base. Its biosine complex composition, which is comprised of a mixture of tea tree oil, olive oil, and panthenol soothes, softens, and hydrates the skin. We appreciate the texture of the product. Furthermore, you should note that the pleasant smell of this tan accelerator will make your skin give off a soft and addictive scent for hours.