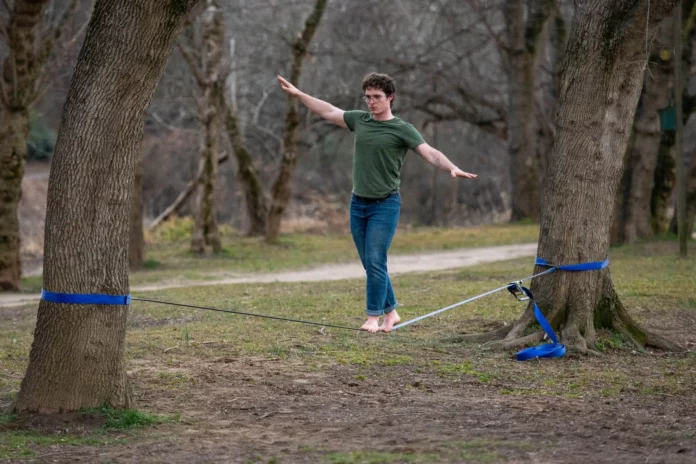 Who all are obsessed with this new fever of slacklining? Slacklining is a famous adventurous sport in European countries but has wide acceptance throughout the world for its thrilling and breathtaking experience.
You might have heard of people walking on a rope suspended between two supports, this is exactly what is slacklining.
Slackline kits are a perfect choice for all slacklining fans who are longing to try out this sport but cannot visit some of the popular slacklining spots. These kits are portable consisting of all the slacklining essentials. Now it is very important to purchase the right slacklining kit for you with so many options available in the market.
While beginners can opt for a more rigid slackline kit that does not make them feel far away from the ground. The expert slackliners can go for those flexible bouncy slacklining experiences with the more advanced slackline kits. What are you waiting for, grab your favorite slackline kit from our 10 most thrilling slackline kits.
Things to Consider While Buying Slackline Kits
Safety – Slacklining is thrilling because of the danger that is involved in it. Therefore, slacklines should be purchased with much research. The perfect part is that there are several slackline manufacturing companies in the market, but not all of them are tried and tested for safety. Always choose a company that is well known and has high safety and quality standards.
Line width – The width of the line varies from 1″ to 2″. Advanced learners who are into highlining use the 1″ slackliners, while beginners who need a broader base and a ratchet system for ease-of-use, use the 2″ slackliners.
Rigidity – If you are a beginner, it is most suitable to stay close to the ground, this means that you have to use taut or rigid slackliners, ones that do not have bounce. If you are an advanced learner, use the less rigid lines that sag in the middle.
Our Handpicked Collection Of 10 Amazing Slackline Kits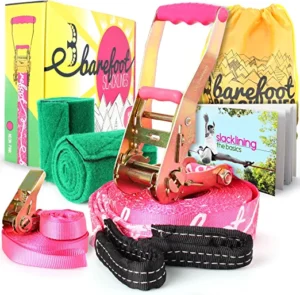 A combination of style and ergonomy, the Barefoot slackline range not only attracts children but also serves the purpose of teaching balance and focus. Do not go by its striking colors and get misguided, it has just been designed to create interest in beginners. Available in three stunning colors, the ratchet too, is matched with the line and has a fantastic grip. Made of high-end steel, the ratchet promises a superior hold.
The Barefoot slackline kit comes with two easy-to-use tree protectors to keep both the tree and the line safe from abrasion. Install the training line at roughly an inch above the headline. The slackline is super strong and has been rated at 3T. The recommended maximum weight it can carry is 150 Kg.
Key features:
3 striking colors
Ideal for bodyweight training
Can carry a weight of up to 150 Kg
---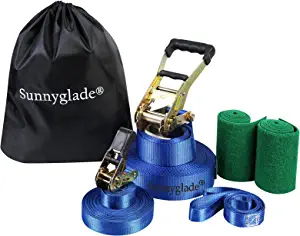 The special features of the Sunnyglade 50ft Slackline Kit include 2-inch X 52-foot multi-weave webbing with a reinforced loop. It comes with a high-grade ratchet, that is safe and lasts long. The handle has been designed for comfort. It comes with two tree protectors to protect both the gear and the tree. Easy to maintain, the Sunnyglade 50ft Slackline Kit can be carried and stored anywhere with its stylish carry bag.
Key features:
Handy
Safe
Multi-weave webbing
---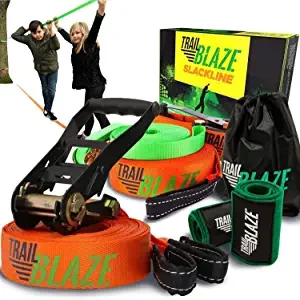 Ideal for kids beginning to learn to slackline, it is considered premium because of the advanced safety kit attached to it. With over 10,000+ satisfied customers across the world, you can blindly rely on the Trailblaze Premium Slackline Kit for your kids' safety. Made from the highest grade materials, the slacklines have been tested to hold over 300 lbs. Ideal for training for sports like mountaineering, rock climbing, surfing or yoga, the kit promises a full body workout, improving core strength, posture, and mental clarity.
The advanced ratchet attached to the Trailblaze Premium Slackline Kit has been tested to handle up to 5 tonnes. The components include the main slackline, training line, ratchet loop for the main line, ratchet for the training line, set of 2 tree protectors, a drawstring carry bag, and an instruction sheet.
Key features:
Light
Easy installation
Easy to maintain
---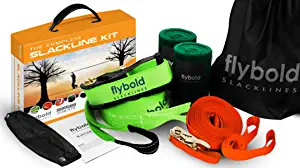 The Flybold Slackline Kit boasts of a loner walking the line, instead of the standard 50 ft walking the line to develop balance without support. The material of the main walking line is of superior quality with a 5T break load, that allows a weight of 300lb. Twin gear ratchet for extra pulling strength and additional full tree protectors to protect trees and the line from abrasion. Ideal for both beginners and advanced level athletes, it can be set up as per requirement.
Easy to install and uninstall, the ratchets of the Flybold Slackline Kit are made of superior-quality steel. The main line and the training line are made of 100% polyester, the ratchet protector is made of oxford fabric, the tree protector of chemical fiber, and the carry bags of non-woven fabric. Each and every component has passed the safety standards in the US, making it a reliable kit for children and teens.
Key features:
Strong webbing strapline
Wide training strap
Ratchet for the main slackline
---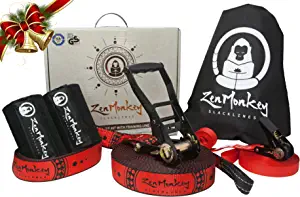 In for more adventure? The ZenMonkey Slackline Kit 60 feet slackline is bound to make you laugh and cry all at the same time. The ratchet straps are over 8 ft long to accommodate humongous tree widths. The tree protectors are 5 ft long and feature built-in guide loops for extra strength and protection. It is easy to set up and uninstall and requires no complicated tools. The overhead training line helps beginners learn to slackline the right way.
The multi-weave webbing of the main line and the overhead line of the ZenMonkey Slackline Kit keeps your feet safe. It's soft underfoot is made of superior quality material and is highly designed or slacklining, with the right amount of stretch. The ratchets have been crafted from carbon steel material and can bear up to 5 tonnes of weight.
Key features:
Perfect for beginners
Easy to install
Ideal for core strength training
---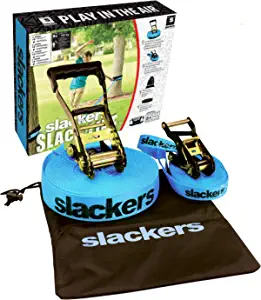 One of the perfect training kits in slackline, the Slackers 50 feet Slackline Classic Set is a perfect kit for honing balancing skills. The kit includes extra training line to hold on to, adding to the safety of beginners. The two-inch wide Nylon webbing and ratchet tensioning have been attached for ease-of-use and quick set up.
The Slackers 50 feet Slackline Classic Set is particularly useful to improve core strength and balance. The perfect part is it can be set up in 10 minutes or even less if the instruction is followed thoroughly. The kit comes with two sets of lines for easy set-up and uninstallation. It comes with a bonus teaching line for beginners of all ages.
Key features:
Easy to set up
Extra safety line
Nylon webbing for extra safety
---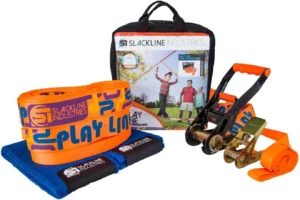 Custom-designed static slackline webbing with rubber grip helps beginners get a firm grip. The Help Line with arm position trainer helps maintain posture, which in turn trains the core muscles of the user. It comes with an easy to use tension ratchet with safety lock and 8ft ratchet strap, along with reinforced loop slings to make it safe and durable. It can bear the tension of up to 4-ton and can carry the weight of up to 300lb weight.
The Slackline industries 50′ play line is recommended for ages 5 and up. The kit includes the Play Line Slackline, ratchet tensioner, Help Line with arm position trainer, tree protection, and instructional DVD guide. The only issue with the ratchet end of the line is it can wrap around trees smaller than 70 inches in circumference. For more tool products, check out our guide on wood chisels.
Key features:
High-quality construction and stitching
Trusted brand
High-quality tree protectors
---
The Slackers Ninja line 36′ kit is exclusively designed for children with an adventurous taste. The package also comprises of obstacles, seven in number – a three piece 10″ x 2.5″ nylon rope, two-piece 16″ monkey bar holds with triangle safety carabiners, 3-pieces 10″ nylon rope Monkey Fist, textured grips, and two gymnastics rings with a textured finish. It also comprises of high-quality steel ratchets and rubberized grips. All the obstacles include steel hanging delta safety clips.
The Slackers Ninja line 36′ kit also comprises a carry bag for secure storage and transportation. Ideal for children of age 6 years and up, the maximum weight that the slackline can carry is up to 250 lbs. Easy to set up and install, the Slackers Ninja line 36′ kit is known for its durability and safety.  All components of the Slackers Ninja line 36′ can be adjusted depending on the level of achievement or seniority of the users.
Key features:
Advanced safety features
High capacity
Superior material
---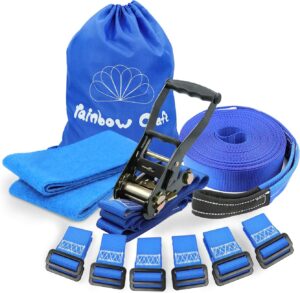 This is mainly a kit for children having fun and getting introduced to tedious overhanging bar obstacles. The Rainbow Crafts Portable 50′ Ninja slackline kit also includes slacklines for small kids who would not just have fun using the set, but will also learn to focus and concentrate. Easy to set up, without any complicated tools, the kit comprises of a 20-40′ slackline, that doubles up as a rope with hanging obstacles.
The Rainbow Crafts Portable 50′ Ninja slackline kit can hold up to 250 lb weight, allowing multiple kids to use the equipment at the same time. While children walk, climb, and hang, they learn endurance and patience while reaching the other end of the line. Made of extremely durable material, this slackline kit is safe and reliable. The vivid colors that have been used for each component are particularly interesting for hesitant beginners who are unsure about their level of competence.
Key features:
Portable
Easy to maintain
Helps in increasing concentration
---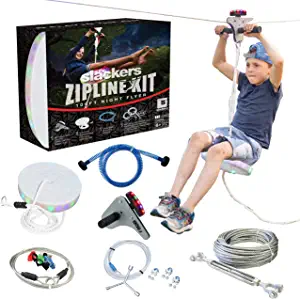 Combination 100′ out of 113′ total cable length zipline makes for a sturdy slackline rope too. It also has a spring brake, that adds to the safety of the Slackers 100′ Night Riderz Kit. The 5.25 steel braking system is an excellent addition to the entire kit, owing to the protection it provides. The steel trolley is made of high-grade steel. It is accompanied by a locking screw to hand grips for added durability.
The Slackers 100′ Night Riderz Kit is easy to install and assemble, and two adults can do it easily without any issues. The Slackers 100′ Night Riderz Kit spring provides a smooth end to a thrilling ride. The rubber stopper at each end of the line, protects the line, the trolley, and the rider. It is also easy to maintain and store.
Key features:
Weighs 18 pounds
Requires 3 AA batteries
Requires 3 AA batteries
---
Closing Thoughts
You can calm your adventurous soul with these thrilling slackline kits. Slacklining, although seems thrilling, is quite dangerous especially when the slackline ropes are not suspended tightly or the ropes are not durable enough to take all the pressure on themselves.
This may lead to some serious accidents. So it is wise enough to purchase the slackline kit from a reputed brand who have tested the quality of the slackline ropes and taken into account all the possible severity to ensure a safe and breathtaking experience of slacklining.
There are also some high-quality slackline kits for the kids as well to make their playtime fun and adventurous. All those slackline lovers buying from these thrilling slackline kits would be worthy of every penny you spend on this amazing kit.