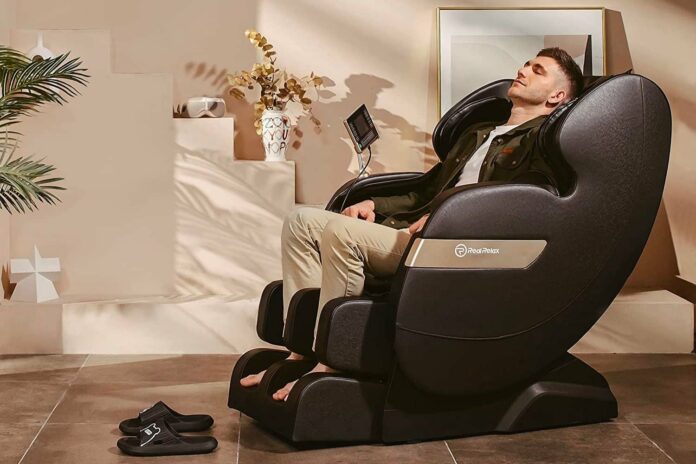 Don't you feel all caught up with office stress and want someone to give you a body massage to relieve all your stress and relax your painful body muscles and joints? But for that matter of fact, we do have not a single minute to book an appointment with the salon for the massage. So what you do is continue your daily routine with frequent stress bursts and headaches.
But for people of this age, we have the solution to get your massage done more conveniently and fruitfully in the form of these portable relaxing massage chairs.
These massage chairs help release all your body aches and stress at home or the office conveniently. Massage chairs improve the blood circulation of your body, thus maintaining your energy levels regulated all the time. They activate the drained-out and tired muscles of your body. They give you a very calm and relaxed feeling thus relieving all your tensions and worries.
What are you waiting for, order the most suitable massage chair for yourself today.
10 Amazing Massage Chairs Which Noone Should Miss Out
Extremely affordable, this full body massage chair from Flash Furniture is excellent to have for visitors or in your office lobby.  This chair is reminiscent of the recliner chair and ottoman era. But that is where the similarity stops. It has a kneading massage style that is great for a quick massage to de-stress. With nine massage modes, five intensity levels to choose from, and remote control, you can definitely find yourself considering this affordable option.
Weighing fifty pounds, this chair can be moved or rolled about with ease. The main feature of this recliner massage chair is the heater for the seat and back. It also hosts a side pocket for knickknacks. After you finish using your massage chair, you can cleanse it off with an antibacterial spray.
Key features:
Heater for the back and seat
Lightweight at fifty pounds
Nine massage modes with five intensity levels
---
This luxurious looking massage chair is actually one of the cheapest models available. It has an impressive design and well-made features to suit all body types. Made for the common man to relax at the end of the day, this massage chair has more than 50 airbags placed strategically throughout the system. With 8 massage points in the backrest and 4 preset options, this zero-gravity model from Real Relax brings a new meaning to the word 'relaxation.'
Equipped with a fully functional heating system, many users have said that the warming effects of the massage have helped increase blood flow and circulation and improved breathing. The massager in the Real Relax Favor 2019 seat includes air squeeze, heat, and vibrate functions. It also has a roller massage for the feet and an advanced HD VFD display screen to help you preprogram the modes. Consider a rocking horse for your kids so you can keep using your massage chair!
Key features:
Affordable
More than 50 airbags
Massage can be customized
---
This Full Body Massage Chair from Ootori has been specially designed to provide relief to people suffering from back and neck pains. Ergonomically designed, it also works on the hips, feet, and the shoulders. It has an acupuncture foot roller system that helps release pent up energy through pressure points in the feet.
The unique 8-point massage system from Ootori helps in delivering rolling, kneading, and tapping therapies simultaneously. This type of full body massage helps contour to the spine, adapts to your body shape, and brings immediate relief from aches and pains. The zero-gravity feature in this full body massage chair from Ootori allows a maximum recline for even weight distribution.
Key features:
8-point massage system
Acupuncture foot roller system
Zero gravity mode
---
This massage chair from Massage is a very affordable variant available in the market today. Great for first-time users, this massage chair can be installed and assembled quite easily. The massage chair comes with detailed instructions for a DIY feel. Once the arms are attached with screws, all you need to do is hook the screen panel, connect the wire, and you're ready to start. The assembly process takes only 10 minutes.
The BM EC 06C offers four pre-programmed modes to select from – Refresh, Relax, Extend, and Recovery. This massage chair from Massage offers a vibrating massage for the hips, deep kneading shiatsu massage for the nape and back, and air massage for the arms and legs. This massage chair also features long 30 minutes massages that are not present in other versions. The massage chair is great after some intense pull-ups on your power tower or a run on your treadmill.
Key features:
4 pre-programmed modes
Shiatsu massage
Air massage and hip vibration
---
Real relax took over the electric massage chair market in 2018 and has introduced some fabulous models for daily use. This full body, zero gravity, shiatsu massage chair from Real Relax is a budget-friendly option that has been a hit with many users. Capable of delivering a wonderful massage, this variant comes with four preset options for strong, relaxing, sleep, and mild modes. If you do not want to choose the presets, you can also manually program a massage according to your energy levels and time constraints.
There are eight fixed shiatsu rollers at the back in this variant from Real Relax. With more movable rollers for the lower body, calves, legs, and feet. This massage chair also has fifty airbags located throughout the system that gently inflate and deflate according to the function and mode selected. The zero-gravity setting helps distribute the body weight evenly throughout the machine to make the user feel that they are floating. It also features a built-in heater and hip vibrator.
Key features:
Zero gravity setting
50 airbags that inflate and deflate
Inbuilt heater and hip vibrator
---
This ideal massage chair from Ideal Massage is a user's delight. It has a variety of features that please a lot of people. With four massage styles – rolling, vibrating, shiatsu, and kneading, the Ideal Massage chair is excellent for home use. If you do not want to use the preset auto-program massage styles, you can manually select from fourteen different combinations to get the ideal treatment for your body.
This variant from Ideal Massage has airbags at the feet and legs, the seat, arms, and shoulders to give you a cocoon-like feel. With six kneading balls, the feet can get completely de-stressed. The speed and intensity of the massage can be switched according to individual preference. You can also select the time needed up to thirty minutes per massage. This massage chair also has three options in zero gravity mode for equal weight distribution. A heated backrest completes the wonders that are hidden in this massage chair.
Key features:
3 zero gravity options
Heated backrest
Fourteen massage styles
---
The Human Touch is a fabulous massage chair from home and office. Ergonomically designed and trendy looking, this massage chair is very affordable. The massage experience is relaxing and enjoyable. This whole-body massage chair from Human Touch comes with 5 different auto-massage therapy programs for pain management, relaxation, stress relief, or physical therapy and include full back, lower back, upper back, relax, and sleep as the presets.
The unique BodyMatch remote helps pinpoint spots on the rollers that can alleviate pain and discomfort for relief. The patented warm air technology targets movement from shoulders to hips as lumbar heat modules help soothe sore and tight muscles. This patented technology also helps relieve pain as it gently envelops the back. It also comes with a retractable foot and calf massager and ottoman. For other great unique home items check out our kegerator picks.
Key features:
BodyMatch remote for spot relief
Retractable foot and calf massager ottoman
5 auto massage therapy presets
---
Kahuna is a very well-known brand in the massage industry. When it comes to massage chairs, almost all their products have been well received by people. The LM6800 has an L-track that allows you to relax completely without stressing your back or other muscles. It also has 3 zero gravity modes that can be selected as per your requirement. This massage chair comes with an air cell technology to cover the body and provide relief in every painful part simultaneously.
The LM6800 Massage Chair from Kahuna has a digital body scanner that works to scan the body and customize the massage precisely as you require it. The SH-Chiro is a specially designed program for the spinal cord that helps in unlocking nerve energy and releasing it for great relief. This model also comes with a stretch yoga program that releases unwanted stress and tension from the body. Apart from this, the LM6800 has a full-body shiatsu therapy option that kneads, taps, rolls, and also has a knead+tap combination.
Key features:
Signature yoga program
SH-Chiro helps release tension from the spinal cord
3 zero gravity modes
---
This high-quality massage chair is affordable, yet gives the feel of being in a luxurious spa. With 10 programmable features to choose from, you can get the ideal full-body massage after returning from a stressful day at work. You can individually select which spots and areas on the body need extra attention and kneading, and this chair can help you customize your entire massage experience.
This variant from RelaxOnChair comes with dual spine rollers to relax your body and help it heal naturally from within. This massage chair also features an individual spinal decompression preset which is very similar to a deep tissue back massage. It comes with 4 automated preset modes and five manual modes that include tapping, kneading, shiatsu, rolling and kneading + tapping. The RelaxOnChair body massage chair also has inbuilt body sensors to detect the length of the spine and adjust its rollers accordingly.
Key features:
Auto body detection for the spinal cord
5 manual modes for a unique massage experience
Spinal decompression deep tissue preset
---
Osaki has been one of the leaders in full-body massage equipment for several years. This whole-body massage chair from Osaki lives up to the brand name and delivers everything that it has promised. It features a zero-gravity setting for a peaceful massage that helps even out the body weight. The particular foot roller gives the feet and heels an ultimate pampering experience. The computer body scan helps scan those parts that need spot kneading or rolling to relieve stress, pain, and cramped muscles.
This massage chair also comes with a wireless controller, calf and foot massager, lower back heat therapy for pain relief, and shoulder, lumbar, and hip squeeze. With 6 unique auto-programs and 5 levels of speed and intensity, this massage chair from Osaki is a hot favorite with many users. Besides, it also comes with an auto-timer so that you can doze off while getting a massage.
Key features:
Zero gravity for weight distribution
Wireless remote control
Shoulder, lumbar, and hip squeeze
---
Concluding Thoughts
Although massage chairs are a bit expensive, instead of spending money on frequent salon massages this can be a worthy investment you can make. Also when you know that it is so convenient to use it is a plus point to support its high cost.
These new-age relaxing massage chairs can be a treat to any working individual who comes home after a day-long working stress and tension. You would prefer this massage chair to calm your mind and body and release all your tiredness.
After going through these 10 most relaxing massage chairs and comparing their features and prices you would not regret buying one for yourself.