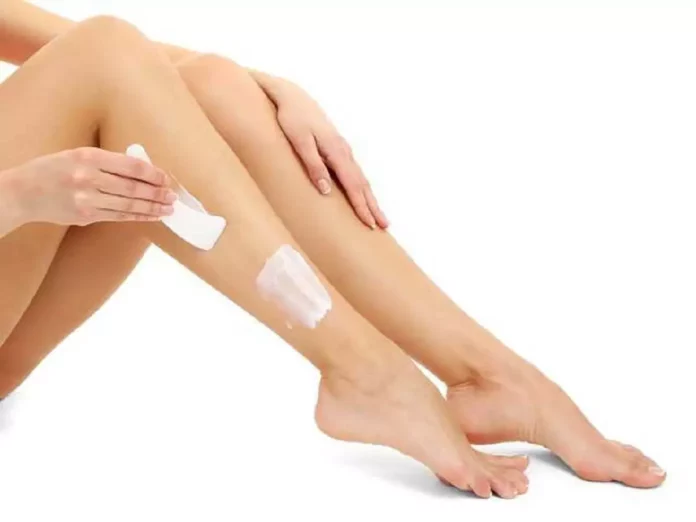 Unwanted hair can prove to be a significant turn off for anyone, but we might not be able to hit the salon every time to get rid of that unwanted hair growth because of our hectic schedule. Instead of flaunting your hairy skin and making excuses for being busy, you can now switch to hair removal creams that act as a blessing in disguise.
Hair removal creams are the best alternatives to waxing and are skin-friendly. They also give you smooth and clean skin without any pain and mess. All you need to do is to apply the cream and remove after 10 minutes, to get glowing and baby soft hairless skin.
Things to Consider Before Buying Hair Removal Creams
Before you hit the store and use the hair removal creams, you must take care of these points:
Suitability: the cream that you have chosen to apply must be suitable for your skin type. If you select a wrong cream then, either it will not show good results, or you might have to suffer from side effects.
Excessive hair growth: just like waxing and threading, you might get excessive hair by using creams and can also notice new strands coming out of your skin. Always check the product for any warnings before making a purchase.
Know your skin: before you start applying the hair removal cream, always do a patch test and check the ingredients. It is good to know if it contains any parts that you are allergic to.
Compare: 'don't just blindly follow your favorite celebrities and choose your products. Always compare brands and products and then opt for the most suitable one to avoid any allergies and side effects.
Date of manufacturing: As most of these hair removal creams contain chemicals, it is always a better option to buy a cream with the latest date of production to avoid any side effect or else the compound might react with your skin and give you allergies.
Dermatologist tested: your hair removal cream must be verified by the dermatologists so that you do not have regrets.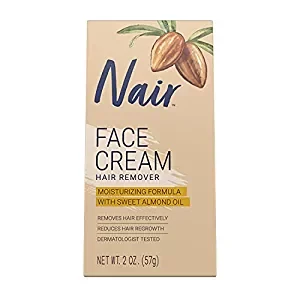 Nair is a well-known brand in the US that offers smooth and radiant skin with its hair removal cream for the face. Now you won't have to hide your beauty inside layers of make-up and can confidently flaunt your natural side with this hair removal cream. It comes with a spatula so that you do not create a mess with your hands.
The cream is easy to apply and has long-lasting effects, which also keep your skin soft and healthy without any side effects. For more health products check out our guides on tan accelerators.
Key features:
Long lasting
Affordable price
Skin friendly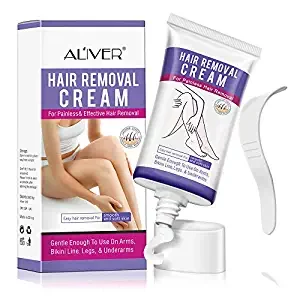 The Aliver hair removal cream uses a Safe formula with Vitamin E and Baby Oil to leave the skin feeling moisturized. This dermatologist-tested formula is gentle enough for the skin, and no nicks or bumps are left on the skin. It also painlessly remove hair from the body.
The Aliver hair removal cream can be used for removing hair on the knees, arms, ankles, legs, underarms, and bikini line and is suitable for individuals and families. Aliver hair cream is a much-loved product because of its affordable price, long-lasting effects, and chemical free combination.
Key features:
Chemical free
Dermatologically tested
Suitable for all skin types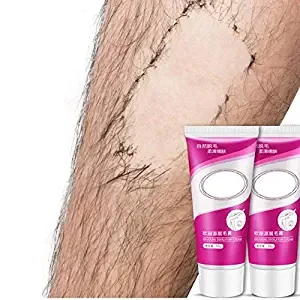 This cream uses a 3D hair removal factor to get rid of even the tiniest hair on your body. It is made of herbal plants and mild ingredients for best results, and to protect your body from the harmful effects of chemicals
The Hair inhibitory growth factor in the depilation ointment can directly reach the hair follicle and prevent the absorption of nutrients in the hair follicle. Thus, the hair loses its growth power and achieves traceless purification, which leads to painless removal of the hair.
The creams are chemical depilatories that uproot the hair shaft using an active ingredient. The mechanical intervention of adding the cream with the spatula or sponge helps remove dried tissue from the epidermis. For more great health guides see our popular picks for essential oil brands and oily scalp shampoos.
Key features:
Rapid hair removal
More hair suppression
Persistent smoothness

This cream is made especially for dry skin. Unfortunately, not all skin is developed in the same way. Irritation or allergic reaction may persist even after the previous use. Always check by doing a patch test on a tiny portion of the skin and rest 24 hours before you start using the depilatory cream directly on to your skin.
Never use this or any technique of hair removal on skin that is sunburnt, harmed, or otherwise strained. Keep away from the eyes and nose, and rush to the emergency room if ingested. If you need to, you can also go to a toxic command. Bare Balm is intended for facial, head, ear, or nose use.
Key features:
Designed for dry skin
Compact and easy to carry
Suitable for the entire body
This hair removal cream is effective on all skin types and does not contain any chemicals. The pack comes with gloves and a spatula for a clean and hygienic experience. All you need to do is to apply and leave it for 8 minutes to get a soft and glowy look.
The Liberex premium hair removal cream removes hair painlessly from the body without leaving a single strand, nicks, or bumps. The cream has been tested by dermatologists to ensure it does not leave any harmful effects on the skin. Leave the compound on your body for 5 minutes when using the Sensitive Formula and then use the spatula to softly extract a small foam sample. If the hair is readily removed, use the spatula's wider or shorter edge based on the portion of the skin, to extract the remainder. You can keep the cream on for up to 10 minutes in total if your hair is more stubborn-but don't leave it any longer. For more health guides check out our picks for bikini razors.
Key features:
Fast and effective
Safe and painless
Skin friendly
If you love to flaunt a flawless body, then this cream is going to be your true companion. Just apply the Sukyed hair removal cream to the target region, leave it for 5-8 minutes, and wash the area cleanly. It takes the hair off painlessly. The cream ensures slower hair regrowth as compared with a razor and other hair removal methods.
With its skin-friendly ingredients, you do not get excessive hair growth by using the Sukyed hair removal cream regularly. It is recommended that you do a patch test before applying it.
Key features:
Gentle formula
Easy to use
Affordable price
This small hair cream is easy to carry and can be used effectively on all parts of the body. Smooth components and texture will comfortably erase your unwanted hair while nourishing, moisturizing, and tenderizing to create smoother, more delicate, and brighter skin. Jojoba seed oil, present in the Holata hair removal cream, can alleviate dryness, roughness, and other hair removal issues from your skin with its regular use
The cream must be applied before the shower to avoid contact with water. You must perform a patch test to ensure there is no itchiness. In as little as three minutes, it reveals beautifully smooth and radiant skin that lasts several days longer than shaving. For more popular health products check out our picks for numbing creams.
Key features:
Suitable for all skin types
Easy to use
Long lasting effects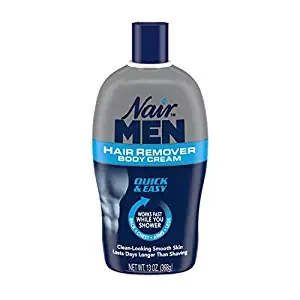 For men who love to flaunt their curves and a smooth body, this is the true companion. It is a hair removal cream designed for male hair growth and helps removes unwanted hair without any pain or itching. The Nair hair removal cream for men is suitable for all skin types and can be used on the entire body. However, it is recommended that you do a small patch test to ensure you are not allergic to any of the chemical ingredients.
It is an easy-to-apply cream that comes with all the necessary instructions and a spatula to help you apply evenly on the area. All you need to do is apply and leave it on for 3 minutes. If you still see some growth, it can be extended for 2 more minutes.
Key features:
Only for men
Easy to apply
Long lasting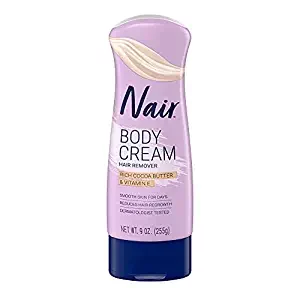 Get prepared to expose more and care less. Your skin will be enhanced with the Nair Lotion with Baby Oil. This hair removal lotion smells freshly fragrant and is filled with baby oil that softens the skin. The Nair cocoa butter hair removal cream works in just 3 minutes. It is also tested by dermatologists for effective results.
Extracted from the cocoa bean plant, Cocoa Butter is a natural antioxidant with nourishing, hydrating, and anti-aging properties. The hair removal lasts longer and helps you enjoy a flawless body with full confidence. Quick, painless, and cost-effective, Nair Lotion with Cocoa Butter removes hair in just three easy steps. Check out our guide on outdoor tanning lotions for keeping yourself safe in the sun.
Key features:
Painless
Cost-effective
Chemical free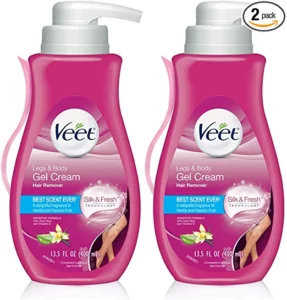 Made with aloe vera and vitamin E, the Veet hair removal gel cream removes hair within 5 minutes and gives you soft and smooth skin. Veet is a well-known brand across the globe and is known for its skin friendly hair removal products. All you need to do is to apply the cream and wash it after 5 minutes to see the best results
It is a gel specially designed to remove even the tiniest hair off your body. The cream goes through various tests to ensure that there are no side effects on any skin type. The pack is available in 3 different sizes and can be purchased as per your requirement.
Key features:
Fast and effective
Chemical free
Moisturizes the skin
Closing Thoughts
Hair-removal creams serve as the most portable hair-removing device for your quick and easy use. They not only cause pain while removing your body hair but also keeps your skin moisturized after removing the hair all thanks to the secret ingredients of these new-age hair removal creams.
These creams are pocket-friendly and are easily available in any general or medical store. These creams are formulated according to your skin type. So if you are one with sensitive skin you should only opt for hair removal creams for sensitive skin.
These creams are travel friendly and are quite easy to use and come as a savior for last-minute shredding of your hair on your hands and legs. These creams go easy on hair removal of underarms and private parts as well.
Overall these hair removal creams are looking for a complete replacement to the waxing and threading hair removal methods. Don't you think so?