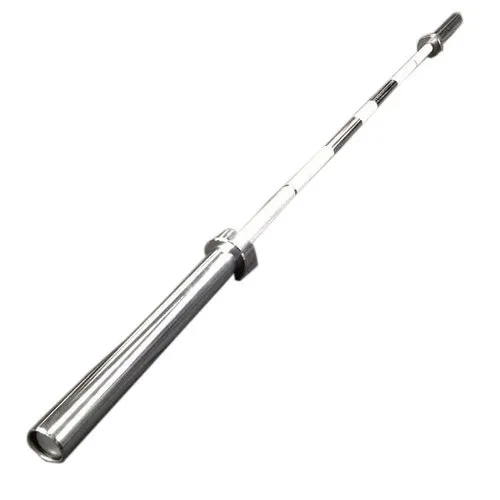 For gym-goers who are serious about building their strength, barbell training is a must. This method of exercising is more effective than practically any other type of strength training, particularly for building functional strength which is the type that allows you to carry out everyday tasks more effectively, like lifting or carrying objects.
But, unless you're experienced in the world of lifting, choosing the right barbell set-up can be tricky. There are many options on the market and the type of lifting you want to do will determine the right barbell for your needs. The difference between Olympic weights and standard weights is the size of the hole – Olympic plates have a two-inch hole while normal plates are just one inch wide.
The sleeves of the barbell will determine how many spins the bar will have, which will be permitted through either bearings or bushings – the former delivers a smoother spin while the latter lowers friction and is most commonly made from brass to ensure durability. High-end Olympic bars usually have bearings, while general-purpose bars use bushings.
The strength of the barbell is also important, as this can be determined using two measurements – tensile and yield. Yield strength is the weight that would be necessary to bend the bar, while tensile strength is the breaking point of the barbell. 165,000 PSI is a good minimum for a new barbell but something over 180,000 is a better option. These are ten of the amazing Olympic barbells on the market to suit all different strengths and budgets.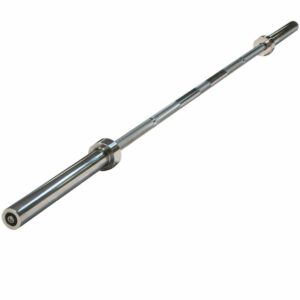 BodySolid Tools' Olympic Straight Bar is an affordable option for beginners or lifters looking for an everyday addition to their workouts.
This bar can support up to 600 pounds of weight and has been designed for efficiency with heavy workouts. The bar itself weighs 44 pounds and has a 15.5-inch collar length and a 51-inch sleeve length.
There's an option for a classic chrome finish or a dense black finish depending on your preference too. For taking free weight workouts to the next level, the Body-Solid Tools Olympic bar is a fantastic product that doesn't disappoint. Consider a compression shirt for increased blood flow when using your Olympic barbell.
Key features:
86-inch bar with a 600-pound weight capacity
Secure hold from knurled grips
15.5-inch collar with a 51-inch inside length
---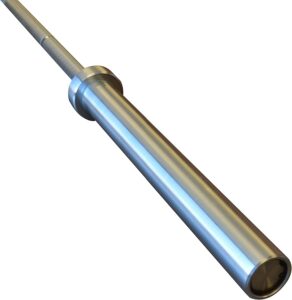 RAGE Fitness' Olympic Training Barbell weighs just 15 pounds on its own, so it is ideal for beginners, with a maximum weight capacity of 300 pounds for when you want to develop your workouts and build up to heavier loads.
The medium knurling delivers just the right amount of grip so you can lift safely and securely. The bar is made from aluminum and has been designed to be used with 2" Olympic plates, with 49" of grip area between the sleeve collars.
From developing cardiovascular fitness and endurance to building stamina and the all-important strength, this barbell is a great starter bar that spins freely and can be used for scaled weights and intense workouts.
Key features:
Six-foot bar with medium-depth knurling
Maximum weight capacity of 300 pounds
Rotating sleeves with bushings
---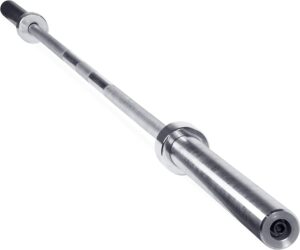 The CAP Olympic barbell is made from tough steel with a black oxide finish and polished steel sleeves.
This bar also comes in a choice of coloured bars, with red, blue, purple, or pink available in UV-stable coatings that have a matte finish for durability.
This barbell fits 2-inch Olympic plates and has been designed for fantastic performance and balance, with a maximum weight capacity of 1200-pounds. The sleeves have a good level of spin, so you won't be in danger of hurting your wrists and the knurling has a decent depth for additional comfort.
The bar doesn't have knurling in the centre, for versatility when you're performing exercises like squats. A popular barbell with amateurs and experienced weightlifters alike, the CAP barbell is a great balance between affordability and performance. See our amazing budget power racks to allow various exercises for your Olympic barbell.
Key features:
1200-pound weight capacity
Sleeves with snap clips with medium-depth knurling
86.6" in length, weighing 44 pounds
---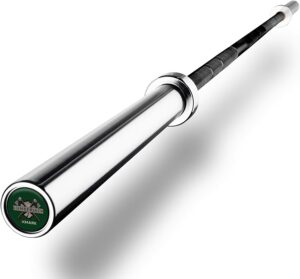 The XMark Fitness Lumberjack Olympic Bar has a black manganese phosphate shaft and brass bushings that are designed to last and provide excellent protection from abrasion and corrosion.
It has semi-aggressive knurling that offers superior grip, with dual knurling marks. The sleeves of the XMark Lumberjack bar are made from smooth chrome, allowing for easier loading and off-loading of the plates but they also give a more premium feel to the bar as well.
The black coating on the shaft of the bar has a mildly tacky feel which helps to deliver superior grip during lifts, as well as providing extra protection. This is a bar that's built to stand the test of time and will be a great addition to your home gym set-up for years to come.
Key features:
Chrome sleeves for easy loading of plates
Dual knurling marks for a secure grip
Coated with black manganese phosphate for longevity
---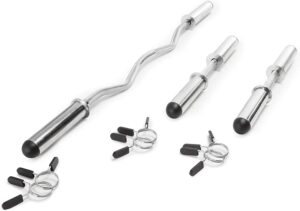 The Merax Commercial 7-foot Olympic Bar has an incredible tensile strength of 190,000 PSI and can cope with weights as high as 1500 pounds.
This bar has been crafted from high-quality materials, with heat-treated alloy steel, a snap ring lock system, and chrome finishing for protection against corrosion, rusting, and scarring.
The 28mm grip diameter allows you to hold heavier loads comfortably and securely, so you can work towards your personal favourite one every time without worrying about losing grip mid-lift.
This is one of the heavier bars on this list, sitting at 50 pounds without any weights loaded, so it's a great choice for those experienced in lifting who want to continue to develop their strength and stamina training with home workouts. For other great gym equipment see our favourite manual treadmills.
Key features:
A maximum weight capacity of 1500 pounds for intense lifting sessions
Made from heat-treated alloy steel with a hard chrome finish
28mm diameter grip with 51 inches between collars
---

Great for a wide variety of exercises, from lunges and overhead presses to bicep curls and bench pressing, the Titan 60" Barbell is crafted from heavy-duty steel and has a smooth chrome finish that prevents rusting.
The barbell fits 2" Olympic plates and can comfortably cope with 500 pounds of weight, so you can build up your workouts as you develop your strength.
The diamond knurling provides you with plenty of grips and also prevents injuries from occurring from the bar slipping during lifts, ensuring you exercise safely and as efficiently as possible.
The Titan barbell is maintenance-free and well-balanced which makes it an effective addition to your home gym routine. See our handpicked collections of leg press machines if you're building a home gym.
Key features:
Fits 2-inch Olympic plates with a 500-pound capacity
Made from heavy-duty steel with a chrome finish
Diamond knurled handles for additional grip
---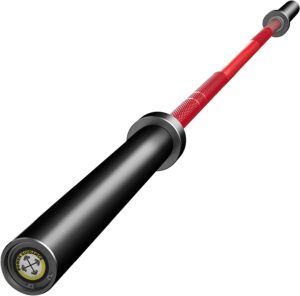 The Power Guidance Olympic Bar has two conveniently placed knurl marks for a firm grip that makes lifts more comfortable and stable, particularly during power lifts.
The black chrome coating prevents rust or corrosion from forming, while the 28mm diameter of the bar means it will be comfortable to hold.
This bar has 16.4" of loadable sleeve length and weighs 20kg, with a maximum capacity of 1500 pounds so there's plenty of room to develop your workouts and build up to heavier exercises.
This bar produces a consistent spin that's smooth and has a great level of whip during any movements. Find a good sit-up bench for a good decline press.
Key features:
Dual knurl marks for a comfortable, secure grip
28mm diameter grip with 16.4" of loadable sleeve length
20kg bar for a smooth spin and whip
---

The ARCHON Olympic Bar has a unique style with bold colour features, but this bar isn't just about appearances.
It has four premium needle bearings for a smooth spin along with two brass bushings for just the right level of the whip.
It's an ideal bar for curling and squats, as well as adding weight training to your CrossFit workouts. The ARCHON bar has a tensile strength of 150,000 PSI and can cope with weights up to 750 pounds, so beginners will love this barbell.
There's no centre knurling on this bar, just knurl marks for Olympic and powerlifting, and it has a 28.5mm diameter grip so it's comfortable to hold even with heavier weights.
Key features:
Four-needle bearings with two brass bushings
150,000 PSI tensile strength with a maximum load of 750 pounds
No knurling in the centre for a more comfortable hold when powerlifting
---
Crafted in the USA, the XMark Blacksmith Olympic Bar is made from premium materials, with high-strength American steel and black oxide sleeves that are impervious to rust and corrosion.
This is a fantastic bar for weight lifting and cross-training, with just the right level of whip that makes it great for interval training. This bar has a maximum capacity of 1500 pounds and weighs 45 pounds on its own, with room to accommodate 2" Olympic plates.
Check Price On Amazon
One of the biggest complaints many lifters find is knurling across the entire bar, but the Blacksmith bar has no centre knurling, so you don't have to worry about shredding your hands and neck when lifting.
Key features:
Medium knurling with no centre knurling for better comfort on the neck
15" black oxide sleeves that can accommodate 2" Olympic plates
1500-pound weight capacity for heavier sessions
Check Price On Amazon
---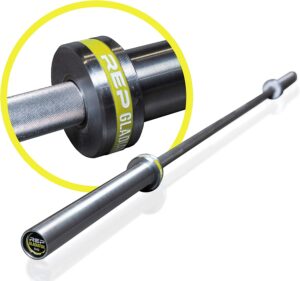 The REP Gladiator Olympic Bar is built to deliver the good performance possible, with an optimal whip, excellent grip, and a smooth spin.
The five-needle bearings on each sleeve allow for smoother snatches and the medium-depth knurling gives you plenty of grips when you're lifting heavier weights, making this bar great for powerlifting and cross-training.
Check Price On Amazon
The bar has a hard chrome finish for maximum resistance against rust and corrosion, while also being low maintenance. The main benefit of this barbell is the narrower diameter that makes for an easier and more comfortable hold, as well as the 1500-pound weight capacity so you can intensify your workouts as often as you like. A dip station would also be a great addition if building a home gym.
Key features:
28mm diameter grip with the optimal level of whip
230,000 PSI tensile strength with a 1500-pound rating
Five needle bearings per sleeve for a smooth spin
Check Price On Amazon