From pies and ice cream to hot chocolate, sundaes and mousses, many desserts and drinks can benefit from a large spoonful of whipped cream as a finishing touch. But while you can use a whisk to create this final touch, owning a whipped cream dispenser makes the task even easier and much quicker.
Not only does whipped cream improve the taste of many desserts and drinks, but a whipped cream dispenser makes your kitchen seem luxurious. Although you can use a whisk or a mixer to make whipped cream, purchasing a whipped cream dispenser provides a much easier and more worthwhile experience. Imagine all the cheers you'll get from your guests when you whisk out your own canister and spray a perfect spiral of whipped cream.
There are many options to choose from when deciding which whipped cream dispenser to buy, depending on what you need it for. For example, if you're just looking to add a decorative element to your homemade pies or waffles and want the basics, your needs will be quite different to those who are on the professional side and want a product that can cope with hot and cold liquids, for soups, main courses and foams.
Whipped cream dispensers come in various shapes, sizes and designs, as well as different materials depending on what you need them to be able to do. Stainless steel and aluminium are the perfect options as they are lightweight but sturdy, ensuring you will be investing in a dispenser you can continue using for many years to come.
Our Handpicked Collection Of 10 Awesome Whipped Cream Dispensers
Using materials such as this also means you can store whatever you don't use in the fridge to avoid waste, without the cream becoming tainted by oxidation or affecting the dispenser itself. The options below vary in price, size and features, from the basic options to the elaborate which come with a variety of nozzles and additional elements. These are ten amazing whipped cream dispensers on the market to suit all needs and levels of expertise when it comes to cooking and baking.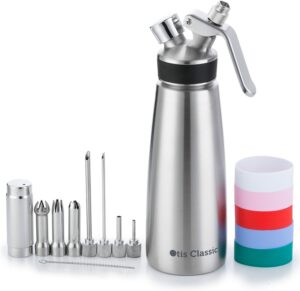 The Otis Classic Professional Series II Dispenser is a commercial-grade whipper that not only provides delicious whipped cream to coffees, mousses, desserts and cocktails but also adds a decorative element.
The whipped cream dispenser comes with a choice of three decorating nozzles, as well as four injector nozzles, so you can really get creative.
The dispenser is made from stainless steel so it won't react with acidic food which means you can store the cream in the dispenser without it oxidizing or absorbing other flavours. The dispenser also includes six interchangeable silicone bands in different colours for grip, protection from the cold and style.
Key features:
Comes with seven tip styles, including three decorating nozzles and four injector nozzles
Commercial-grade dispenser made from stainless-steel
Includes a cleaning brush and charger holder
---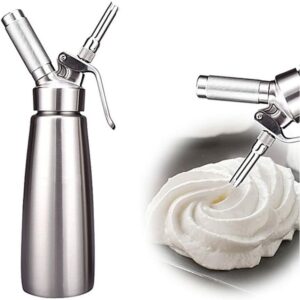 This Zoemo Professional Culinary Cream Whipper is great for adding flair to desserts, cakes, drinks and more. It's great for both home or commercial use and is easy to clean with just warm soapy water and a brush.
It has three decorating tips included so you can get creative with your meals, and the quart-size dispenser holds more whipped cream than many other brands on the market.
This is a dispenser that's built to last a lifetime, with a durable material that is easy to clean and maintains impeccable hygienic standards, whether you're using it professionally or for home baking and adding imaginative designs to your home-baked creations.
Key features:
100% stainless-steel bottle
Great for bakers, home cooks and professional chefs
Has an incredibly tight leak-free construction
---

The ISI 1-pint whipper is made from durable stainless steel that is guaranteed to last many years of use.
The head is sealed with a silicone band and can be detached to clean easily and ensuring the contents will be kept airtight.
This is an ideal dispenser for domestic use and is great for those who don't need loads of fancy attachments but just want to keep to the standard nozzles.
The larger size yields twice the amount of whipped cream compared to other brands and it can be used for both cold or hot applications, so you can get creative from decorating desserts to adding hot foams to main courses.
Key features:
The dispenser can be used for both hot and cold applications
Ideal for whipped cream, flavoured foams or specialized pumas
Comes with a charger holder, cleaning brush and three styling tips
---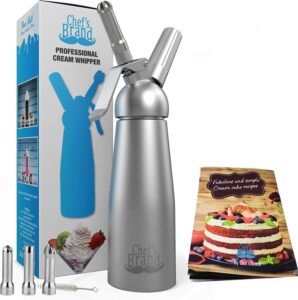 Combining price and quality, the Chef's Brand Whipped Cream Dispenser delivers great results.
It's made from aluminium and is lightweight, so you won't get user fatigue, and has three professional-grade stainless-steel nozzles that will allow you to create beautiful decorations.
This is a great dispenser for adding a decorative touch to puddings, pies, ice cream, drinks and much more. It has a matte finish and a secure grip, so you don't have to worry about it slipping while you're using it.
It's also easy to clean by hand and comes with a book of 100 recipe ideas, so you can really experiment and get creative. This is a brilliant dispenser for the price and shows that you don't have to compromise on quality just because you're on a budget. For other great kitchen, items see our sandwich makers for the perfect toastie.
Key features:
Made from aluminium making it is incredibly lightweight
The nozzles are made from stainless steel for durability
Comes with a dessert recipe book to give you plenty of ideas and inspiration
---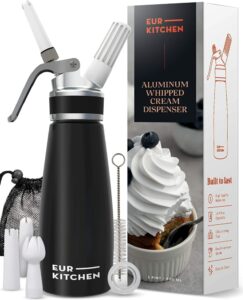 The EurKitchen Professional Whipped Cream Dispenser has a stylish black lacquered design that stands out from others on the market and is made from aluminium so it's lighter than stainless steel.
The reinforced threads also make it a really durable product that has been designed to stand the test of time.
It's a great option for home cooks and professionals alike and can be used for everything from mousses and coconut whipped cream to soups, sauces and frothed lattes.
You can even use it to make whipped homemade butter or fluffy scrambled eggs for a really special breakfast. It comes with a cleaning brush to make clean-up easy and quick, as well as a spare charger holder and silicone seal.
Key features:
Black lacquered canister
Three decorating tips
Made from aluminium for a lighter dispenser
---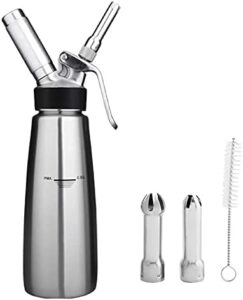 Tesor's food-grade stainless-steel construction on this whipped cream dispenser is durable and user-friendly, with strong threading to ensure there are no difficulties when it comes to releasing the charger holder.
Because of this choice of material, you're not limited to just whipped cream either – there are no problems using this dispenser for salty, acidic or highly flavoured foods, as the dispenser won't corrode or impart flavours.
The removable straining screen filters out pulp, seeds or solid foods so you can expand your repertoire and enjoy a host of different options with just one appliance, making this a really versatile product to have on hand.
It also comes with a funnel so you don't have to worry about making a mess when you're filling up the canister with your ingredients.
Key features:
Holds 16 ounces of liquid to make up to 5 pints of whipped cream
Can keep whipped cream fresh for up to 16 days in the fridge
User-friendly design that's dishwasher safe and designed to minimize mess and hassle
---
For those on a tight budget who want to invest in a high-quality dispenser, the Mobright Aluminium Whipped Cream Dispenser is the perfect option.
This brightly coloured dispenser allows you to create beautiful designs on your desserts, hot beverages and cocktails, as well as create velvety textures for soup, mousses and sauces.
The dispenser has three plastic decorating nozzles as well as a storage cap to keep your food fresher for longer, a cleaning brush and a clear lid.
It will hold up to 300ml of liquid, so you have plenty of opportunity to create wonderful decorations for your meals. The canister is made from high-quality aluminium and has a leak-free construction that will ensure maximum durability.
Key features:
Works with a standard 8g nitrous oxide charger cartridge
Has clear lids and a storage cap, as well as three decorating nozzles and a cleaning brush
Easy care design means it can just be rinsed under the tap with the cleaning brush to remove residue
---
This 1-pint whipped cream dispenser from Gorgeous Kitchen is budget-friendly but still provides great quality.
It comes with a host of useful gadgets alongside the dispenser, including a stainless-steel coffee spoon and a cleaning brush to ensure you can keep the dispenser in top condition.
The cream can be stored in the canister for several days in the fridge without it losing its great flavour and structure, so it's an ideal way to avoid waste.
The Gorgeous Kitchen dispenser is easy to use and makes a great gift for home bakers and cooking enthusiasts who want to add a touch of flair to their meals and creations, from waffles and mousses to cocoa beverages and cocktails. For other cool kitchen items, see our handpicked collection for a plastic-free electric kettle, that supports your environment.
Key features:
Comes as a gift box bundle with nozzles, a charger holder, a stainless-steel spoon, a cleaning brush and an instruction booklet
Great for adding sweet toppings to cakes, waffles, desserts and coffee
Easy to clean by hand with warm soapy water and can be taken apart quickly and efficiently
---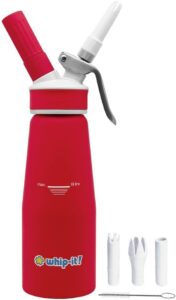 The distinctive red rubber coating on the Whip It! Pro Whipped Cream Dispenser isn't just for aesthetics – it also provides excellent grip whether the canister is dry or wet, so you can use it safely without it slipping from your hands while you're adding decorative touches to your meals.
This is a lightweight dispenser, so you won't find it takes its toll on your hands if you're using it for a long time, particularly for those who work in professional settings or catering.
It's the perfect choice for cooking enthusiasts who want to experiment with adding unique flavourings or extracts to their desserts or creating show-stopping dishes that have all the impact of a restaurant-worthy dish.
Key features:
Has a protective rubberized seal and a rubber coating for extra grip
Comes with two decorating tips, a tip brush and a charger holder
Includes a recipe book for inspiration and ideas
---
The Mosa TW Whipped Cream Dispenser has a reliable aluminum body that can be used for both hot and cold applications, so it's a versatile appliance to have around the kitchen.
It holds up to 17 ounces of whipped cream so it can top almost 35 desserts – a great model if you're a fan of hosting dinner parties or events. But the cream can also be stored in the canister in the fridge for several days if you don't use it all, so there's no worry about wasting your ingredients.
This sleek and stylish dispenser looks great in the kitchen and is sure to last for many years of use due to the materials used, from the hardwearing aluminum to the silicone seals that are built to last. For constant cold beer whilst you whip cream check out our kegerator picks.
Key features:
A commercial-grade dispenser that's perfect for home and professional applications
Has a solid aluminum body and head for durability
Works with an 8g nitrous oxide charger
---
Conclusion
 A whipped cream dispenser is a handheld piece of kitchen equipment that uses nitrous oxide gas to whip out cream in a soft and pillowy texture. Whipped Cream dispensers have a variety of uses such as using them to create airy foams, soft batters, and even bubbly cocktails.
Ultimately, it is advised that you buy a whipped cream dispenser that has a range of functions and can be used for different desserts, drinks, and cocktails that you can satisfy your guests with. It is also advisable to buy a durable and strong dispenser that would last for a long time.
Also, you can visit foodiewish.com for more blogs