Baseball bats come in a wide variety of sizes, weights and materials, so choosing the right one can be tricky. While they may all look the same, the reality is that shopping for the right bat can be quite a complex task. There are one-piece and two-piece designs. One-piece bats are for strong power hitters that are designed to maximize your hitting potential.
This style of the bat is typically made from wood, composite material or aluminium alloy, making the bat stiff and as strong as possible. Two-piece designs have a handle and barrel which are made from separate pieces that are then bonded together. This allows more flex in the bat and gives your swing an extra boost of power and speed.
Most players prefer aluminium and composite bats compared to wood as they are lightweight and have a higher strength, delivering more speed and power. Aluminium bats also provide that much-desired pop that all baseball players love. Comfort is key when choosing a bat and is often the most important factor, as the more comfortable the hold, the better your playing will be.
Our Handpicked Suggestions On 10 Awesome Baseball Bats
Size and weight also play a part and can be determined based on your weight and height – taller batters should use longer bats, generally speaking. If you're a power hitter, a slightly heavier bat may be preferable while those who play small ball get base hits while preferring the control a smaller bat provides. The following ten bats are some of the perfect ones on the market, from budget-friendly options to premium bats.
The Louisville Slugger Solo 618 BBCOR bat is made from premium materials and has a custom lizard skin performance grip, making it great to look at as well as hit with. The speed ballistic end cap gives you maximum control and swing speed, while the handle has been designed to dampen negative vibrations and reduce the sting on mis-hits.
The one-piece alloy construction has a stronger and more durable feel that provides excellent energy transfer in contact with the ball. This incredibly popular baseball bat is well-crafted and delivers great speed and offers a good balance. For other great sports, items see our handpicked collections for tennis racquets.
Key features:
One-piece hyper alloy construction for maximum energy transfer
Vibration dampening handle for more comfortable play
Speed ballistic cap for increased swing speed
---
The Marucci MCBC7 bat has an optimized barrel design that creates a sweet spot that's double the size of the CAT 6 and delivered a balanced swing weight.
The consistent swing that the Marucci provides makes it easy to control and incredibly responsive. The thinner barrel walls offer an almost trampoline-like effect when it comes into contact with the ball too.
With an upgraded harmonic dampening system, the MCBC7 provides a better feel as well as reduces the negative feedback on contact.
What's more, it's a lighter bat from hands to cap, making faster swing speeds even easier to achieve. The premium precision and control, along with the higher response rate, make this a great purchase.
Key features:
Alloy construction for a higher response rate and a traditional feel
Has a responsive barrel that creates a larger sweet spot
Features a balanced swing weight
---
The DeMarini Voodoo is a hybrid bat that delivers the traditional sound of an alloy bat but with all the smooth feel of a composite bat.
It has enhanced variable wall thickness throughout its construction for a powerful performance that won't disappoint.
With excellent durability and an optimized design that balances the control and weight, the Voodoo also features a 100% composite handle which reduces shock and dampens vibrations.
This bat will provide you with incredible ball flight and has a unique design that really delivers on speed and weight. A well-balanced bat that delivers a great swing, the Voodoo hits really well and delivers precision and control.
Key features:
Two-piece hybrid baseball bat with a 100% composition handle
3Fusion end-cap creates the optimal weight and control
Optimized for the sweet spot that players love
---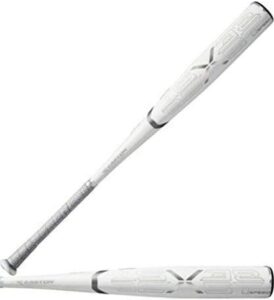 A baseball bat worthy of its name, the Easton 2018 Beast X Speed is as powerful as it is innovative. Easton is a renowned manufacturer with a reputation for creating quality products, so it's no surprise that the Beast X Speed bat is one of the perfect ones you can buy.
It has an extra-strong advanced thermal alloy construction that doesn't add any extra weight or bulk, while still delivering control.
What sets this bat apart from others on the market is the hyper skin grip which is a fantastic addition to an already brilliant bat.
The grip makes it comfortable to hold and makes striking the perfect swing smooth and easy. A one-piece bat designed to deliver high-quality performances, the Easton 2018 bat is sure to enhance any gameplay.
Key features:
Hyperskin grip for easy hold and comfortable swings
Made from aluminium alloy for durability and lightness
A power-packed bat that's suitable for any high school or college games
---
Rawlings is well known for providing great products that are well crafted and carefully designed and the Velo Hybrid bat is yet another that delivers. This is a versatile bat that will suit anyone's style and the length-to-weight ratio makes it even easier to deliver a great swing.
The bat is constructed from aluminium alloy and provides a great sound when it makes contact with the ball, for a great pop and increased flex. The Velo also absorbs any additional vibrations for increased comfort while you're playing too.
It uses POP 2.0 technology to enhance the sweet spot and make the bat lighter for more control, but don't worry about it affecting the durability – this bat is built to last. The Velo has fantastic grip and while the light weight of the bat might take a little getting used to for some, it's a brilliant option if you're looking to build on your skills. Pick up a nice CrossFit gym bag to put your other baseball gear in.
Key features:
Made from high-quality materials
Has a -3 length-to-weight ratio for a great swing
Enhanced design for a greater sweet spot
---
The Mizuno Maxcor bat is designed for players looking to increase their skills and develop their game even further. It features a black onyx composite taper and handles for reduced vibrations and a more comfortable feel, as well as a HotMetal core that delivers a wider sweet spot and increased distance with each swing.
A little goes a long way with the Mizuno, despite its simple design, ensuring a great pop every time. The carbon handle reduces the loss of energy when making contact with the ball at higher speeds, and transfers that energy where it's most needed – onto the ball, rather than the handle.
This bat has a larger barrel so it's easier to hit the ball but also provides you with plenty of strength too, so it's not to be underestimated.
Key features:
-3 length to weight ratio for better control and a balanced swing
BBCOR certified for high school or college play
A stiffer carbon handle minimizes energy loss
---

The Rawlings 5150 Alloy Baseball Bat comes complete with a Precision-Optimized Performance POP 2.0 that allows for a larger sweet spot and a great pop. This is one of the most durable bats you can buy at this price point and it won't let you down in terms of performance.
Engineered with a highly responsive and aerospace-grade 5150 alloy, this bat is BBCOR certified and stays within the .50 performance standard. It has an improved feel and is comfortable to use, delivering great results for any hitter in the line-up time and time again.
The 5150 is well-balanced and has enough innovation to be considered a performance bat. It's a great choice for the elite hitter who values the traditional stiffer feel but wants a slightly heavier swinging bat.
Key features:
-3 drop weight and a 2 5/8" barrel diameter
Includes Rawlings' POP 2.0 technology
Well-crafted product with a focus on the pop
---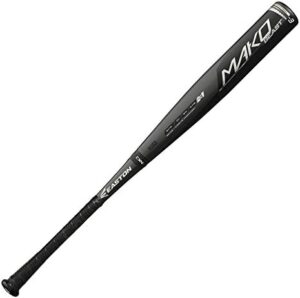 The Easton BB17MK Mako Beast bat delivers everything it promises and more. It offers great power to whoever is using it and it definitely packs a punch.
The Mako Beast has a two-piece composite barrel with ConneXion technology for maximum energy transfer and a 1.2mm cushioned HYPERSkin grip that delivers a stronghold, stability, and a comfortable feel for all types of contact.
The power comes from the 1.5-inch longer TCT Thermo Composite barrel that provides the fastest swing weight the game has ever seen.
The large barrel gives additional space for connecting with the ball and reducing mis-hits, while also delivering a great pop. This is a great choice for first-time BBCOR users and provides a brilliantly fast swing with great quality that's built to last. Find some nice CrossFit shoes in our handpicked collections.
Key features:
Delivers the game's fastest swing weight
Includes a TCT Thermo Composite barrel and a composite handle for grip
The most powerful composite barrel Easton has ever produced
---
Louisville has a great reputation for creating high-quality bats and the Slugger Omaha 518 is another great product that delivers on feel, performance, and looks.
The Omaha 518 offers great efficiency throughout its lifetime and will even help batters improve their skills.
It has a one-piece alloy construction with a larger sweet spot, and a traditional feel despite its modern technology.
The end cap on this bat has been designed to allow for better weight distribution and bat control, for an easier and more controlled swing, and the tapered handle provides better grip and stability. The handle design also helps to reduce the sting and vibration from contact with the ball.
Key features:
Features a synthetic leather fade grip
Has a durable end-cap design
One-piece construction made from alloy for a larger sweet spot
---
The 2019 Project 3 FUZE bat from Easton is made from speed-balanced aluminium and has an ATAC Alloy construction that's reinforced with Carbon-Core technology for the thinnest walls and excellent performance.
The C-Core gives maximum exit speed and brilliant power. The forged composite end cap allows for a greater and more powerful swing speed and more leverage.
The Easton FUZE is the most technically advanced bat that Easton has ever launched and the innovation it provides is second to none. The bat has a solid feel and generates plenty of power, while the reinforced handle creates a solid feel when players are holding it.
A great high school and collegiate bat, the Project 3 FUZE delivers everything you could want from a baseball bat, from a comfortable hold to fantastic energy transfer.
Key features:
One-piece construction made from speed-balanced aluminium
Reinforced carbon-core technology for the thinnest walls in the game
A forged composite cap allows for a faster swing speed
---
Closing Thoughts
A baseball bat is a smooth wooden or metal club used in the sport of baseball to hit the ball after it is thrown by the pitcher. By regulation, it may be no more than 2.75 inches (7.0 cm) in diameter at the thickest part and no more than 42 inches (1.067 m) in length.
We hope that you liked our article on baseball bats. We guarantee that you'll find your perfect baseball bat from the above list of bats that we have included in our article!
You can also check mycbdauthority.com for more health-related blogs.