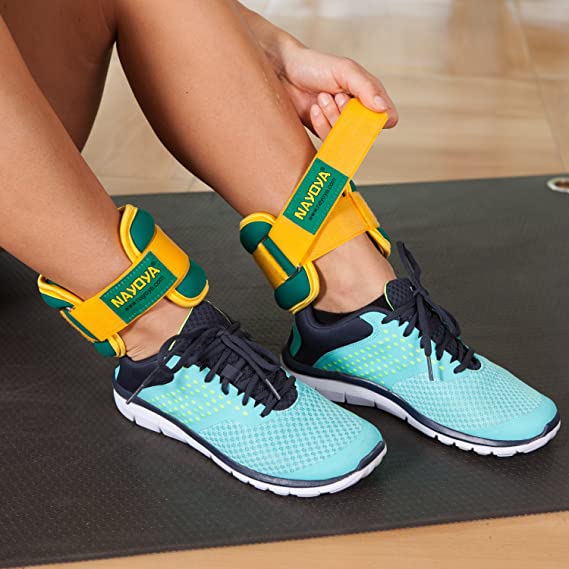 How To Buy The Perfect Ankle Weights For Your Workout?
If you are one of those gym lovers who have the only goal to get toned legs, big biceps, and huge stamina. In short, you want to keep yourself fit and flaunt your biceps to the world. To help you out in your journey of staying fit and lean, we have this small gym accessory known as ankle weight which can create wonders in your body-building journey.
The ankle weights are usually tied around the ankles during your gyming sessions, running, aerobics sessions, or any type of exercise you are performing. These weights tend to push you to do take some extra effort to perform the same regular exercise. Now, this extra amount of energy that you are investing will ultimately increase your overall body stamina and strengthen your muscle power.
The ankle weights tied depend upon the capacity of the person dealing with those weights. A beginner who has just started gyming putting on these ankle weights must initially start with small weights as the body cannot take huge weights so suddenly, it needs time to adjust to this extra pressure.
Read on further to know more about ankle weights, their effect on gymming and exercise sessions, and how effective they are proven to be.
How do ankle weights benefit your workout?
Ankle weights might be a small accessory but don't let that fool you. The additional weight helps to increase your endurance and stamina, as well as ensure you exert more force during each movement. They tone your legs (and arms if you're using them as wrist weights) and help you to burn more calories than you typically would because you're forcing your body to work harder.
They also offer versatility. If you're into water-based exercises, these are a great addition to your regimen as they help to improve technique, build stamina and enhance your skills. Wearing ankle weights doesn't just strengthen your lower legs but also works your quadriceps, hamstrings, and glutes more too, to tone your entire leg. Ankle weights can also be a good addition to other equipment such as the dip station or sit-up bench for increased intensity.
What weight should a beginner choose?
If you're just starting out, choose an adjustable set of weights of anywhere between five and eight pounds. This way you can start off at the lightest weight and build up slowly as you become stronger and your stamina improves. While most people have no problem starting at the top end of the spectrum, if you're new to exercising with weights it can lead to joint stress and injury if your body isn't fully prepared for the additional stress of the weight. So, start off slow and gradually build up as your routine develops.
However, don't be tempted to wear them every time you walk, jog or work out. It might seem like an effective way to build up strength quickly but in fact, studies have shown that walking regularly with ankle weights can cause injury to people with joint problems. You need to give your muscles, joints, and tendons time to rest and recuperate, so avoid adding weights every time and use them periodically as you increase your reps or speed.
10 Effective Ankle Weights You Should Know For Your Workout
Available in 1, 2, 3, and 5-pound sizes, these Nordic Lifting ankle weights are perfect for adding resistance to your gym sessions. The comfortable neoprene coating and Velcro strap fastening ensures a comfortable fit while you're exercising. These weights are great for building up your strength, particularly on hikes or long walking sessions, and with the varied sizes available you can increase the weight as your strength improves.
They can also be worn comfortably as wrist weights too if you want to increase resistance to your arm workouts. The set comes with a travel pouch so they're ideal for taking with you on trips or when you travel for a quick and easy workout wherever you are.
Key features:
Reflective strip that makes them great for wearing outside at night
Easily adjustable for a comfortable wraparound fit
Ergonomic design and high-quality neoprene construction for added comfort
---
Comfortable yet secure, the fit of the Nayoya ankle weights is what makes them such a popular choice with customers time and again. They're a highly rated product and are praised for their great design and comfortable materials. They can be worn by kids and adults alike and are even ideally suited for rehabilitation exercises.
These weights have over three inches of padded ankle or wrist support to fully cushion your joints during intense exercise. Whether they're being worn on hikes or long walks, or as an addition to weight training or cardio sessions, the Nayoya weights are great for boosting the efficiency of your workout.
Key features:
Secure fit with a comfortable, soft fabric casing and well distributed weights
Includes a carrying pouch for easy portability
Moisture-wicking, non-abrasive material that's perfect for exercise
---
An affordable option that still provides great results, the Da Vinci Adjustable Ankle Weights are available in three different sizes and six color options. These are perfect for strength training or to add a touch of variation to your workouts, and they're quick to put on. Considering the price, the quality and comfort level is good, and they can also be used as wrist weights to boost strength in the upper body area too.
This set is great for beginners or those just dabbling in the world of ankle weights, as they're affordable and at the lower end of the weight spectrum so you can see if you enjoy adding them to your workouts before building up to heavier weights. They can also be used as wrist weights for exercises on a roman chair or steppers.
Key features:
Available in 1, 1.5 and 5-pound weights
Long adjustable Velcro straps ensure a secure and snug fit for virtually any size
Soft cloth interior absorbs moisture
---
If you're looking for something a bit more intense, this set of weights adds 10 pounds to each ankle, so you'll be feeling the burn in no time. However, if you want to build up to that level of resistance, these are adjustable, so you can take it at your own pace and add more as needed.
The full 10 pounds on each leg isn't advised for walking or running, but they're perfect for exercises like leg lifts or donkey kicks. Don't let the size intimidate you either – they're surprisingly comfortable considering the extra weight and offer a comfortable fit. CAP Barbell is a well-known and reputable brand, which the quality reflects.
Key features:
Removable weights so you can adjust to the weight you're comfortable with
Hook and loop closures provide a secure fit
Great for building stamina and muscle, as well as for developing a more intense fitness regime
---
For those looking to start off slowly, this set of five-pound Gaiam Fitness Ankle Weights will still get your heart rate up without putting too much strain on your legs before you've built up the strength to cope with it. This set is perfect for brisk walks, but they can also be put on to amp up step exercises at home or at the gym too.
If you're in rehab from an injury or surgery and you need something light but with noticeable resistance, check these out. From leg lifts and side raises to Pilates and aerobics, these are a versatile addition to your fitness repertoire. For more fitness guide see our one on olympic barbells.
Key features:
Easily adjustable style and ergonomic design
Perfect for building lower body strength more steadily
Incredibly comfortable fit and soft fabric casing
---
This one is for real fitness enthusiasts – 20-pound weights on each leg, a total of 40 pounds in all. Of course, these are adjustable, so you don't need to start off at this weight if you're a beginner but if you're geared up to add some serious intensity to your workouts, these are a great option.
All Pro is far from a new kid on the block, so you can be sure you'll receive great quality, plus the extra contouring of the design means your ankle is fully supported throughout your workout, even at the heaviest weight. This isn't the cheapest set on the list but you get what you pay for and the quality of these weights justifies the extra cost, as they definitely have a more premium feel and are long-lasting.
Key features:
Designed with comfort in mind, with easily adjustability
Weights can be added in 0.5-pound increments for slow and steady stamina building
Extra padding around the Achilles heel tendon and the upper part of the heel for full support
---
Available in various colors and weight options, the Reehut Durable Ankle Weights have an adjustable strap that makes them suitable for a range of different exercises besides just walking or running.
You can also wear these for aerobics classes, while you're working out at the gym, for gymnastics to build up your strength faster, and much more. The Reehut weights are made with a mercerized cotton that's soft, breathable, and moisture-absorbing or complete comfort. You can also get the same result from putting the resistance up on things like the elliptical machine and spin bikes.
Key features:
Available in 2, 3, 4, 6, 8 or 10 pounds
Velcro closure allows for a customised fit that's secure
Filled with iron shots to add plenty of resistance to your workouts, for toning and strengthening effects
---
These weights will appeal to women, as one of the most popular features of this set is that they're used by the Victoria's Secret Angels to tone up and burn calories. As such, they're designed for feminine bodies – they're a smaller fit so they don't rotate round while you're performing exercises and because they're narrower, you can also use them on your wrists easily.
Where other brands require constant adjustment if you're on the smaller side, these weights are ideally suited to women and are designed with their needs in mind.
Key features:
Available in 1, 2, 5 and 8-pound sets
Made with a double stitching technique for durability
Great for use during Pilates sessions to tone up your thighs, glutes and lower legs
---
The Valeo Ankle Weight set is perfect for rehabilitation exercises to add resistance, build upper and lower body strength, and rehabilitate muscles for physical therapy. They're great for home workouts, to put on before heading out for a jog or a brisk walk, or for cross training.
The weights have five individual sand-filled bags of weight which are secured in separate pockets, so the resistance can be built up over time. This set is available as 5, 10 or 20-pound weights, so they offer plenty of flexibility in terms of the amount of resistance you expose your body to.
Key features:
Adjustable metal D-ring double strap with a Velcro closure
Great for beginners who want to slowly add weight over time and build up strength slowly
Ideal for ankles and wrists, as the adjustable sizing means they're versatile
---
Ankle weights aren't limited to gym workouts – this Kiefer set can be used in water for added resistance to aquatic exercises too. The versatility of these weights is what makes them so popular – you can wear them as ankle or wrist weights, for land exercises or in water, and even clip the weights together to form a weight belt that can be used to build up core strength.
This set is comfortable and easily put on or taken off, thanks to the simple Velcro buckle that ensures a secure fit. Whether you're wearing them for water polo drills, water aerobics classes or simply on a jog to build up your muscle tone, this is a versatile set that's comfortable and easy to use.
Key features:
Can be used for dry land and water exercises thanks to the neoprene coating that dries fast
Weights can be clipped together and also worn as a weight belt
Available as a pair of 1, 1.5, 2.5, 3.75, or 5-pound weights
---
Closing Thoughts
Now that you how effective it is when you use ankle weights while performing any form of exercise bit running, swimming, gymming, aerobics, and every long walk. These multiply your stamina and muscle powers giving you toned legs and quadriceps.
But it is very important to decide the optimum ankle weight for yourself so that you are subjected to accidents like muscle tears or any other injury while exercising. Choose the ankle weight that fits your ankle appropriately and the one you can comfortably wear during your exercise sessions.
While the ankle weights serve as excellent calorie burners as they force you to put on a little extra effort to perform the regular exercises.
Hearing about so many benefits of ankle weights you would be completely sure to buy one for yourself the perfect and pocket-friendly ankle weight.