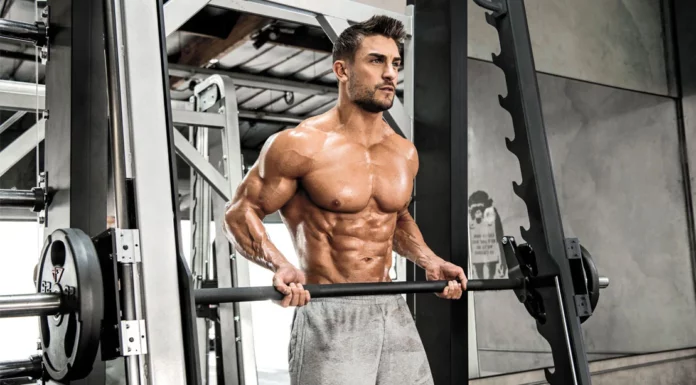 What Are Smith Machines?
Smith machines are weightlifting machines that consist of a vertical barbell that is fixed on a track and guided by vertical poles. The barbell can be lifted and lowered by the user, but the movement is restricted to a straight up-and-down path. Smith machines are often used for strength training exercises such as squats, bench presses, and shoulder presses.
They are designed to provide support and stability for the user, as well as to allow for controlled and precise movements. Some people believe that the use of a Smith machine can reduce the risk of injury due to the fixed path of the barbell, although others argue that it can decrease the effectiveness of certain exercises and limit muscle activation.
The Powerline PSM 144X Smith Machine is ideal for home gyms with space constraints. With several options to add on attachments and workout equipment, this model from Powerline is exceptionally versatile and can be used by all the members in your family. It comes with 14 different lock positions and an extremely sturdy glide carriage. It also has spotter extensions for you to lift heavy weights with ease and safety.
While there are no added attachments, it is possible to turn this into a professional smith machine into your personal one as you continue your workout journey. Many people prefer the option of adding to existing gym frameworks as their intensity increases with regular use. Consider a sit-up bench to go with the smith to do chest and shoulder exercises.
Key features:
Highly affordable
Extensions, plates, bells, and pulleys can be added or removed as needed
All age groups can use this machine comfortably
---
The Marcy Smith Cage is a dynamite machine that is outfitted with padded incline benches, curl attachments, high and low pulleys, assisted weight settings, and so much more. The Marcy Smith Cage Workout Machine is set apart from other machines due to its linear bearings and free-range options. It also comes with a leg press bar and leg developer. Multifunctional arm press allows you a chance to develop your triceps, abs, pectoralis, and other major muscle groups.
The pulley system is smooth and allows fluidity in operation without any hiccups in the workout regime. The cables are sturdy aircraft quality with a tensile strength of 2000 lbs for long-standing usage. The entire frame of the March Smith is made of powder-coated heavy duty steel with Olympic plate storage pegs.
Key features:
Extremely sturdy construction
High and low pulleys
Multifunctional arm press
---
The Valor Fitness BD-33 Heavy Duty Power Cage is an excellent Smith machine for novices and intermediate gym enthusiasts. Not very expensive, this affordable machine features a mini home gym. It comes outfitted with a power tower rack, with lateral pulls, multiple grip chin-up bars, and crossover attachments for cables. The versatility of the machine is excellent and allows you to work on almost all major muscle groups.
The Valor Fitness BD-33 features a 39" lateral pull down bar for back and pectoral exercises. It also comes with a safety lap bar for lateral pulldowns to facilitate additional endurance circuits. The low row curl bar can be used for rows and curls to work on the upper body. The framework is sturdy and stable, but this version does not include an incline bench.
Key features:
Spacious workout equipment
Safety bars for added support
Can work with multiple muscle groups
---
The Weider PRO 8500 smith machine from ICON Fitness is a piece of popular and widely used equipment in many home gyms. This weight cage comes with a bench for core workouts, multifunction pulley systems, and balance measure. The Weider PRO 8500 also comes with a manufacturers 90-day guarantee on parts and labor.
Unlike other smith machines, this one has the added advantage of a 6-part foam leg developer for an all-in-one workout regime. It has strength training features, and built-in cable pulls that are fantastic for lats, core, and chest workouts. The adjustable four poster rack offers flexibility in a seamless transition between the power rack or the smith machine. The user weight capacity also stretches to 300 lbs, and the Weider PRO 8500 comes with special features for multi-grip pull-ups and downs.
Key features:
Adjustable bench
Multi-grip pull up and pull-down
Seamless transition between the smith machine and power tower rack
---
The Yukon Caribou III is a versatile, functional training cum home gym machine. This smith machine combines a heavy duty workout with toning exercises. It features good quality oilite bushings that glide over the rods. These rods are chrome plated to provide a piston-style action to enable easier and friction-reduced workouts. Quickly adjusting the angle of your wrist allows you to change your exercise with ease and lockout.
The Yukon Caribou III is equipped with safety bars that eliminate the need for a spotter. The dual bar holders enable efficiency in training and give the user complete control over movements. It also includes a lateral pull down feature, a chin-up bar, and a wholly integrated mount for dip stations.
Key features:
Dual bar holders
Chin up bar and Lat pull-down feature
Smooth motions for reduced friction
---
The XMark Functional Trainer with accessories is a powerhouse of a home gym. Fitness enthusiasts across the country have benefitted greatly from the XMark Functional Trainer with 200 lbs weight stacks, easily interchangeable accessories, and quick-adjust pulleys. You do not need to wait or take breaks between circuit training to change your pulley adjustments. The height adjustments and lateral adjustments also make this model from XMark Fitness extremely versatile as a home exercise equipment.
People from all age groups can easily adjust the weight measures with pins and bars with 19 pulley spaces with 3.5" difference between each. The heavy-duty construction ensures that the steel frame is solidly built to withstand long term use and daily pressure.
Key features:
Easy to use
Suitable for all age groups
Heavy-duty steel reinforcement for long term workouts
---
The FORCE USA Smith Machine Combo is meant for advanced gym enthusiasts and heavy lifters. An excellent home gym smith system, the FORCE USA Smith Machine Combo features superior 'ultra guide' technology in their linear bearings. This feature ensures a smooth glide during movements and transfers from one workout type to another. The frame structure also comes equipped with a 7-degrees slant for optimum lower and upper body movements. The FORCE USA Smith Machine Combo includes Shiver bars, Ankle Straps, Chrome V-Bar, Lat Bar, and high-quality Triceps Rope. It also has 9 lockout positions for the bars.
The cables are aircraft quality with a tensile strength of 2000 lbs. This variant from FORCE USA comes with a Lifetime Structural Warranty so you can rest assured that the equipment is safe for prolonged use. To increase intensity in some workouts consider using ankle weights.
Key features:
Lifetime Structural Warranty from FORCE USA
9 lockout positions for the bar
7-degree slant for upper and lower body workout
---
The BodyCraft HFT trainer from Ironcompany.com has an adjustable 3.5" pulley machine for ease of use. With flexible, independent columns this variant from the BodyCraft series comes with 31 height positions that allow 180 degrees rotation. This flexibility of movement means that you can train in any direction you wish. The nylon coated aircraft-strength cables have a tensile strength of 2000 lbs. and add to the sturdiness and safety of this smith machine.
It also offers weight stacks of up to 150 pounds with additional 50 pounds increments. The design engineering of the BodyCraft HFT Smith Machine from Ironcompany.com allows for smooth gliding action, greater motion, and incremental weight increases to increase endurance, strength, and stamina.
Key features:
Multifunctional smith machine
31 Adjustable height positions
180-degree rotation for ease of movement
---
The Body Solid Pro Clubline Counterbalanced Smith Machine from Pro Clubline is designed for smooth carriage movement. With perfectly balanced and oiled ridges and grooves, the transition from one type of exercise to the next is entirely seamless. Made for military, firefighting, and extreme fitness training, this model from Pro Clubline is made to counterbalance all exercise movements and help you retain good posture. The safety on this machine is also above standards, and many fitness enthusiasts are awed by its perfection.
The smoothness of the vertical height adjustment ensures that people of all ages and heights can comfortably use this exercise equipment safely since it also comes with oval 11 gauge steel. This machine from Pro Clubline is made for commercial purposes but can easily be used in home gyms. Designed to withstand weights of Olympic plates, this model has an additional 6 storage pegs.
Key features:
Full body workout enabled
Ergonomically designed for smooth transition and movement
Helps improve posture
---
The Inspire Fitness Ft2 Functional Trainer and Smith Machine is a marvel by itself. Completely independent of any other requirements, this smith machine and functional trainer from Inspire Fitness has helped countless people achieve their fitness goals. The machine comes wholly loaded with Leg extension attachments, SCS bench, two weight stacks, triceps rope, EZ curl bar, Dual hook straight bar, ankle straps, multifunctional belts, sports handles, and rubber D handles.
The Inspire Fitness Ft2 also features a padded inclined bench for greater functionality. This machine comes with a do-it-yourself kit, and even an exercise booklet for novice and intermediate users. It's sometimes better to use an Olympic barbell when training since you then have to keep the bar stable increasing muscle activity.
Key features:
Rope attachment for versatile workouts
Flexibility in workouts
Multifunction belts and a pull-up bar
---
How To Buy The Perfect Smith Machine?
If you are one of those who are fitness conscious but don't want to sweat it out through the rigorous gym sessions. We have the perfect solution for you in the form of these multipurpose smith machines, so now you can transform your home into a mini gym where you are flexible enough to lift some nominal weight, perform some squats and get a fitter body rather than those heavy and strenuous gym sessions.
Also if you preparing for some heavy workout sessions, the smith machine helps you build your muscle mass and stamina to become gym ready.
These smith machines have multipurpose functions wherein you can perform some cardio, Crossfit, body weight exercises as well as free weight exercises.
What more can you expect when the market has launched such flexible and multipurpose fitness machines? Filter out the most suitable and pocket-friendly smith machine for yourself from this article.
Good quality Smith machines help keep the training environment safe with all the weight lifting equipment safely and firmly attached to it. Personal Smith machines are very flexible and can be used from home or the garage gym.
Smith machines combine overall workouts of squat machines, power towers, power racks, pegs and straps for bar workouts, lateral pulls, knee raises, pull-ups, dips, bicep curls, calf raises, leg raises, and many more combinations of workout techniques and styles.
How to choose a Smith Machine?
Before purchasing a Smith Machine, there are some points you should consider.
Space: Smith machines can be of varied sizes depending on all the workout types that you require. Check the available room that you currently have. Measure the space and safety distance that you might need.
Budget: Have a pre-decided budget before you invest in a Smith machine. Ensure you get a good quality machine from a trusted brand since your safety will be of prime concern while working out.
Weights: envision your ideal workout structure and decide what sorts of loads you would need for your future workouts. All Smith machines have a maximum weight limit. You need to plan accordingly.
Concluding Thoughts
What if you come to know that you perform pull-ups, dips, and other hand and leg exercises at home itself? You would be more welcomed to do so to stay fit. These new-age multipurpose smith machines will allow you to bring your mini-gym at home.
After performing exercises on this machine, you would have weightage in your muscle mass, which would boost your body's stamina and improve your breathing rate. It would be easier for you to stay fit when this smith machine comes with different gyming attachments and ensure a safe and comfortable exercising experience from home.
And if you are still thinking to buy this multipurpose smith machine since it is not budget-friendly, why worry, when there are various other smith machines you can go for that, can match your fitness styles and budget as well?