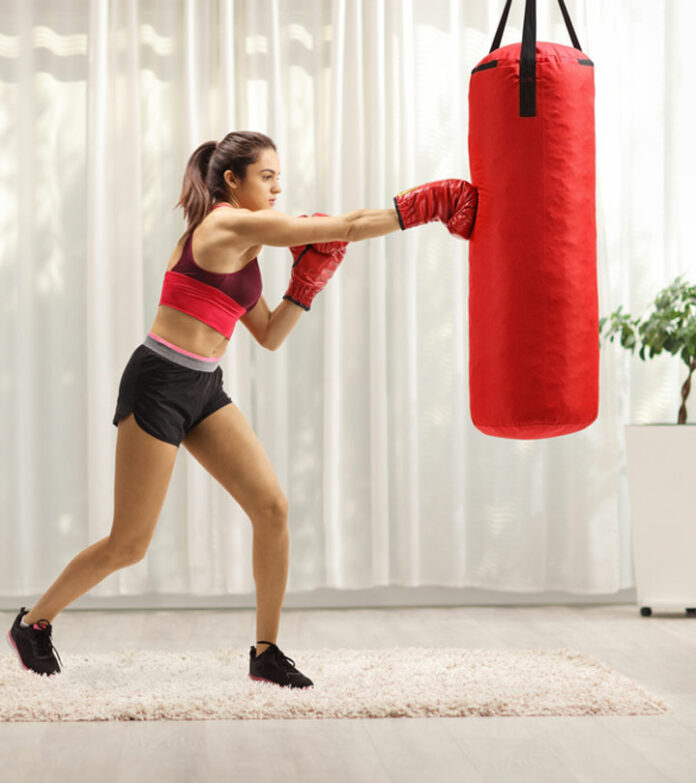 It doesn't matter whether you are a professional trainer, a beginner or a boxer, punching bags are great for keeping fit. Finding the right one is essential and this can sometimes be tasking. Worry no more! We have curated and handpicked the most satisfactory punching bags and their remarkable features just for you. Read on to find out more.
Boxing may seem deceptively simple from an outsider's perspective, but it's actually an incredible workout that challenges your fitness, builds agility and stability, and tones the muscles. It's also a great way of reducing stress and letting off steam while also getting your heart rate up.
Finding a punching bag to help you work on these skills is a task that becomes more difficult the deeper you dive into the differences between punching bags. From hanging bags to freestanding, weight options and materials, there's a lot to think about. Likewise, if you're a beginner in the world of boxing, your needs will be different from a pro athlete who has been boxing for years.
The material of the bag makes a big difference in how effective it is for a workout – vinyl and canvas materials are the perfect option as they're durable and protective, while leather also delivers a great cover. Cheaper materials will only be prone to tearing and ripping, so they're avoided.
Our List Of 10 Affordable Punching Bags
Punching bags can also be purchased filled or unfilled, so you need to think about what you want to fill it with – are you going to use old clothes, sand or water? Some bags are designed for specific materials. Lastly, the weight is important as heavier bags may be detrimental to the user's workout if it's too heavy.
As a rule, opt for a bag that is half of your body weight and if you're just beginning, opt for a lighter-weight bag so as not to put too much strain on your body in the initial stages of practising. The following options are a mix of weights and styles to suit all different needs and various budgets.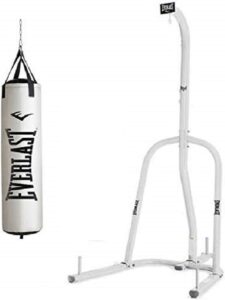 Brilliant value for a great quality punching bag, the Everlast Heavy Bag Kit comes with a 70lb punch bag, gloves, and hand wraps. The bag itself includes natural and synthetic fibres, as well as sifted sand, while the outside is made from a poly canvas material that is durable and hardwearing.
The chain attached to the bag is adjustable so the height can be modified to suit your needs. Everlast also includes a bungee cord to add extra resistance to the bag when it's being used.
The gloves are made from synthetic leather, while the hand wraps do a great job of protecting the user's hands from abrasions and blisters. If you're building a gym, a sit-up bench would be a great addition too.
Key features:
Contains a mix of natural and synthetic materials
Comes with gloves and hand wraps
Has an adjustable chain for convenience
---

As the name suggests, this punching bag is designed for professionals, but it doesn't break the bank. This bag from Last Punch comes unfilled, so you can fill it with whatever you want, from old clothes, and towels or weigh it down with gravel and a mix of other materials.
The sturdy chain can be adjusted to suit different users while the material of the bag is a heavy-duty and professional quality that will withstand plenty of impacts.
If you're looking for a bag to assist your boxing practice, this is a great option that offers flexibility and customization. Crossfit shoes can offer great foot support for hitting the bag.
Key features:
Can be filled with anything you want, from gravel to old clothes
Measures 50-inches long with the chains or 33-inches long without them
Made from a hardwearing material that's designed to last
---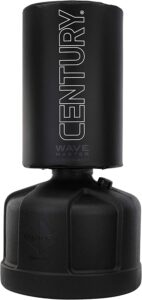 The Wavemaster Powerline is a unique punching bag that is rounded for easy roll relocation and comes with the option to adjust the height at eight different levels to suit the user.
The base can be filled with water or sand to take your workout to the next level, from karate and TaeKwondo to kickboxing.
Once it's been filled, it weighs around 270lbs and delivers an incredibly sturdy bag that can withstand really powerful punches, so you don't have to worry about it tipping over.
The bag itself is covered in a tough vinyl material that won't tear and is a larger size than the standard Wavemaster. In fact, the vinyl covers twice as much high-density foam as the original iteration of the Wavemaster, so you have a larger surface area to practice on. Another great addition to build tricep muscles would be a dip station.
Key features:
Has eight height adjustments from 47 inches to 68 inches
Base fills with sand or water for stability
Made from heavy-duty vinyl
---
The Outslayer comes with heavy-duty straps that are sewn directly onto the bag so there's no need to worry about chains. It's a great option for all athletes who want to improve their coordination skills and improve their fitness.
It's built to withstand plenty of impacts so you can really hit hard with this bag without any fear of it tearing or showing signs of damage. This bag even comes with a 10-year warranty to further cement the brand's confidence in the quality of the materials used.
And when it's not being used or if you need to move it, it comes with a durable vinyl cover that protects it further. This is a great option for developing your practice and boxing skills. Punching bags are great for the upper body, though a leg press machine can be a great addition so you don't skip leg day.
Key features:
100lb bag that's perfect for boxing, martial arts and MMA training
The bag height is 55 inches plus an additional 10 inches of strap length
Has a durable vinyl cover to protect it when it's being stored
---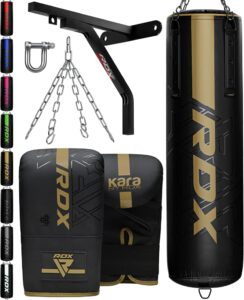 The RDX punching bag is designed to endure any amount of impact you can throw at it during even the toughest workouts.
The kit comes with everything you need to start, from building your strength and stamina to refining your boxing technique.
The bag itself has a decent amount of sway and resistance, with a durable cover and twinned layers for even force distribution.
This RDX bag is filled with shredded textiles but it has a zip-top if you want to customize it with different fillings for added weight or resistance.
Heavy-gauge D rings are double-stitched and riveted to the bag for complete peace of mind and stability, while the tethered loop at the base ensures maximum swing reduction if you're using it with tethered straps.
Key features:
Hangs from a heavy-duty, powder-coated steel bracket and hook
Comes with hand wraps, gloves and various other accessories
Has a zip-top design to enable you to customize the filling
---
The Ringside 100 Large Punching Bag comes unfilled to allow you to fill it with whatever you desire, from old clothes and plastic bags to heavier materials for a really challenging workout.
Ringside is known for delivering great quality products and this punching bag is made from durable vinyl to justify this reputation. It has a solid construction and nylon straps and a spring clip hanger for easy assembly.
This is a great punching bag that will last you years of use and is sure to enhance your workout each time you use it. As a heavy bag, it's particularly well suited to more experienced athletes who have previous experience in boxing or martial arts and want to hone their skills and up their fitness even further.
Key features:
Has a recommended filling weight of 100lbs
Made from a durable vinyl with nylon straps that are designed to last
Comes with a. spring clip hanger
---
Made from professional-grade materials, the Flexzion Heavy Punching Bag is sturdy and durable, designed to be repeatedly punched without showing any signs of wear and tear.
Heavy bags are great for developing strength and power and that's precisely what this product from Flexzion delivers, making it perfect for aerobic boxing, MMA trainees and general fitness in your home gym.
The bag comes with a built-in swivel that will help it to rotate freely while it's in use, and while it comes unfilled it's easy to set up and fill easily so there's no need to rope in several other people to help out. Simply unzip the top, fill it with your chosen materials and then you're ready to get practising practically straight away.
Key features:
The weight of the bag can be adjusted to suit your requirements
The bag itself is 55 inches long without chains and 13.7 inches wide
Comes with a 360-degree rotating chain for easy swivel action
---
The Combat Sports Tear Drop bag is specially designed for MMA fighters who want to develop their speed and accuracy, benefitting from the lower centre of gravity.
The unique teardrop shape is ideal for closer strikes, uppercuts, and knee strikes, so if these are areas of your workout that you want to improve, this is the perfect punching bag for the job.
This bag has been constructed using top-quality leather and durable nylon, so it's been built to last years of use. The Tear Drop bag measures 14 inches by 35 inches in size and weighs 60 lbs, so it's ideal for smaller spaces or lower ceilings.
It's the ideal addition to your home gym or garage for keeping your fitness levels up and developing accuracy in your contact sport practice. Increase your calorie burn by using your punching bag with a waist trimmer.
Key features:
Compact design that is great for space saving without compromising on functionality
Made from high-quality leather and nylon for longevity
Arrives filled to 60lbs so you can use it straight away
---

The Everlast Omniflex Freestanding Heavy Bag is ideal if you're short on space and don't have the room to hang a punching bag.
Everlast is a trusted brand that delivers great quality every time and this freestanding bag is no exception. It offers brilliant shock absorption from impact while the Omni flex neck keeps the movement of the base to a minimum. The low profile design is great for both punches and kicks, while the bag itself can be adjusted up to 67 inches in height so users of all different heights can benefit from this bag.
The Omniflex bag has a Nevatear outer shell to provide maximum functionality and durability, regardless of how intense your workout is. This bag has an innovative design in the use of semi-soft absorbent foam inside, so you can punch repeatedly without your hand feeling any painful effects. A CrossFit gym bag is a great way to carry your gloves and other equipment.
Key features:
The Nevatear exterior provides durability
Made from shock-absorbing foam
Weighs approximately 130lbs when filled with water
---
The Everlast HydroStrike water bag is a unique take on the classic punching bag, with a unique and innovative technology that absorbs impact and makes it easier on the joints.
This bag is light and offers excellent portability, as well as being easy to fill and assemble. Once it's been filled with water, the bag weighs 100lbs and is excellent for building strength and muscle tone, as well as improving core stability and agility.
The HydroStrike is made from synthetic leather and is tough enough to withstand plenty of impacts so you can really test your boxing skills without any fear of damaging the bag. See our article on roman chairs for other great sports equipment.
Key features:
Made from tough synthetic leather
Great for boxing and fitness training to improve strength and agility
The HydroStrike technology increases strike absorption
---
Closing Thoughts
Boxing can be one of the most effective forms of cardio. As a high-impact form of training, it offers significant calorie-burning benefits while improving stamina and endurance.
Punching bags are specially designed to provide boxers of all skill levels with the tools needed to get into top-notch shapes. Look good and feel great with everything you need to become the perfect version of yourself!