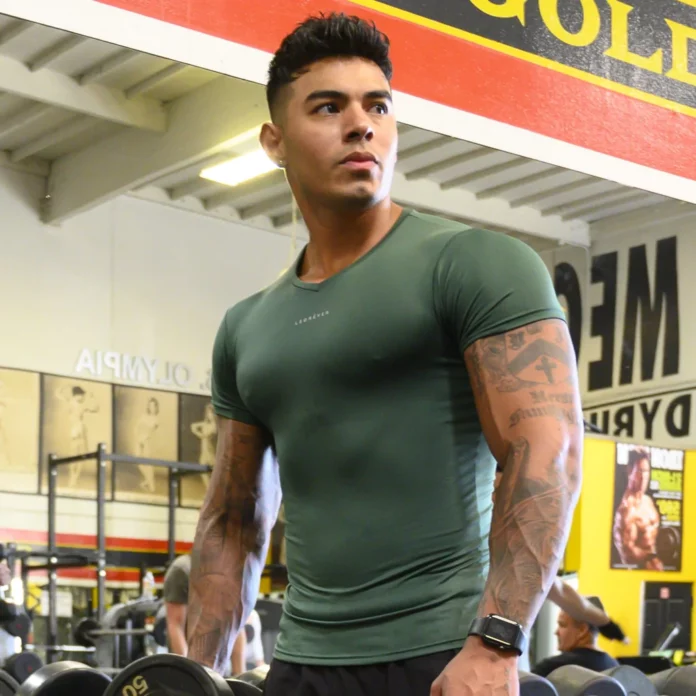 Form-fitting and temperature-adjusting, compression shirts offer a number of benefits to athletes. Compression shirts are form-fitting tops that are made from a variation of spandex material for a more body-hugging shape, with graduated pressure to support the muscles and enhance circulation.
While this garment has been around for a while, they've gained popularity with athletes and gym-goers for its versatility and range of functions. From keeping us warm on outdoor runs to cooling us down when we're taking part in an intense fitness session and even helping with muscle alignment and recovery for more efficiency, there are many reasons why everyone should have a compression shirt in their gym bag, whether it's for enhancing performance in the gym or helping to speed up recovery afterward.
As with any piece of workout clothing, the fit is of the utmost importance, both for comfort and performance. The higher the cost of a compression shirt, the more forgiving the fit will be but this depends on the brand and the amount of stretch the shirt has too. Most compression shirts are made from a mix of elastane and nylon to give them plenty of stretch and elasticity.
Something to remember is that some compression shirts are designed for cold weather, such as for use as a base layer underneath your workout clothes, while others are meant for warmer environments and will be moisture-wicking. It helps to know which one you'll need in most cases so you can purchase a shirt that is perfectly suited to your workouts. These are ten amazingly performing compression shirts on the market to suit all needs, workouts, and budgets.
Under Armour are well known for its high-quality items, so this is a great all-around compression shirt that isn't too expensive.
The fit of this shirt is reliably snug and has a second-skin feel with plenty of flexibility, so you can wear it for hours at a time without getting uncomfortable.
The mesh panels under the arms are great for strategic ventilation and helping you to cool down more quickly, while the innovative UPF30+ fabric will keep your skin protected from harmful sun rays when you're exercising outdoors during the warmer months.
The Under Armour shirt doesn't compromise on comfort for performance, with anti-odor technology that prevents microbes from developing and a four-way stretch material that keeps a range of motion smooth and easy.
Key features:
Stretch-mesh panels under the arms for ventilation
UPF30+ to protect the skin from harmful UV rays on outdoor workouts
Lightweight material that's comfortable enough to be worn all-day
---
Delivering great value for money, the Champion Double Dry Compression Shirt is a great quality garment that has been designed to help keep wearers as dry as possible during their workouts.
The shirt has long sleeves and a great level of stretch, particularly around the elbows and shoulders, so you can move easily and comfortably.
It's made from a blend of polyester and spandex, with brilliant efficiency where moisture wicking is concerned. It also has flat seams that won't unravel or chafe when you're hot and sweaty, something a lot of cheaper brands tend to forget.
Key features:
Moisture-wicking to keep you cool and dry
Made from a poly/spandex blend that's soft and comfortable
Great level of stretch for ease of movement
---
The Baleaf Cool Dry Skin Long Sleeve Compression Shirt has an ergonomic design that helps enhance performance and motion, with a durable but flexible material that improves how well your muscles perform by grabbing them tightly.
This effect also helps your muscles to recover after each session so you can get back to exercising faster. The soft and moisture-wicking material is also breathable to help keep you cool and dry.
This t-shirt has flat seams that help to minimize irritation and has a smooth feel that will ensure you stay comfortable during each and every workout. It's great for increasing blood flow during intense sessions on the rowing machine.
Key features:
Moisture-wicking and breathable blended fabric
Four-needle flat seam to minimize irritation during intense workouts
Ergonomic design with enhanced movement
---
The TSLA Compression Baselayer T-shirt has been designed to be effective year-round, so it will wick moisture away during the hotter months and keep you warm as a base layer in the winter.
It's made from a poly-spandex blend that is smooth and soft against the skin, with no chafing or abrasion when you get hot, and it has a great fit that is on the larger side, so it provides coverage.
This t-shirt is available in a wide range of colours and also has a great feature in that it repels unpleasant sweat odours left behind from each workout, ensuring it stays wearable for longer.
If you're looking for a compression shirt that will aid recovery as well as enhance your workouts while you're performing exercises, this is a great option that serves both purposes. Compression shirts are even great for using the
leg press machine
 or other leg exercises as increased blood flow in the upper body means the lower gets more.
Key features:
Designed to be used all year round
Moisture-wicking as well as delivering a cooling effect
Brilliant elasticity for enhanced range of motion without chafing
---
The Defender Quick Dry Compression Baselayer is made from a polyester-spandex blend that is extremely soft and comfortable to wear without restricting movement, but it's still tight enough that it will support your muscles and improve circulation.
The t-shirt has UPF30 to protect the skin from the sun's damaging rays and can be used year-round, thanks to its cooling effects in the summer and heat retention in the winter.
This base layer has been designed to wick sweat away from the body to keep you dry and also for a cooling effect when you're working out. For other great sports gear check out our article on crossfit shoes
Key features:
Incredibly soft fabric with no restriction of movement
Snug compression fit enhances circulation
UPF30 to protect the skin from harmful sun damage
---
The 2XU Elite Compression Top is a brilliant product for enhancing your strength and helping to improve your posture, with a tight body-hugging fit that improves circulation to the muscles.
This is a great top for intense workouts and those serious about their fitness, making it great for a range of exercises, from football and CrossFit to weights.
The Elite top provides stretch in all the right places for a better range of motion and it's a durable blend fabric that will last a long time without showing signs of wear and tear. Another benefit of this top is the high sun protection factor it provides, delivering UPF50+ for your outdoor workouts.
Key features:
Made from a nylon and Lycra blended fabric
Great for improving posture and core strength
UPF50+ protection from the sun's rays
---
From yoga and weight training to skiing and snowboarding, the DRSKIN Compression Baselayer is an all-weather top that is made from polyester and Spandex for flexibility and comfort.
It has two-way air circulation that will keep you cool during the hot parts of the year and traps heat during the winter. It also delivers an impressive 98.8% UV blocking rate, so you don't have to worry about harmful sun rays during outdoor fitness sessions.
The design utilizes the odd ramp sewing method which means there are no irritating overlaps of fabric that might chafe, creating a smooth finish and a greater level of comfort. It's great for increasing the pump from using a dip station.
Key features:
Dry design that keeps you cool and dry
Polyester-spandex blend for extra comfort
Designed to be used year-round
---
The Shaxea Seamless Compression Shirt is made from an innovative 3D weave technology that provides a smooth silhouette and a body-hugging fit.
Designed as a vest top rather than a t-shirt, it's great for adding underneath garments and the ultra-thin fabric makes this comfortable and easy to achieve. This is a really snug shirt that works at minimizing the areas of the body many aims to tone up, such as the chest and stomach areas.
The Shaxea top is made from a mix of nylon and spandex, with mesh shoulders for ventilation and ease of movement. The extra compression panels around the waist and chest enhance the flattening effects and also help to improve circulation to aid recovery. These tops feel great when using the power rack.
Key features:
Made from a nylon and spandex blend
Seamless design for a smoother fit and no irritating chafing
Incredibly thin fabric that can be worn comfortably under other clothes
---
The ARMEDES Compression Quick Dry Baselayer has been designed to quickly cool the wearer and wick moisture away during intense workouts.
It's made from a spandex blend that is tight-fitting without being uncomfortable, with a four-way stretch that hugs the body and enhances your natural range of motion.
This is a great top to throw on under your other clothes so you can quickly head to the gym after work or as a way of keeping warm when you're working out during the colder months, but it also offers protection from UV rays if you fancy wearing it in the summer too for added versatility. For a place to store your kit for a workout check out our article for the awesome crossfit gym bag.
Key features:
UPF fabric for added sun protection
Drying fabric that helps to enhance breathability and keeps you cool
Long-sleeved top with a pull-on closure
---
The Copper Compression Recovery T-shirt has a unique spin on the standard compression shirt in that the fabric is interwoven with copper threads to help aid muscle recovery and soothe aches and pains in the joints.
This is a step away from the usual moisture-wicking compression shirt, instead focusing on the aftermath of your workouts and helping you to get back into peak performance as soon as possible.
It retains heat and also has anti-microbial properties that keep odors at bay too. The design has been crafted with movement in mind, with curved seams that allow you to move comfortably and a great level of stretch in the material that helps you move easily while you're recovering from an intense workout. it's a great option if using the Olympic barbell frequently.
Key features:
Supports muscles and joints, helping to aid recovery
Copper-infused fabric that is designed to relieve aches and pains
Curved seams for a better range of motion